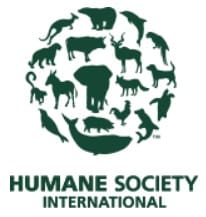 ANIMAL welfare groups have asked Australian Wool Innovation to implement a more proactive strategy to rapidly phase out surgical mulesing and deal more effectively with flystrike.
The call by the Humane Society International and FOUR PAWS groups comes 14 years after the Australian industry in 2005 moved to ban mulesing by 2010 and AWI committed to producing mulesing alternatives.
The Australian industry subsequently abandoned the 2010 deadline, but the two groups have united to write to new AWI chair Colette Garnsey on 25 February over the "lack of industry leadership" on the issue.
The AWI leader is yet to respond to the letter and Ms Garnsey has also seemingly refused to personally answer Sheep Central questions about the animal welfare group approach. An , with an unidentified AWI spokesperson stating it is not AWI's role "to involve itself in policy", while also stating the body's role is "to do all things necessary to ensure that it effectively represents and reflects the research and development and marketing interests of its shareholders and levy payers."
The letter from HIS's head of campaigns Nicola Beynon and FOUR PAWS Australia's head of programs Jessica Medcalf said a drawn out transition away from mulesing compromises the welfare of millions of sheep and exposes the Australian wool industry to reputational risk.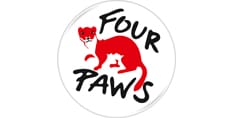 FOUR PAWS and Humane Society International wrote the letter after attending an AWI animal welfare forum on 12 December last year. They say they are frustrated with the current pace of change and the lack of industry leadership, leading to a high percentage of wool growers who persist with mulesing.
The groups told Sheep Central that despite recent comments from former AWI chair Wal Merriman, brands are in fact actively seeking mulesed-free wool in Europe and beyond, and the industry needs to catch up. More than 100 brands internationally have, or have committed to, transitioning away from mulesed wool and this is demonstrated by the growing premiums brands are now paying to attract supply, they said.
In the letter, the groups told Ms Garnsey their organisations are concerned AWI is not placing sufficient priority on expediting the transition away from mulesing.
The groups recognise fly strike and mulesing as "serious welfare problems" which they hope Ms Garnsey will be keen to address in her new position. Ms Garnsey replaced AWI director Wal Merriman as AWI chair late last year.
"Genetics is one pain-free solution to both problems.
"However, realising the potential of genetic solutions will require the right policy settings and leadership from AWI," Ms Beynon and Ms Medcalf wrote.
Ms Medcalf told Sheep Central that images of mulesing are not going to go away, and arguments that inflicting these sorts of wounds on lambs on the basis that it enhances their future health status simply does not hold up when alternatives exist.
"FOUR PAWS joins HSI in calling on AWI to look to the many thriving Australian wool producers who have already successfully ended mulesing. Such producers can be found all over the country and in a variety of climatic conditions.
"The link between these producers is largely the type of sheep they keep, and it's time AWI enabled these producers to share their learnings and help end mulesing once and for all."
Ms Beynon said Humane Society International wanted to see AWI strongly embrace the genetic solutions available to producers to deal more effectively with fly strike, "without the need to mutilate the sheep."
Is addressing mulesing in the marketing interest of growers?
Ms Garnsey has seemingly refused to personally respond to Sheep Central questions about the HSI-FOUR PAWS letter, leaving the AWI response to come from an unidentified spokesperson.
"The role of AWI is to do all things necessary to ensure that it effectively represents and reflects the research and development and marketing interests of its shareholders and levy payers.
"It is not the role of AWI to involve itself in policy," the spokesperson said.
"Since 2005, more than $30 million has been invested by AWI on measures to combat flystrike as part of a greater long-term investment of more than $60 million in sheep health and welfare measures and it continues to be AWI's highest on-farm R&D priority.
"AWI has in place a proactive, intensive and committed flystrike prevention program with long term and short term aims."
The spokesperson said: "the ultimate long-term aim is to remove the need for mulesing."
"The more immediate or short term aim is to provide methods to replace the practice of traditional mulesing with welfare-improved practices.
"AWI supports all wool growers in their choice of best practice animal health and hygiene in flystrike control and encourages the use of the National Wool Declaration and the digital wool exchange portal WoolQ to promote transparency, accountability and enhance provenance for the entire wool trade."
Mecardo figures show growth in non-mulesed, ceased mulesed and pain relief wool
An article by Mecardo analyst Andrew Woods this week showed that nearly half the Australian clip — 45-48 percent —  is currently declared as coming from flocks that have ceased mulesed, non-mulesed and or have used pain relief when mulesing (Figure 1).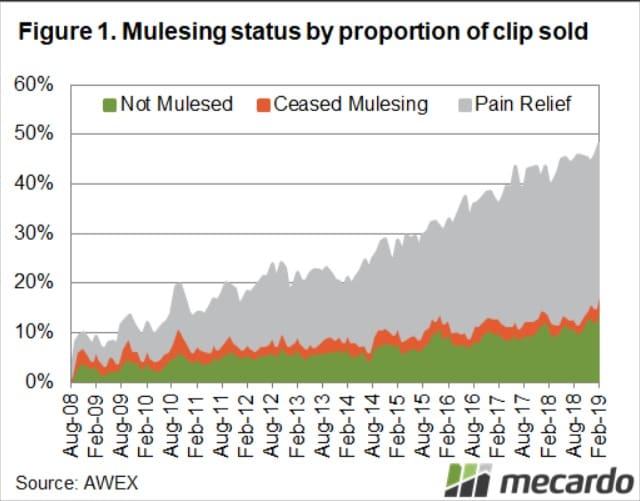 "Despite the lack of clear, consistent price premiums during the past decade and any firm strategic direction by the wool industry, farmers have once again made some substantial changes to the national clip by action at the grassroots level," he said.
"As earlier articles have noted, the proportion of wool declared as ceased mulesed has remained relatively stable at around 2.5pc since 2008.
"The proportions of wool declared as non-mulesed and to have used pain relief have both trended higher in the past decade."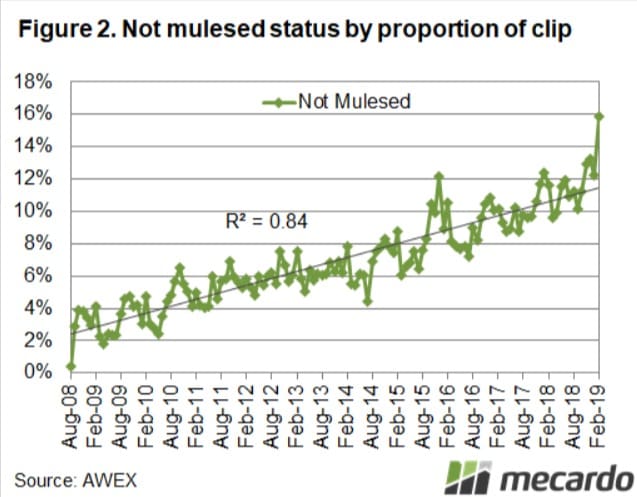 Mr Woods said Figure 2 shows the monthly proportion of wool declared as non-mulesed through to February.
"The underlying trend rises up by around 0.9pc per year, with the current proportion above trend.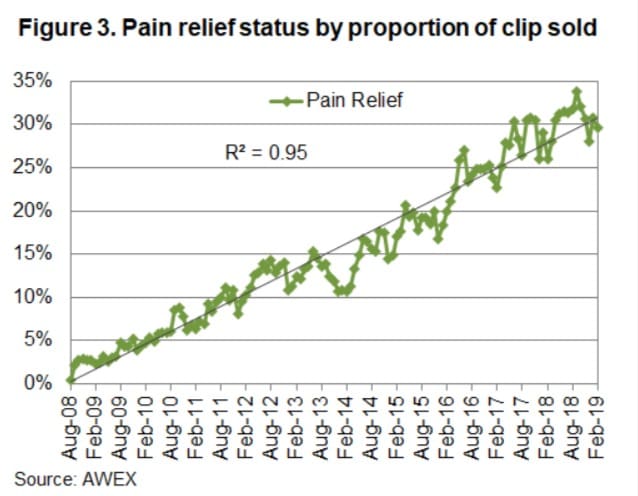 Figure 3 shows a similar analysis for wool declared to have had pain relief used, he said.
"The trend rises at around 2.9pc of the clip each year, with the current proportion of the clip around 30pc.
"Both rising trends show an industry which is steadily, and substantially, changing its animal handling practices."
Animal welfare groups support plain-bodied Merino genetics
Ms Beynon said Humane Society International and FOUR PAWS have been closely involved with the Responsible Wool Standard and therefore often work together on this issue.
"However, concern over the practice of mulesing is high across the animal welfare sector and we expect other organisations will also make representations on the issue," she said.
However, HSI and FOUR PAWS are not motivated to stop wool garment consumption as PETA aims to do.
"Humane Society International and FOUR PAWS talk to brands and retailers about purchasing non-mulesed higher welfare wool.
"We support genetic breeding to remove the wrinkle from sheep to make them resistant to fly strike without the need for mulesing," Ms Beynon said.
The groups also believed in other welfare benefits from breeding for smooth bodied sheep, including  ability to cope with tough climates, better lamb survival and easier to shear, and potentially shorter tails, without compromising wool quality and quantity.
Ms Beynon said brands and retailers do not want to be exposed to the reputational risk that the cruel practice of mulesing presents to them, particularly when there are humane alternatives which offer a win- win solution for sheep and producers.
"Community concern for animal welfare is on an upward trajectory across the globe and AWI and producers would be ignoring this at their peril."
The groups believe the wrinkle can be bred out of Merino flocks in 3-5 years.
"When our organisations talk to brands and retailers about adopting a non-mulesing policy we discuss with them reasonable timelines to put the purchasing policy in place.
"However, we are very concerned that the pace of change amongst producers is far too slow," Ms Beynon said.
"We do think there has been a failure of leadership to bring about a faster transition away from mulesing in the wool industry.
"We think the potential for genetic breeding to solve problems such as fly strike has not been realised," she said.
"We look forward to the new leadership at AWI recognising this potential and embracing it."