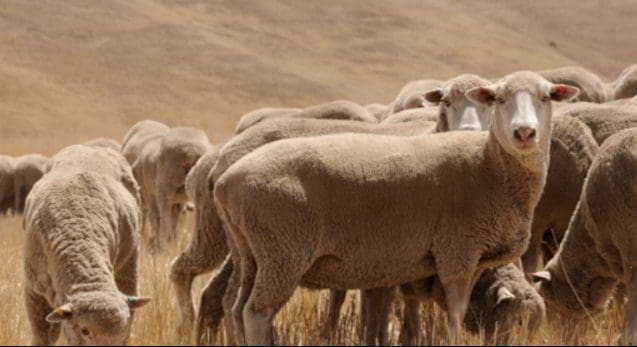 VICTORIAN sheep and cattle producers are being advised to keep an eye out for signs of phalaris toxicity which can lead to illness and sudden death in livestock.
With the flush of new growth across the region following recent rainfall after a prolonged dry period, there is currently an increased risk of livestock suffering from phalaris toxicity as a result of consuming young phalaris grass.
In its early stages of growth (usually the first six weeks) phalaris grass contains toxic alkaloids, which if grazed, can lead to animals developing phalaris staggers. In contrast, phalaris sudden death sydrome is caused by high levels of ammonia in the animal's system.
Both sheep and cattle may suffer staggers or sudden death after grazing phalaris, although cattle are less susceptible than sheep.
Agriculture Victoria district veterinary officer Rachel Gibney said phalaris staggers can develop between 10 days and four months after grazing pasture and animals can even show signs months after being removed from phalaris.
"Sheep that start staggering may improve, but may be left with staggers for life," she said.
Physical signs that an animal has phalaris staggers include staggering or stumbling, a bunny hop gait, head nodding, trouble standing or trouble eating and weight loss.
Dr Gibney said sudden death syndrome usually develops 12 to 36 hours after the animal has been on pasture.
"Signs include breathing difficulties and blue-coloured gums and the animal will usually die," she said.
"If phalaris toxicity is suspected stock should be removed immediately, but slowly, from pasture."
To avoid phalaris toxicity it is best to avoid grazing phalaris during the first six weeks of new growth or to limit the intake of phalaris during the first two days of grazing to just a few hours per day.
"Farmers should also manage stocking rates and feed hay before giving animals access to pasture to ensure they are not overly hungry and consume less," Dr Gibney said.
"Cobalt supplementation may help prevent phalaris staggers, but not the sudden death syndrome."
For further advice contact your local veterinarian or Agriculture Victoria veterinary or animal health officer.
Source: Agriculture Victoria.