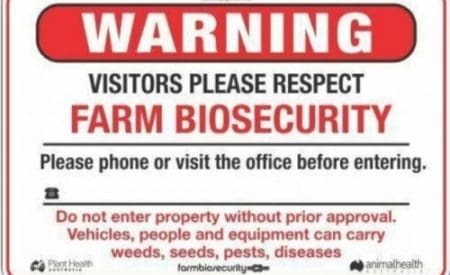 AGRICULTURE Victoria has launched a new monthly biosecurity e-newsletter that will serve as the key hub for all biosecurity updates.
The e-newsletter features a diverse range of biosecurity-related content including new developments in the emergency animal disease space.
Victorian Biosecurity Matters will pool together all Agriculture Victoria biosecurity content into one monthly e-newsletter and become a source that farmers, small landholders, animal owners, and veterinarians can rely on in the event of an emergency animal disease outbreak, Agriculture Victorias said.
The biosecurity e-newsletter will cover a broad range of topics for anyone with an interest to stay up to date with the most relevant information in relation to Victoria's agriculture industry.
It will focus on emergency animal diseases, including foot-and-mouth disease, lumpy skin disease, varroa mite, marine pests, pest animals, plant diseases and pests and weeds.
Profiles and success stories from within the industry will be featured to provide readers with valuable insights into the challenges and opportunities that exist within the world of agriculture, while also giving them an opportunity to learn from the experiences of others.
Biosecurity Victoria executive director Katherine Clift said the goal is to ensure everyone understands the importance of biosecurity and the role they can play in maintaining a healthy and sustainable agriculture industry.
"Biosecurity is everyone's responsibility and by staying informed and following best practices, we can all contribute to protecting our industry, environment and economy from the threat of pests and diseases."
For more information or to subscribe to the free newsletter, visit: https://agriculture.vic.gov.au/support-and-resources/newsletters/victorian-biosecurity-matters