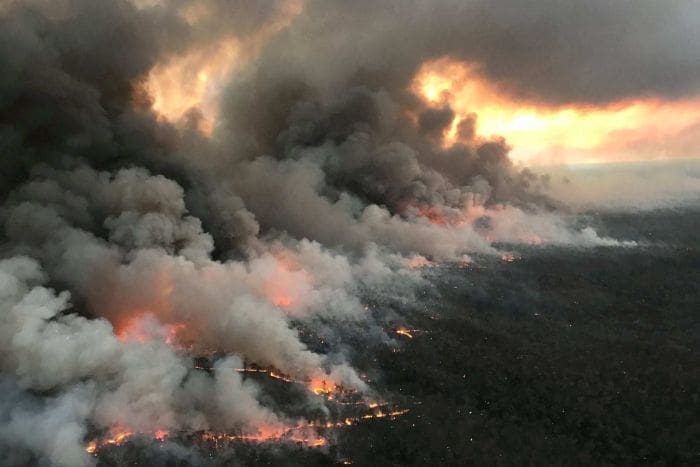 AGRIBUSINESSES associated with Australia's livestock industries are digging deep to offer financial aid and in-kind support for rural communities devastated by bushfires across four states over the past three to four weeks.
Beef and sheepmeat processor JBS Australia yesterday announced a $1 million donation to the Australian Volunteer Trust, a permanent and ongoing fund to support the children of volunteer firefighters who have died in battling this summer's fires and any future major disasters.
Here's a summary of some other contributions in cash and urgently needed goods and services that have been announced by donors over the past couple of days. Further donations will be added to this item as we become aware of them in coming days:
Zoetis donates $500,000 worth of animal health product
Nutrien gets behind bushfire relief
Elders lends support to recovery effort
$1 million donation for NSW south east farmers
Finance provider Greensill digs deep
AgriWebb project to connect fire-ravaged farmers with the help they need
Zoetis donates $500,000 worth of animal health product
Animal health company Zoetis is working on distributing more than $500,000 worth of emergency product through veterinary practises and consultations in fire-devastated communities, and supporting the mental health of those affected through the company's relationship with the Beyond Blue organisation.
"Our hearts break for the animals, families and customers who are being affected by these fires," said Lance Williams, senior vice president pf Zoetis Australia and New Zealand.
"At times like these, Zoetis colleagues put our customers first – offering assistance, products and support directly and through partnering organisations. Our customers appreciate our outreach and know we are there for them today and as they recover," he said.
Zoetis colleagues have been reaching out to veterinary clinics in affected areas to offer free product to livestock, pets, and wildlife and give technical advice. A message was sent this week through the Zoetis Direct platform to vet clinics in fire affected areas to guide them in seeking medication for their animals. More than $500,000 in product has been made available to vet clinics across the livestock and companion animal product portfolio for treatment of impacted livestock, pets and wildlife.
"With Zoetis Direct we are in the unique position to respond quickly through vet practitioners, and it's been very pleasing to see shipments already delivered to clinics within impacted areas," Mr Williams said.
The company said it was working hand-in-hand with the Australian Veterinary Association to ensure that the approach was well-coordinated and aligned for the best crisis response.
Zoetis is also reaching out and donating product to wildlife conservation efforts, such as Zoos Victoria, Healesville Sanctuary and The Parade Vet Norwood/Adelaide Koala Rescue.
Supporting the mental health of those affected
Beyond Blue, an organisation Zoetis has supported for several years, is playing a vital role supporting the community and veterinary clinics during the bushfire crisis. The organisation will help those affected navigate the emotional impact of the fires through support hotlines. Zoetis has been a long-time supporter of Beyond Blue, given its connection to many of rural farming communities, having donated more than $400,000 to the organisation over the last four years.
"Zoetis will continue to stand by our customers in their efforts to protect the animals they care for and support them as they rebuild their lives and businesses," Mr Williams said.
Nutrien gets behind bushfire relief
National integrated agency business Nutrien Ag Solutions on Wednesday announced a donation of $100,000 to BlazeAid to support the recovery of fire-impacted rural communities.
Nutrien changed its name last year following the merger of Landmark and Ruralco.
BlazeAid is a volunteer-based organisation that works alongside rural families to help rebuild fences and other structures that have been damaged or destroyed.
Nutrien managing director Rob Clayton said BlazeAid was well-equipped to handle the complex logistics of distributing relief for bushfire events of this scale, and it will direct donated funds to where they are needed most. The donation was just one component of a significant effort by the Nutrien organisation to support farmers and staff in their efforts to rebuild, the company said in a statement.
"These fires are devastating for rural and regional Australia, during what is already a difficult time for a sector heavily impacted by drought," Mr Clayton said. "We want to pitch in and help out however we can, to help get farms and communities working again."
Nutrien staff members who wish to volunteer their time and work in a BlazeAid camp will be supported by the company.
"And our global colleagues have also put their hands up to help, with employee financial contributions to the cause to be matched dollar-for-dollar by Nutrien," Mr Clayton said.
"We want to assure our customers that we'll work with them to rebuild. With the fires still burning, and many just beginning to understand how they have been impacted, we know this will take time."
Elders lends support to recovery effort
In a statement to the ASX yesterday, national agency Elders said in addition to on-ground support, the company would make financial and in-kind contributions to a range of charitable organisations focused on the rebuild effort. This will include an initial $100,000 donation to the Foundation for Rural and Regional Renewal.
"A number of our clients have experienced devastating property and livestock losses and our thoughts are with them at this difficult time. Having served rural communities for over 180 years, our people are on the ground helping where they can, volunteering to fight fires and protect property, feed and relocate surviving livestock and bring relief and aid to those in need," Mr Allison said.
Elders is also offering hardship relief options for impacted clients, including interest free periods and extended repayment terms.
$1 million donation for NSW south east farmers
The Perich Group is donating $1 million to the NSW Farmers Natural Disaster Relief Fund to help rebuild bushfire affected farms and restore local food and fibre production in southeast NSW.
The priority for the donation is to support primary producers who have been directly impacted by fire, or are unable to access fodder and water, or distribute milk due to road closures or electricity outages.
"This is a tremendous donation from the Perich family, who are keen to support fellow farmers in a time of need. It will provide both immediate relief and medium term support," NSW Farmers' president James Jackson said.
The Perich family's business interests include Leppington Pastoral Co, a family owned and operated farming enterprise that spans three generations at Leppington and West Wyalong.
"We want this money to reach the farmers and NSW Farmers will make sure that happens. We want others to join us in supporting this bush fire appeal, our donation is a start and we will encourage everyone we know to help too," Tony Perich said.
Mr Jackson said NSW Farmers will work with registered and respected charities with established logistic networks to provide fodder, feed and water in the short term. This may also include seeking access to generators to aid production and short-term storage of perishable product, and emergency fencing repairs to aid herd containment.
"We will be making direct contact with charities, including Rapid Relief Team, Rural Aid, Lions Need for Feed, and Blaze Aid to determine their capacity to deliver targeted response to dairy farmers," Mr Jackson said.
"Once the immediate emergency has passed we will work with impacted farmers to provide ongoing support and implement measures to enhance sustainability of these farm businesses."
"I would like to acknowledge the financial support coming into regional communities from businesses, celebrities and everyday Australians.  It's an inspiration to all and backs government support in rebuilding our communities."
Farmers can report stock losses and infrastructure damage, and request animal assessment or emergency fodder or water for stock, by calling the Agricultural and Animal Services Hotline on 1800 814 647. People without phone access can send a direct message via the NSW DPI Facebook page.
Finance provider Greensill digs deep
Specialist agribusiness financier Greensill, a leading global provider of working capital finance, has made a $250,000 donation to help victims of the Australian bushfires. The donations will be shared between the Red Cross and the NSW Wildlife Information Rescue and Education Services (WIRES) and the Rural Fire Service in Bundaberg, Queensland.
Greensill is also allowing staff to take paid leave to help with the firefighting and recovery efforts. Staff and equipment from the Greensill Farming operations have been helping with the firefighting effort in the Bundaberg area.
As a financier to Australian business in rural and regional Australia, members of Greensill's agribusiness team will be helping farmers affected by the fire to rebuild and restock, the company said in a statement.
AgriWebb project to connect fire-ravaged farmers with the help they need
Farm management software company AgriWebb yesterday launched its Community – Helping Hand project to help fire-affected farmers to access the help they need.
AgriWebb founder, John Fargher said his company knew there were people out there who wanted to lend a hand, so it was decided to develop a community project to help connect these people with those who needed help.
The Community – Helping Hand project aims to connect farmers needing assistance with farmers and others willing to help. The resource is accessible by all farmers – not just Agriwebb software clients. Farmers can register at https://www.agriwebb.com/helping-hand-project to assist other farmers, while those affected by bushfires can register for help – whether they need labour, agistment, feed or machinery.
"From there, our team will match up those who can help with those who need help," Mr Fargher said. "I hope the wider farming community gets on board. Nobody understands the needs of farmers like farmers. They have the equipment, supplies and know-how to make a difference, and quickly."
As of January 8, 167 AgriWebb software users had farms under threat of fire, with some 409,000 livestock at risk and more than 200,000 hectares burned.
AgriWebb is also helping users get the financial assistance they are entitled to and is building a measurement tool so farmers can calculate the loss in fence infrastructure for insurance claims.
"The idea came from one of our customers on Kangaroo Island who lost every fence on his farm and rang up to ask how we could help. We want to clear any hurdles farmers face in an already tough time. This simple tool will save our customer hours of time in calculating the losses," Mr Fargher said.
For people who aren't farmers but still want to help, AgriWebb encourages a donation to Burrumbottock Hay Runners. "Before the fires even started, they were doing a great job delivering hay to get farmers through the drought," Mr Fargher said. "Now, their work is more important than ever."