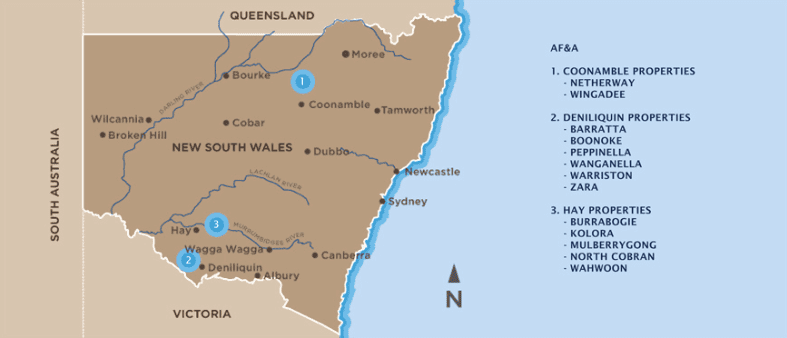 ALL shareholders in the privately owned Australian Food and Agriculture Company Limited have agreed to offer their shares for sale to enable estate planning and the restructure of the affairs of the major shareholder, the late Colin Bell.
The Bell Financial Group and AFA founder, and renowned stockbroker Colin Bell passed away in March last year, aged 80, after a long battle with illness.
AFA is a large-scale, diversified agricultural business established by the late Colin Bell in 1993 with the acquisition of the historic Burrabogie station. Since 1993, three marquee aggregations have been formed within the Deniliquin, Hay and Coonamble districts of New South Wales.
AFA is offloading 13 New South Wales farms in three aggregations spanning 225,405ha, reportedly with hopes of raising about $700 million.
AFA chairman, Alastair Provan, said AFA has been built over the last 30 years to be a major Australian agribusiness and holds the largest diversified agriculture portfolio in New South Wales.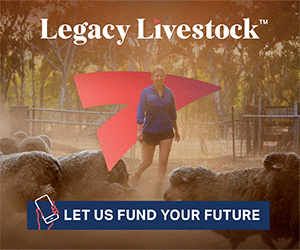 "Following Colin's death, the shareholders have made the reluctant decision to sell their shares in the company to enable estate planning and the restructure of the affairs of the major shareholder.
"The sale represents a once in a generation opportunity for a buyer to take custodianship of these iconic and highly productive Australian properties, supported by highly experienced management and staff that have driven the growth of the business," he said.
Bell Potter Securities Limited is acting as exclusive financial advisor in the sale of the company. The sales process is expected to commence in the following week and involve the initial submission of indicative offers, followed by negotiations with a shortlist of prospective buyers.
AFA's aggregations include some of Australia's most iconic properties that have played leading roles in Australian agricultural history, including:
▪ Boonoke, Wanganella and Peppinella in the Deniliquin aggregation including the world-famous Wanganella and Poll Boonoke Merino studs;
▪ Burrabogie and Mulberrygong in the Hay aggregation; and
▪ Wingadee and Netherway in the Coonamble aggregation.
AFA's aggregations total about 222,000 hectares (~550,000 acres) of land, including:
▪ ~186,500 hectares of native grazing pastures that support one of the largest livestock operations in NSW;
▪ ~23,700 hectares of dryland cultivation, primarily in the Coonamble aggregation; and
▪ ~11,500 hectares of irrigation layouts in Deniliquin and Hay.
To support its operations, AFA owns more than 54,000 megalitres of water entitlements from the Murrumbidgee and Murray systems.
The company statement said AFA has continued to invest in the enhancement and integration of the properties over its stewardship, including most recently the development of the state-of-the art Conargo Feedlot, with a total capacity of 12,000 SCU, strategically situated in the NSW Riverina district within the company's Deniliquin aggregation.