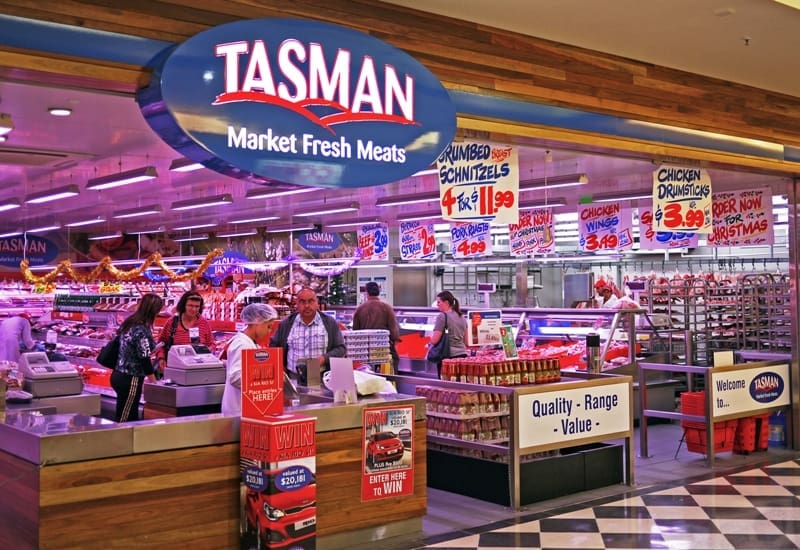 ADMINISTRATORS remain hopeful of finding buyers for most, if not all, of the 15 retail outlets controlled by Victoria's Tasman Market Fresh retail meat business, which went into voluntary administration a fortnight ago.
As Beef Central reported earlier, Tasman collapsed on September 9, owing millions to creditors.
A provisional list of Tasman trade creditors seen on Friday by Sheep Central runs to almost 200 names, owed a total of more than $9.5 million. That figure could rise once formal claims are raised, Sheep Central was told by one of the companies involved.
The list of creditors is dominated by lamb, beef pork, chicken and smallgoods suppliers. Among them are 19 companies owed $100,000 or more, with several above $500,000. Among the largest creditors are some of Victoria's biggest red and white meat processors and prominent meat wholesalers. Energy provider Origin was owed more than $320,000. Others included transporters, refrigeration companies and packaging equipment and materials suppliers.
The Tasman events rank among the largest collapses seen in the Australian meat retail business in recent years, rivalling the Super Butcher Queensland network closure in 2012 owing creditors more than $10 million (later to re-emerge under the ownership of two of the largest creditors), and Sydney's Peter's Meats collapse in 2015, which rebirthed under the Sutcliffe Meats name after 15 of the better-performed stores were sold to prominent meat processing identity Stephen Kelly.
Preferred bidder identified
PwC Australia's David McEvoy, who was appointed administrator of the Tasman assets after they entered voluntary administration a fortnight ago, told Beef Central on Friday that a preferred bidder had been identified for ten of the 15 stores currently trading.
"We're currently working through a process with that party, with the objective of reaching a binding arrangement," Mr McEvoy said.
He said location was one factor in which stores were under consideration by the preferred bidder, depending on each investor's business model, with the Tasman assets spread across Melbourne and regional Victoria.
For the remaining five stores not under consideration by the administrator's preferred bidder, Mr McEvoy said a number of parties were looking at them on an individual basis, or groups of two or three.
"We need to get those over the line, but we do have interest being expressed," he said.
Formal offers for the Tasman retail assets closed last Monday, September 17.
Mr McEvoy would not comment on suggestions that some of the creditors themselves might have interest in the assets, but said the interest had come from a "range of business backgrounds."
One large Melbourne wholesaler, owed a substantial six-figure sum as a creditor, has been suggested to Beef Central as a potential buyer for the bulk of the Tasman retail assets.
Mr McEvoy said the administrators were motivated to keep the Tasman stores open for business, and transition them across to a new owner who could "put them on more sustainable footing, and preserve the jobs across the business."
"We're keen to wrap the discussions up sooner rather than later," he said. "It's in everyone's interest to get the business out of administration and back into normal trading."
A second creditors meeting currently scheduled for 15 October may provide more guidance on Tasman Market Fresh Meats' future. That meeting will decide what happens to the company – either entering into a deed of company arrangement with a new owner, or liquidation. A sale can happen irrespective of either of those outcomes, Beef Central was told.
2013 sale to current owners
Tasman Market Fresh Meats was operated and majority-owned by private equity firm, Equity Partners, which bought a 53pc stake in the business from original owner Joe Catalfamo in 2013. Click here to view earlier story on the original sale. Mr Catalfamo had earlier sold his Tasman meat processing interests to JBS Australia in 2008.
The Tasman model relies on 'big box' format meat retailing, mostly using large, stand-alone stores in strategic population growth corridor locations, offering a wide range of meat protein items, in addition to selected deli and grocery lines.
Where a traditional 'High-Street' butcher shop is often around 100sq m in size, many of the Tasman outlets were up to ten times that footprint.
Click here to view Sheep Central's original story on Tasman Market Fresh Meats entering administration.