MORE than 170 Tasmanian beef and lamb stakeholders engaged in JBS Australia's Great Southern farm-assured supply chain program gathered to salute their peers when the company held its second Supplier of the Year awards in Launceston on Thursday night.
An awards dinner held at Country Club Tasmania just outside Launceston served as the centrepiece of the event after an afternoon conference program exploring the achievements of Great Southern's progress to date, performance impacts like meat colour variability, and where the premium grassfed brand program is going (more reports on these topics later.)
Thursday night's awards dinner drew committed beef and lamb suppliers from across 'mainland' Tasmania, as well as King Island and Flinders Island. Awards were presented for Tasmanian beef producer, Tasmanian lamb producer and King Island beef producer of the Year.
The JBS Farm Assurance program is the largest and most successful program of its kind, and is the only grassfed, third-part audited, multi-species brand program in Australia.
It now comprises more than 2200 dedicated beef supplier members in Tasmania, Victoria and NSW, and 1000 equivalent lamb producers delivering high-quality grassfed beef and lamb to strict specifications under the Great Southern beef and lamb and King Island beef brands, plus the Red Gum value-added domestic beef and lamb labels.
"I can assure you that putting these program cattle and sheep together on a daily basis, processing them and marketing them throughout the world does not happen on its own – it's a huge team effort, from producer all the way through the chain, " JBS Southern Livestock manager Steve Chapman said during the awards presentations.
Tough task in defining award winners
The selection of Thursday night's award winners used the recently-launched Livestock Data Link facility (see Beef Central's earlier report on LDL launch) to help benchmark Great Southern suppliers on a range of commercially-important attributes. Assessment was based on compliance against company carcase specs and weight, comparisons against the MSA Index over 60, spread of kill throughout the year and other performance parameters.
As can be seen in the Top 10 finalists in the three categories published below, the formula in some cases had to go down to two decimal points to separate the winners and placegetters, such as was the level of performance at the upper end.
Ultimately there could only be one winner for each species/region, and all three rode away on a brand new Yamaha Grizzly quad-bike, each worth around $15,000, which made a spectacular surprise entrance to the dinner venue stage.
2015 Tasmanian Lamb Producer of the Year
Tasmanian Lamb Producer of the Year was Scott Bowden, who scored an incredible 98.9 points out of 100 in the rankings assessment. Mr Bowden expressed complete surprise at his win, but said he was honoured at receiving the award.
He farms near Bothwell, in the middle of the island state, supplying Great Southern for the past two years with around 10,000 lambs each year.
Year-round supply is one of the challenges to the program, and in Mr Bowden's case, it's about managing pastures and selling down by weight (targets around 22kg or better) from March each year. Most of his lambs are first cross Suffolks out of Merino ewes.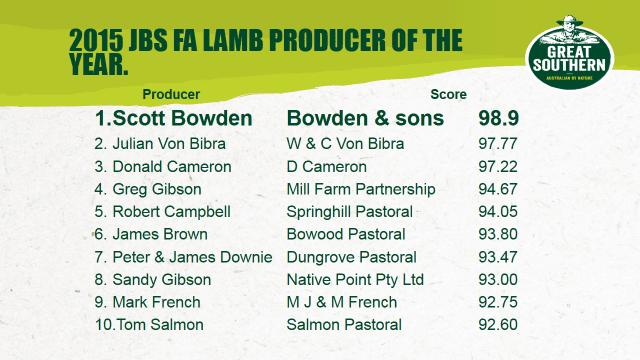 2015 Tasmanian Beef Producer of the Year
Deloraine's Robert Atkins was a clear winner in the Tasmanian Beef Producer division, with a score of 79.4 points.
"Talk about shocked," he exclaimed when stepping forward to collect his award. "I had no idea I'd even be on the finalists' board. The very best I would have hoped for would have been at the bottom end of that list," he said.
"I'd like to thank JBS for what they've done; what they are still doing; and what they intend to do with this farm assurance program. It has a big future," Mr Atkins said.
"I think we all have a responsibility to give it our best shot. If we (producers) do our bit, and they (JBS) do their bit, the way the world is today being short of protein, I think we will be looking at something in years to come probably greater than the oil boom.  It will be a global food boom."
Mr Atkins consigns 200 or more grassfed steers and heifers a year to the JBS farm assured program for slaughter through Longford – mostly growing-out bought weaners of mixed breeds. Being former dairy farmers (Robert's son still runs a dairy herd today), he said former dairy pasture management experience was a useful skill in managing the annual winter feed challenge, in order to even-out supply patterns across a yearly cycle.
"Ours is a pretty cold, frosty and wet area, so we make a lot of silage and hay to get us over the winter feed gap and keep cattle moving forward. Also, we do try to run our numbers down a little heading into winter, buying a few extras in, in the springtime."
"We aim to get the lead of our steers up to 400kg liveweight or close to it, and we see a premium for Great Southern cattle up around 40c/kg over the standard markets. Now, in this area, JBS seems to be the price setters, and the others are the followers," he said.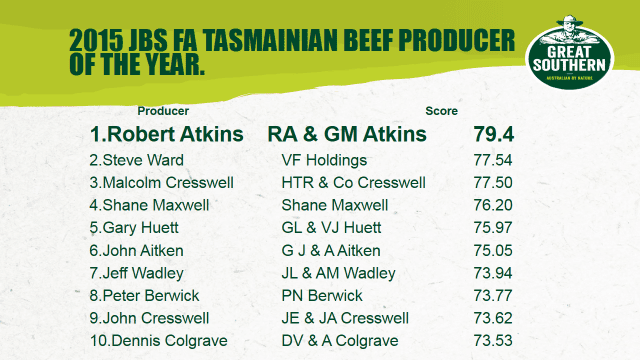 2015 King Island Beef Producer of the Year
King Island Beef Producer of the Year winner was Michael Youd, who scored 84.34 points, with last year's inaugural winner Doug Collins finishing a close second.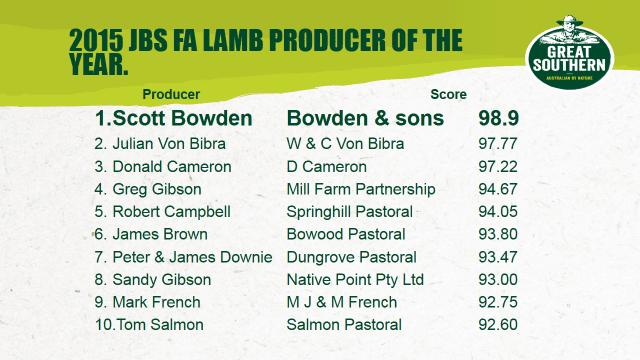 "I'm shocked to win this award," Mr Youd told the dinner gathering. "I'm proud of the product we produce, and it's nice to know when you get it right, and get close to the bullseye."
Having listened to the afternoon briefing and evening dinner speakers, including an enthusiastic  testimonial from Malaysian restaurateur, Yusof Carey,  Mr Youd said he now better understood where the company was up to with the product, on the world stage.
"It's a real positive for the product and the company," he said. "Tasmania has got a unique product, being clean and green, HGP and antibiotic free, and it is great to see it being recognised and differentiated in this way."
Asked how his enterprise had changed in order to achieve the results reflected in last week's award, he said his property, Golden Mile, had shifted emphasis a few years ago from being an integrated breeding/finishing operation to buying young cattle to grow out in a dedicated finishing operation.
"We chose to sell our breeding cows, which was a sad day, but have replaced them with bought yearlings that we grow out for 12 months. Now that the cows are gone, we've gone to a lower stocking rate in the winter time to put on weight all the way through the yearly cycle," he said.