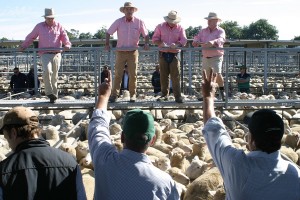 ABARES' saleyard price prediction for Australian lamb in 2015-16 has been revised down slightly from its June estimate, in the September edition of ABARES' Agricultural Commodities report.
ABARES analyst Jack Mullumby has forecast 2015-16's weighted average saleyard price of lamb will increase by 8 percent over 2014-15, to average 560c/kg cwt, 5c/kg lower than the prediction in June this year.
The weighted average saleyard prices of sheep and lambs are forecast to increase in 2015–16 in response to lower supply and strong export demand, ABARES said.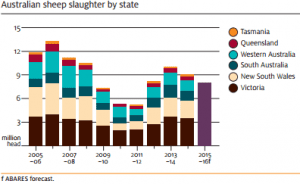 Lamb slaughter in 2015-16 has been revised down to 22 million, but producing 498,000 tonnes, 2pc down on 2014-15's 507,000 tonnes. The coming year's expected 4pc reduction in slaughter from the 2014-15 level would come from a predicted fall in turn-off due to assumed more favourable seasonal conditions in the second half of the year, ABARES said.
For 2015–16 as a whole, an expected marginal increase in average carcass weights will lend support to lamb production, ABARES said.
Domestic demand underpinning exports
The ABARES report made no forecasts in relation to Australian demand for lamb. However, MLA market information manager Ben Thomas said domestic consumption is still the largest single market for Australia lamb, with 45pc consumed onshore. Australian consumption is about 9kg of lamb per capita.
"So that provides a pretty strong foundation."
Average saleyard mutton price forecast steady at 365c/kg
ABARES has left its prediction for the 2015-16 weighted average saleyard price of sheep at 365c/kg cwt, a 10pc lift on 2014-15 levels and the same as its forecast in June. This follows a 27 per cent increase in 2014-15, driven by strong demand from the Middle East and a reduction in turn-off in the second half of the year.
Sheep slaughter is forecast to decline by 11pc in 2015-16 to 8 million, down from the 7.7m forecast in June. This follows a decline of 10pc in 2014-15, reflecting the start of a flock rebuilding process in the second half of the year. In 2015-16 an assumed improvement in seasonal conditions is expected to support flock rebuilding and reduce the rate of turn-off. As a result, mutton production is forecast to fall by around 11pc to 191,000 tonnes, up from the 171,000 tonne prediction in June.
Lamb and mutton exports expected to decline
ABARES is forecasting Australian lamb exports to decline by 5pc in 2015-16 to around 230,000 tonnes, from a record 242,000 tonnes in 2014-15. The value of Australian lamb exports is forecast to fall by 1pc in 2015-16 to around $1.68 billion, because the decline in export volume is expected to more than offset any increase in the unit export price. The forecast decline in export volumes reflects forecast lower lamb slaughter in 2015-16.
Export demand for Australian lamb is expected to remain relatively strong, particularly in the Middle East and the United States. In contrast, lamb exports to China are forecast to fall as growing domestic production in China continues to put downward pressure on demand for imported product. Lamb exports to China fell for the third consecutive quarter in June 2015, resulting in an overall decline of 13pc in 2014-15.
Mr Thomas said the US is one of Australia's biggest markets for lamb and the falling $A-US exchange rate is working in favour of producers, from US80 cents at the start of the year to around US70 cents now.
"And it is forecast for that to continue to decline into 2016," he said.
Mr Thomas said US lamb shipments continued to rise despite high cold storages stocks, while China demand has been sluggish. But he said there have been some NZ reports of potentially increased interest in lamb leading into the coming Chinese New Year in February 2016, though there have been no indication of what this mean for Australia.
"It will be something worth monitoring over the next months or so to see if we see any increase in our exports up there and if these market murmurs in New Zealand actually eventuate."
ABARES is expecting Australian exports of mutton to decline by around 16pc in 2015-16 to 142,000 tonnes, reflecting lower mutton production. Despite generally favourable export prices, the value of mutton exports is forecast to fall by over 13pc in 2015-16 to around $673 million.
Source: ABARES