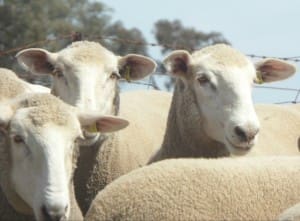 Key sheep and wool market presentations from the ABARES Outlook 2015 conference are now available online through the bureau's Youtube channel.
ABARES executive director, Karen Schneider said videos of presentations at the conference in Canberra in early March, accompanied by PowerPoint presentations and captions of the Outlook 2015 sessions, ensured that this information was available to everyone with an interest in the future of Australia's agricultural industries.
Sheep and wool featured on the second day of the conference and presentations included:
– Trish Gleeson, ABARES senior economist with – Livestock – emerging markets, competitiveness and farmgate returns
– Caroline Gunning-Trant, ABARES – Outlook for sheep and wool
– Jimmy Jackson, Australian Wool Innovation – Reducing the Australian wool industry's reliance on China
– John Ramsay, Ramsay Agriculture, Tasmania – Changing directions for a more positive future
– David Counsell, 'Dunblane', QLD – Pastoral sheep, profitable but under threat
Ms Schneider said Outlook 2015 explored the theme 'The business of agriculture: producing for profit' and with 16 sessions over two days, there was a substantial amount of data released to decision-makers across the Australian agricultural sector.
"Outlook 2015 included presentations from national and international experts as well as Australian primary producers, to deliver a comprehensive analysis of the national agricultural sector."
International and national presenters included Ayhan Kose, The World Bank; Geoff Raby, Geoff Raby & Associates; Andrew Crane, CBH Group; Andrew Forrest, Minderoo Foundation; Alan Oxley, ITS Global; Greg Pompelli, Economic Research Service, United States Department of Agriculture; Gilles Boumeester, Rabobank The Netherlands; and Rob Forlong, Environmental Protection Authority New Zealand.
Minister for Agriculture, Barnaby Joyce, opened Outlook 2015 with a keynote address. Deputy Prime Minister and Minister for Infrastructure and Regional Development, Warren Truss, opened the second day of the conference.
You can find all the Outlook 2015 presentations at: http://www.agriculture.gov.au/abares/outlook-2015/Pages/Program.aspx
Source: ABARES