Updated 7am, Monday 7 Sept
THE Australian dollar hit another significant milestone on Friday, dipping into the US60's for the first time since a brief period in 2009.
The currency opened this morning (Monday) at US69.14c, after trading over the weekend in a range from US68.96c to US70.14c. It's the weakest currency level in six years.
The gradual decline in value this year is a boon for Australian sheepmeat and wool exporters, who have been sharing in the benefit of an increasingly more competitive A$ value.
This time last year, the A$ was still worth 90.32c, representing a 23 percent decline in value in the 12 months since. Even since the start of 2015, the currency has declined 15.5pc.
The currency flirted twice with the US60s last week, firstly because of weak Chinese manufacturing data and the second time after local data showed the Australian economy in the June quarter slowed to its slowest pace in two years.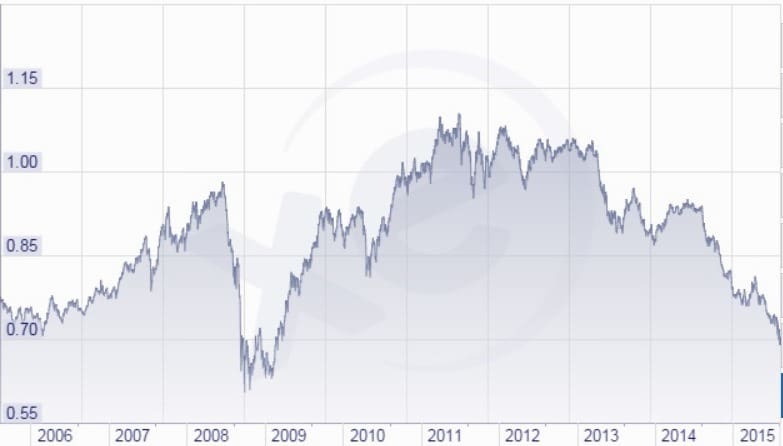 As this ten-year graph courtesy of XE.com  shows, the A$ has not been this low since a brief period from January to March, 2009. At its highest point back in 2011, the A$ was worth close to US 110c, and spent almost two and a half years above parity with the greenback, until May 2013.
The latest descent in value reflected a toxic mix of global and domestic factors driving policy divergence bets as well as broad-based risk appetite, analysts said.
"Right now the Australian dollar is caught in the crossfire of the worldwide currency war," one financial analyst said. "The big central banks of the US, Japan, Europe and China manipulate their currencies to win trade advantages."
Most Australian analysts had been predicting the dollar would slump to US70¢ by early in 2016, but are now revising their forecasts lower after last week's trading trend.
Low hard-commodity prices have seen the Australian mining boom slow over the past year,  and this has had flow-on effects to foreign exchange rates. The trade flow impacts have been further compounded by relatively low interest rates in Australia and strong economic performance in the US.
Australia is not the only commodity-exporting nation to record a devaluation in its currency, however. In particular, the Brazilian Real, at US27¢, has halved from where it peaked in 2011 and is currently back about 40pc year-on-year (XE.com).
Brazil is another large beef exporting nation, however due to market access constraints, while not indefinitely guaranteed, it doesn't compete directly with Australia in some markets.
The decline in the Australian currency has been most starkly noticed against the greenback, but other important Australian red meat importing countries' currencies have also appreciated against the A$.
As of September 2, the A$ against other major trading currencies was worth:
¥ 84.27 (Japanese Yen), back 13pc year-on-year
₩829.00 (Korean Won), back 12pc
¥ 4.47 (Chinese Yuan), back 22pc.
LNG's growing importance as a 'commodity driver' of the A$
NAB senior currency strategist Emma Lawson told Beef Central on Friday that while current price declines in commodities (like iron ore and coal) meant more pressure for the A$, she did not believe this would sink to 'historical lows' (around US50c).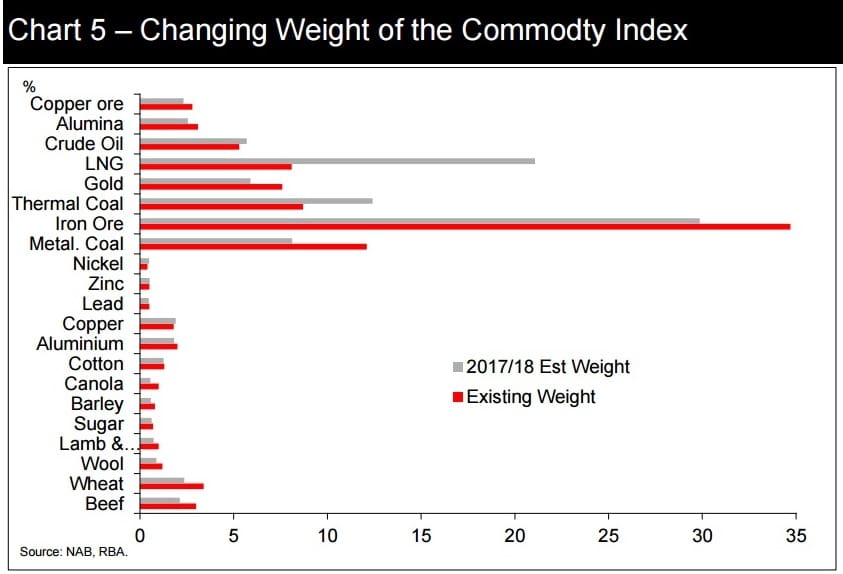 "The worst, from the commodities source, is likely behind us," she said.
"It is well known that the A$ is strongly influenced by commodity prices, but while iron ore is the main influence, liquid natural gas (LNG) prices are growing in importance," she said.
"Iron ore will remain the largest component of exports, but LNG is rapidly catching up."
Given the projected supply of LNG coming from the North and West of Australia, the value of Australia's LNG exports is expected to increase 212pc from now until mid-2018. This more than overwhelms any projected increase in value of agricultural projects, but also that of iron ore, coal and oil (see graph).
Given these expected changes, the LNG price becomes particularly important for Australian currency value; rising in weight from its current 8pc to 21pc in terms of currency influence. This leaves it as important as iron ore, which drops to 29.9pc from 34.7pc.