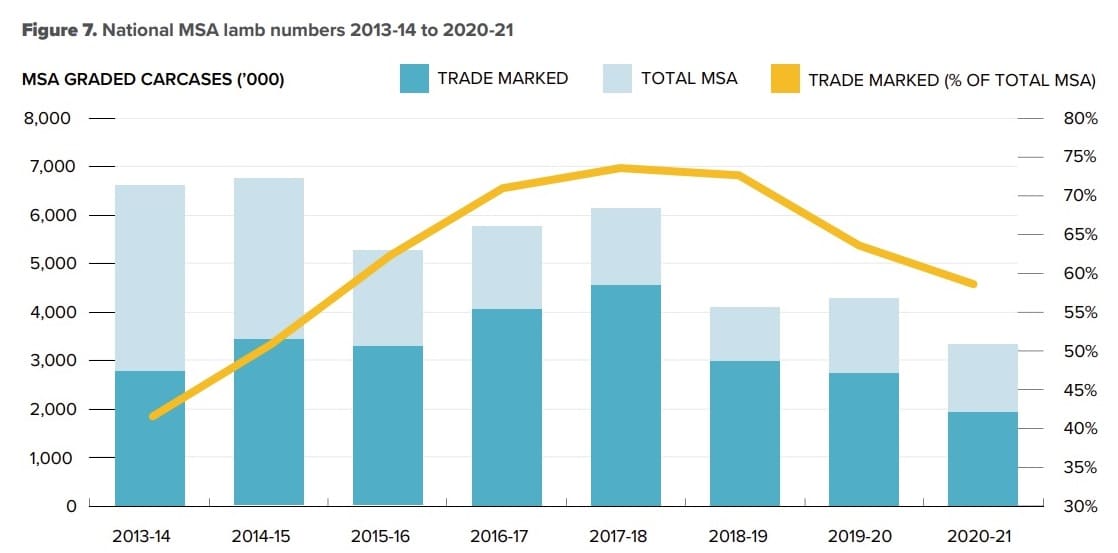 MORE than 3.4 million sheep and lambs followed MSA pathways through 17 MSA-licenced processing facilities last financial year, MSA's 2020-21 MSA Annual Outcomes Report released today shows.
This represented 14 percent of the national lamb slaughter, with 59pc of those going into 22 MSA trademarked brands across the country. Of the total lambs processed in Australia, 57pc were processed through MSA-licenced processing plants that follow processes to improve eating quality.
An additional 993 sheep producers became MSA registered in 2020-21, taking the total number of MSA registered sheep producers to 26,475. MSA registered sheep producers now represent 33pc of LPA accredited sheep properties, the report showed.
In MSA's beef operations, the decline in cow slaughter as the national herd recovers from drought helped push Meat Standards Australia grading numbers beyond 50pc of national adult cattle slaughter for the first time in the 2020-21 year.
Six years ago, MSA set a target of accounting for 50pc of adult cattle slaughter before the end of 2020, but fell just short – partly due to the unusually large number of (ungraded) cows making up national kills during the drought.
MSA's 2020-21 MSA Annual Outcomes Report  shows that the milestone was reached last financial year for the first time, with 3.3 million carcases graded, representing 53pc of national slaughter. The figure was up from 46pc the year before.
The number of MSA licensed red meat brands also increased over the past 12 months, with the program reaching a new milestone of 205 sheepmeat and beef brands licensed under MSA.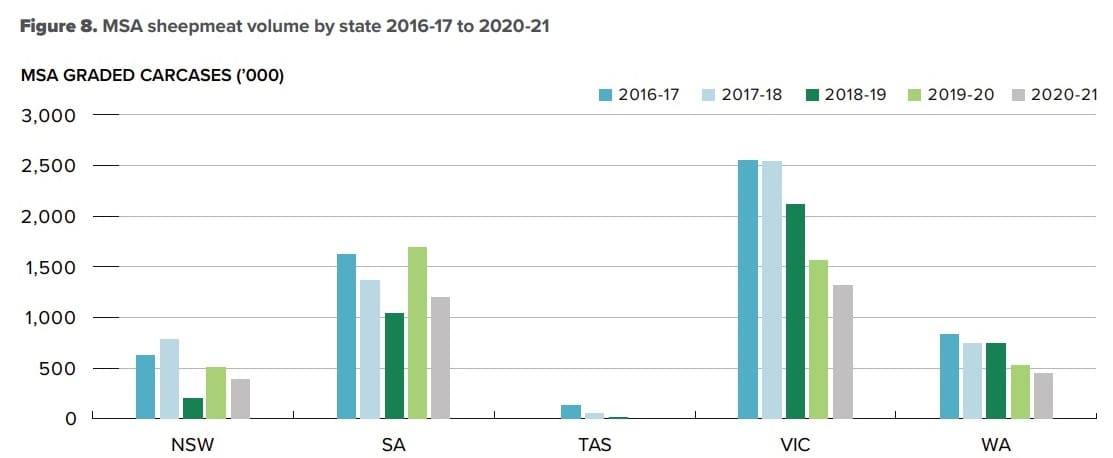 MSA program manager David Packer said the latest MSA Annual Outcomes Report demonstrated the red meat and livestock industry's growing commitment to eating quality and meeting consumer expectations.
"The report highlights the record-breaking participation across the supply chain of Australia's world leading eating quality grading program over the past 12 months," Dr Packer said.
By volume, Victoria processed the greatest number of lambs through MSA pathways at 1.3 million head last year, while South Australia accounted for about 1.2 million head. All states were well down on the previous three years, due to flock recovery after drought.
The average price differential for MSA lamb compared to the equivalent non-MSA cuts at independent butcher stores was $0.88/kg, while at wholesalers, the average price differential was $2.13/kg. MSA lamb cutlets averaged the highest price differential at $1.70/kg over non-MSA.
Retail prices saw MSA lamb average $32.23/kg last financial year, a 2.7pc premium over non-MSA at $31.35/kg. A 9.1pc premium was evident for MSA at wholesale level.
Cuts based model
In an important breakthrough for the sheepmeat industry, the first cuts-based sheepmeat model was developed in 2020-21, based on more than a decade of research.
MLA is now working with industry towards commercialisation, which includes benchmarking and testing the system with a number of processors, and is partly dependent on technology to capture intramuscular fat content in sheepmeat.
"Once this model is commercialised, processors and brands will be able to apply sophisticated eating quality segregation within their supply chains to underpin branding, and offer incentives to encourage improved supplier performance," Dr Packer said.
Dr Packer also recognised that producer engagement programs and the enhanced myMSA platform continued to drive increased on-farm performance. Despite restrictions due to COVID, more than 700 producers and 300 livestock advisors were engaged in MSA education during 2020-21, while 3445 producers used the myMSA feedback system 22,407 times – an increase of 38pc on the previous year.
The program also saw 2594 new livestock producers sign up last financial year, taking the total to almost 40,000 beef producers and 26,000 sheep producers.
"Overall, these results indicate that the MSA program continues to evolve and play an important role in the Australian red meat industry's goal to double the value of Australian red meat by 2030," Dr Packer said.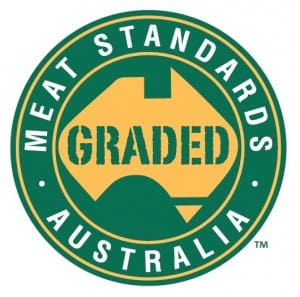 Meat Standards Australia is the world's leading eating quality grading program for beef and sheepmeat, developed to improve the eating quality consistency of red meat. The system is based on more than 1.2 million consumer taste tests by more than 171,000 consumers from 11 countries and takes into account the factors that affect eating quality from the paddock to plate. Beginning in 1998, MSA has integrated more than 20 years of research and development with commercial outcomes, and involves participation along the entire Australian red meat supply chain.
Click here to access MSA's 2020-21 Annual Outcomes Report