ONLINE sheep and lambs listings have started in 2022 at historically high levels, boosted mostly by new season lamb offerings.
AuctionsPlus said its weekly sheep and lamb sales for the first week of 2022 hit the ground running, with a total of 40,567 head offered – 73 percent higher than the corresponding week in 2021.
The largest listing regions included south-west Victoria, which offered more than 50pc of the total catalogue, with 22,661 head. South Australia's Kangaroo Island offered 4198 head.
The New South Wales Riverina region was the top purchasing region last week, securing 7969 head, followed by south-west Victoria buyers who bought 7411 head.
With a lack of the usually high temperatures across key sheep producing regions and ongoing widespread rainfall, AuctionsPlus said the spring flush of 2021 lambs has been drawn out. The turn-off period in some regions, including south-west Victoria and parts of South Australia, are reportedly running 6-8 weeks later than normal. Given this delay, it is expected that ample lamb supplies will continue to hit the market throughout January, which will prove attractive for all buyers, AuctionsPlus said,
New season lamb numbers accounted for 83pc of last weeks' offering. Crossbred lambs remained the largest category at 22,211 head. Prices ranged from $97-$204, to average $157, a $3 rise from the final week in 2021. The clearance level was 82pc.
Merino wether lambs accounted for 4pc of the catalogue last week. They sold from $140-160 to average $147, up $12 on the final sale of 2021. The tight supply was met with eager buyers, as the category achieved a 96pc clearance rate, AuctionsPlus said.
There were 7592 composite and other breed lambs offered, with the category averaging $170, up $9. The clearance rate was 59pc, with buyers mainly chasing quality heavy lines. Topping the category was a line of June/July 2021 Primeline lambs at Karabeal at Victoria that weighed 44.3kg liveweight and made $240.
Joined ewes accounted for 4pc of the offering. There were 581 scanned in-lamb Merino ewes that sold from $257-$310 and averaged $275, up $17, with a 100pc clearance. A line of 1.5-5.5 year-old ewes at Temora in NSW weighing 65.8kg liveweight sold for $310 to a NSW buyer at Coonamble.
Unjoined ewe categories made up 11pc of the offering, including 2511 unjoined Merino ewes that sold from $149-$232 and averaged $178, back $8 on the last week of 2021, and with a clearance rate of 69pc.
Unjoined first cross ewes accounted for 4pc of the offering and made $260-$340 to average $307, up $15, and with a clearance rate of 72pc.
NOTE: Prices as at 5pm, Thursday 6th January 2022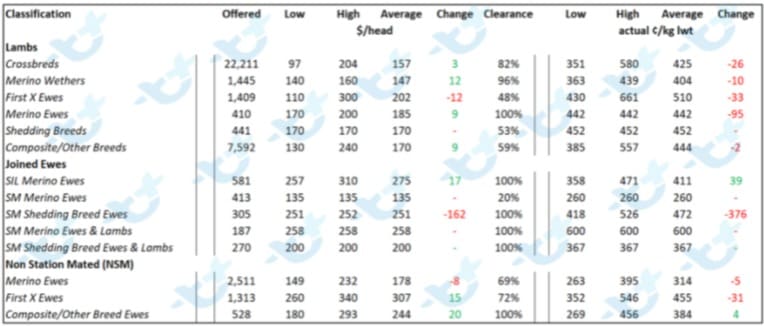 Source: AuctionsPlus.