THE absence of shipments to Jordan has led to Australia's July sheep live exports falling sharply — by 24 percent — from the previous month to 90,000 head.
The monthly LiveLink report released by MLA and Livecorp this morning reported that demand from Kuwait and Qatar remained strong in July, with sheep exports totalling 45,000 and 35,000 head, respectively.
For the calendar year to the end of July, sheep exports to Kuwait reached 338,500 head, a three percent decline year-on-year. Demand for sheep meat in the Middle East remains strong, in particular from Australia.
Click here to get the latest Sheep Central story links sent to your email inbox.
Sheep exports to Qatar totalled 333,000 head for the calendar year-to-July, a lift of 10pc compared with the same period last year.
Demand in Qatar is being driven by preparations for the 2022 Soccer World Cup, where significant numbers of expatriate labourers from the sub-continent are working on large construction projects across the country which has seen growing demand for imported product.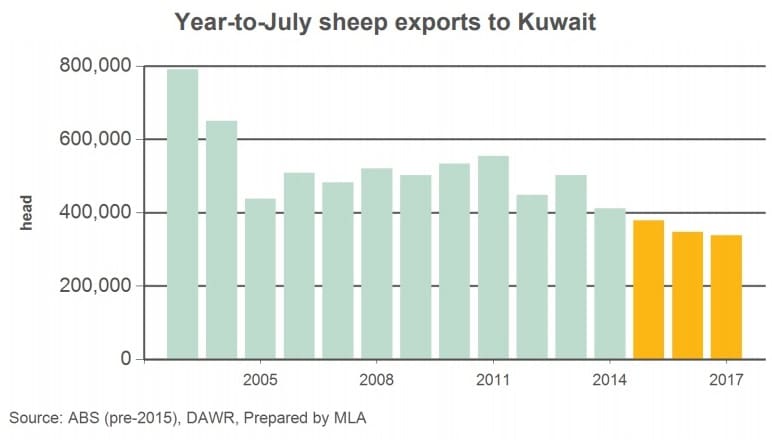 Exports to the United Arab Emirates reached 6000 head in July, and almost 62,000 head year to date.
Overall sheep exports to all markets year-to-date reached 912,325 head, down 11pc on the corresponding period last year.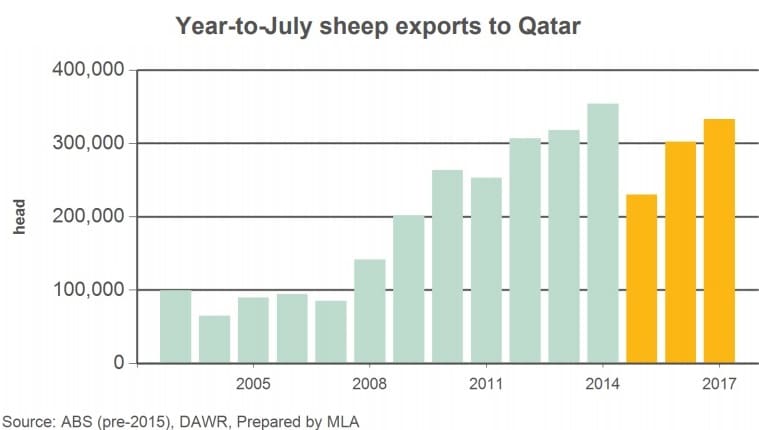 Goat numbers well back
Total live goat exports for the calendar year-to-July were 6457 head, LiveLink reported, down 81pc compared to the same period last year. The drop is due to the sharp decline in exports to Malaysia which has resulted from the seasonal reduction in supply and high prices of Australian slaughter goats, along with availability of cheaper goats from Thailand and Myanmar.