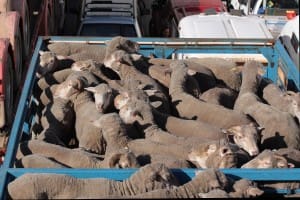 Melbourne will host the livestock export industry's annual forum on October 30.
ALEC chief executive officer Alison Penfold said the 2014 LIVEX Forum follows a successful inaugural biannual LIVEXchange conference in Townsville last year which brought together over 300 stakeholders from across the trade to address and challenge key issues confronting the Australian livestock export sector.
"We are planning for LIVEX Forum to highlight recent initiatives developed by the Australian export sector helping to improve supply chain capabilities and animal welfare in the markets in which we operate, as well as a platform for discussion on issues of particular interest to the dairy, beef breeding and live sheep sectors," she said.
The one-day event will focus on trade and market opportunities, animal welfare projects, and research, development and extension activities.
Sessions will include:-
– A panel discussion with three major exporters on market opportunities
– A presentation on the development of a global assurance system for the livestock export trade
– A presentation on key research projects including the development of indicators of welfare for the live trade
– A presentation on the use of technology in the trade
–  A look at industry animal welfare training and the benefits delivered
– A panel discussion on emerging challenges and opportunities in animal welfare
Ms Penfold said further details of the program will be released in the coming weeks.
"We expect LIVEX Forum to draw a crowd of around 150 producers, livestock exporters, researchers, scientists, technicians, commercial investors, industry leaders and students from Australia and abroad and affords participants with an excellent opportunity to meet and mingle with a broad audience around Australian livestock production and export.
"Interest in the event has already been so strong that all sponsorship packages were sold out in record time.
"Along with the industry annual meetings which will be held earlier in the week, we will also be hosting a Producer Forum on the Wednesday afternoon which will target practical issues that affect producers supplying the trade."
Ms Penfold said there will be a welcome dinner on the Wednesday evening and the annual Gala Dinner and Charity Auction will raise money for a number of charities, including the Glenn McGrath Foundation.
"It is a tradition for the industry's annual dinner to include a charity auction and over the years the industry has raised significant dollars for a range of charities, large and small."
Registration for this event is now open and more information can be found at http://www.conferenceresources.com.au/registrations/2014-livex-forum.aspx