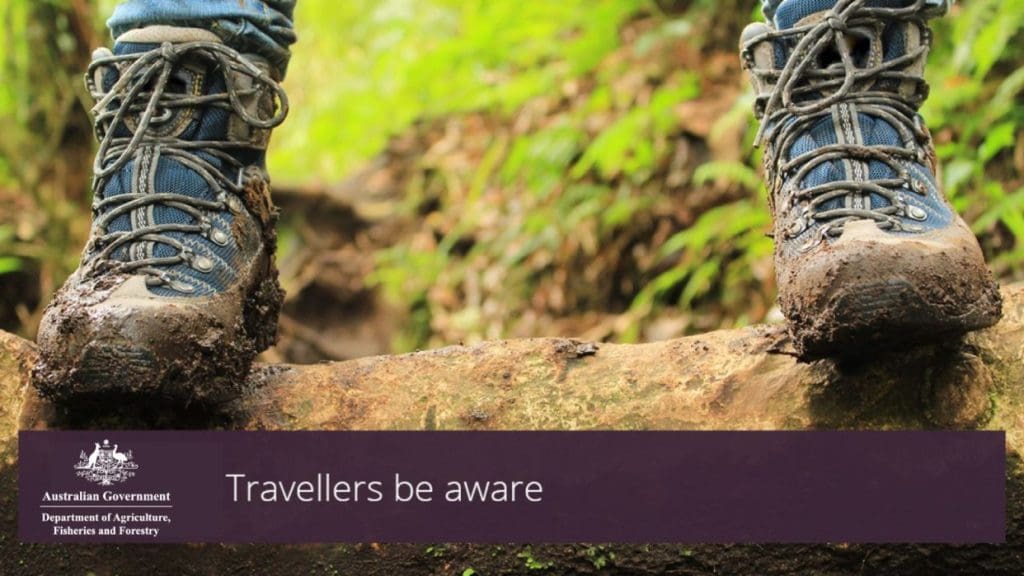 AUSTRALIA'S Federal Government has seemingly overlooked its own AUSVETPLAN on exotic disease incidents by claiming a powerful and irritating chemical was preferred for decontaminating footbaths.
The Federal Government has been under pressure from farmer bodies to implement footbaths for travellers coming to Australia from Indonesia to lower the risk of contaminated soil bringing Foot and Mouth Disease here.
AUSVETPLAN contains the nationally-agreed approach for the response to emergency animal disease (EAD) incidents in Australia. The plan is captured in a series of manuals and supporting documents.
Yet despite AUSVETPLAN's current (Version 3.2, 2008) Operational Procedures Manual on Decontamination advising that citric acid – found in orange juice – can be safely used for personnel and clothing contamination, the Department of Agriculture Forestry and Fisheries has claimed the chemical Virkon®, that is irritating to skin, eyes and the respiratory tract, was usually used in footbaths to control viral diseases.
On page 21 of the AUSVETPLAN decontamination manual it says:
"Citric acid, a milder acid, is available in solid form, is active against acid-sensitive viruses and can be used safely for personnel and clothing decontamination. It is particularly useful when added to detergents for the inactivation of foot-and-mouth disease virus."
A DAFF spokesperson has told Sheep Central that footbaths to control viral diseases usually use Virkon® a powerful chemical which causes skin, eye and respiratory tract irritation.
"Footbaths to be effective usually need to be deep enough to cover the foot and need to be regularly replenished when they become contaminated with organic material such as soil and manure from footwear.
"Passengers arriving from Bali often are not wearing enclosed footwear and cannot be exposed to a chemical such as Virkon® on bare skin (if they are wearing thongs, flip-flops, sandals) or soaking sandshoes and socks," the spokesperson said.
"There is an occupational and workplace risk of trip hazard, having children trip or fall into the bath, placing the baths in busy international air terminals.
"However, the need for like measures is a matter of ongoing investigation as to their merit in managing the risk."
Minister for Agriculture Murray Watt late last week announced updated biosecurity measures for travellers returning from Indonesia and he is currently in Indonesia discussing FMD and LSD management strategies.
The National Farmers Federation also this week suggested that returning Bali travellers ditch their thongs to protect Australian agriculture in its #ThrowYourThongs social media campaign.

Victorian Nationals advocate sterilisation of footwear
The Victorian Nationals today weighed in on the biosecurity debate saying the Federal Government's refusal to implement strict new biosecurity measures to stop FMD breaching Australia's borders risks decimating Victorian agriculture.
As Federal Agriculture Minister Murray Watt was in Jakarta today to meet with authorities on the FMD outbreak in Indonesia, Victorian Nationals leader and Shadow Minister for Agriculture Peter Walsh questioned the Minister's priorities, with Federal Labor still refusing to enforce sterilisation of footwear of all people arriving from Indonesia.
"FMD is easy to transmit, but will be impossible to combat if it breaches our borders which is why we must take every action now to prevent it reaching Australian farms.
"Minister Watt claims he'll 'implement any practical measures that will make a difference', but continues to offers weak excuses against industry's calls for sterilising footbaths for all arrivals," he said.
"Instead, Labor's focussing its efforts on advertising at the airport.
"But this is cold comfort to Victorian farmers who face an up to $6 billion economic hit if there's even a small, contained outbreak of FMD," Mr Walsh said.
"Bolstered biosecurity measures at airports that ensure every single traveller is stopped, questioned and required to sterilise or get rid of footwear that might be carrying the disease is the only option to keep our borders safe."
Mr Walsh said he wrote to the Federal Minister last week, condemning Labor's slow action and demanding an immediate boost to biosecurity at all of Australia's ports of entry.
"With thousands of Australians travelling to Indonesia at the moment, more safeguards must be put in place.
"Victorian and Australian producers can't afford the comprehensive trade restrictions and strict isolation protocols that would be required if an outbreak occurred," he said.
"Farmers and the agriculture industry deserve confidence that all levels of government are prepared to take all appropriate action required – no matter how disruptive – to protect producers, livestock, and our economic future."