COMMERCIAL sheep and lamb listings on Elders and Nutrien's AuctionsPlus decreased two percent last week, with 35,082 head offered.
Clearance slipped to 50pc and value over reserve was down to $6 above set reserves.
Lamb listings made up 67pc of the offering as new season lambs accounted for 15,447 head. The new season lamb offering was met with better demand resulting in a 64pc clearance and averaged $6 over reserve.
There was a clear shift of lambs heading south with the majority of lambs listed in central and western NSW while the majority of purchases were from buyers in western Victoria.
Crossbred lamb listings jumped 46pc this week with 8932 head offered. Prices were flat, to average $59/head for a 48pc clearance.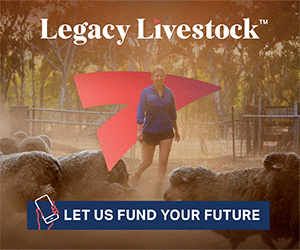 From Carrathool, NSW 680 May/Jun '23 drop White Suffolk/Merino mixed sex suckers averaging 29kg returned $58/head, or 199c/kg lwt and will travel to a buyer near Swan Hill, VIC.
Merino wether Lamb listings dropped 8pc this week with 11,285 head offered. Prices ranged from $24-$57 and averaged $37 – down $5 from last week for a 68pc clearance.
From Nyngan, NSW 620 Apr/May '23 drop Merino wethers averaging 37kg returned $43/head, or 115c/kg.
Selective buying was present throughout the sheep market, with Merino ewe hoggets seeing a 48pc clearance and prices falling back to $95/head – down $88.
From Harden, NSW 410 Merino ewes 12-13 months averaging 46kg returned $95, or 209c/kg and will travel to a buyer near Weering, VIC.
First X ewes registered a larger offering with 3896 head, with prices averaging $116 for a 34pc clearance.
From Wellington, NSW three even lines of 205 Border Leicester x Merino ewes 12-13 months averaging 61kg returned $130/head, or 212c/kg.
Prices as at 5pm Thursday, 7 September

Source: AuctionsPlus