A THREE-YEAR project has highlighted the potential of on-animal sensors for detecting predation by wild dogs.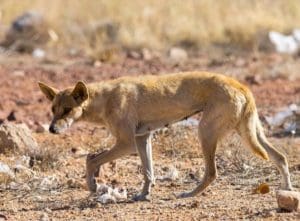 The AWI smart tag was evaluated under a project undertaken by Central Queensland University with funding from AWI and an Advance Queensland Industry Research Fellowship.
The smart tags were tested on a large commercial wool growing property near Barcaldine in western Queensland and involved behavioural observations of sheep.
Research results indicated the presence of wild dogs influenced the daily behaviours of sheep by increasing their daily distance travelled and changing their activity profile. Additionally, accelerometer-based detection of wild dog interactions was found to be feasible and current data processing undertaken on the smart tag could be adapted to provide future alerts.
The results highlight the potential for on-animal sensors to be used as a monitoring tool for sheep flocks directly impacted by wild dogs, although further work is needed to determine the applicability of these results to other sheep production regions of Australia.
AWI program manager for agri-technology, Carolina Diaz, said future environmental benefits included targeted pest control activities, reduced use of chemicals for disease control and improved paddock management.