LAMB prices lifted on AuctionsPlus last week, boosted by a big new season offering and led by a line of 10 month-old Low Footprint Lamb Nudie ewe lambs that sold for $546.
AuctionsPlus sheep and lamb listings increased again, up 6 percent to 61,510 head.
New season lamb offerings remained high, making up 60pc of the total lamb listings. The large offering was matched with strong buyer demand, as the category recorded an 85pc clearance rate.
Crossbred lambs had the largest offering this week at 16,072 head and averaged $4 dearer at $161.
Merino ewe lambs recorded the highest average price increase, up $37 on last week to $236/head – with a 90pc clearance rate for the 2208 head offered. The Merino wether lamb offering remained steady this week, with a 71pc clearance rate achieved for the 8613 head offered. The category recorded a cheaper trend, down $17 to average $143. First cross ewe lambs also registered a higher average price for the week, up $12 to $274 for the 1580 head offered.
AuctionsPlus said the shedding breed lamb offering was down significantly last week, with somewhat of a stand-off occurring between buyers and sellers. While a $27 price increase to $254 in the National Lamb Sale was registered, there was a very low clearance rate registered, despite plenty of interest and bids – signalling some distance remaining between top bids and reserve price levels, AuctionsPlus said.
The top priced lot in the National Lamb Sale was a line of 91 Australian White future breeder ewe lambs, selling for $474. The lambs averaged 31kg liveweight and were from Junee, NSW.
The top price for the week went to 136 10 month-old scanned in-lamb Low Footprint Lamb Nudie ewes that made $546 for Croxton East breeders Matt and Bridget Kelly. Proud breeder Matt Kelly said the price showed "a solid commitment to the sheep meat industry and a belief in what we are doing with our sheep".
"It also demonstrates a strong desire to reduce labour, management stress and animal welfare issues associated with wool growth.
"We are thrilled with this result and feeling very excited about the future."
Joined ewe listings jumped 11pc last week to 18,722 head. Scanned in-lamb Merino ewes headlined the offering again, with the 5820 head averaging $6 dearer at $265/head. SIL composite/other breed ewes again registered positive prices, achieving an 80pc clearance rate for the 2139 head listed and averaging $1 higher at $300/head.
SIL shedding breed ewe listings slipped to 1132 head – down from 1600 head the previous week. AuctionsPlus said demand for this category remained excellent, with a 100pc clearance rate, with the average price back to $363/head.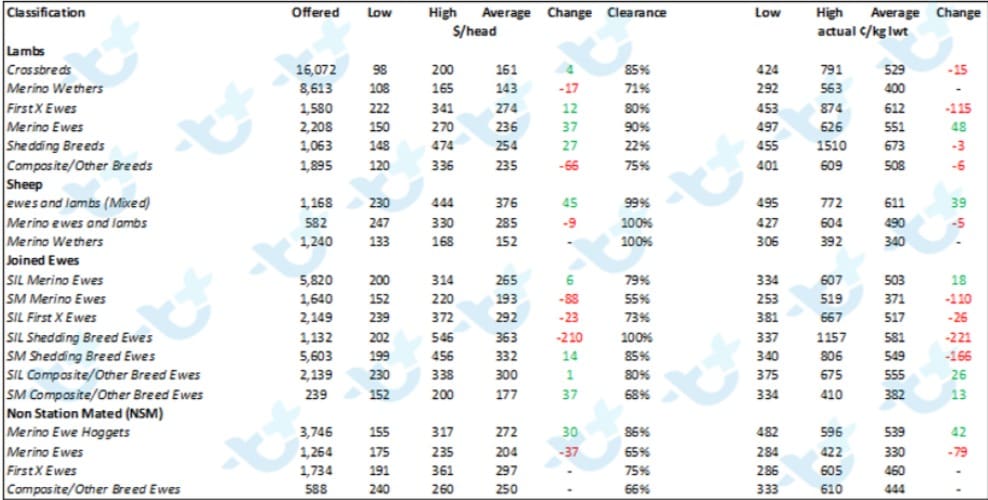 NOTE: Prices as at 5pm, Thursday 5th July, 2021