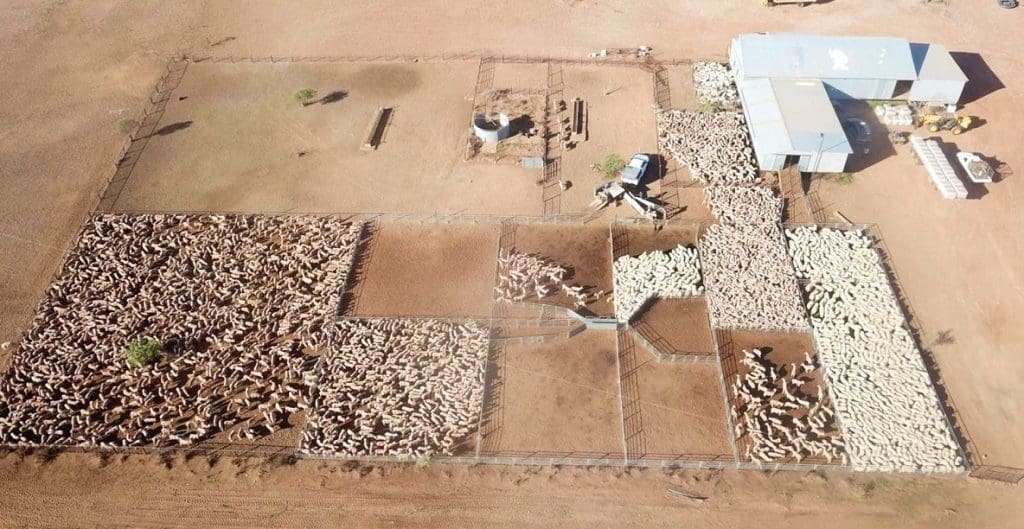 AUSTRALIAN farmland values are set to record another year of 'double digit' growth in 2022, but this will slow down next year, according to agribusiness banking specialist Rabobank.
The bank's newly-released annual Australian Agricultural Land Price Outlook, supported by farmland sales data from Digital Agricultural Services, said favourable macro forces are continuing to swell agricultural land prices.
The report also found price growth for Australian cropping land in recent years has outpaced that of the United States, Canada and Western Europe, but not Brazil and the eastern EU's grain export powerhouse, Romania.
Grazing land prices had also grown more in Australia than in North America and Europe.
The bank's analysis shows median Australian ag land prices per hectare rose by 27pc in 2021, with double digit annual growth in all states. The data set excludes lifestyle and non-market transactions.
"Almost similarly strong year-on-year growth has occurred so far in 2022 across our available data set, which currently covers about 30 percent of the estimated full-year 2022 Australian farm sales," the report said. This preliminary data indicated growth of above 25pc in Australian agricultural land prices so far for 2022, suggesting full-year 2022 sales will easily yield double digit growth, the bank said. The size of land deals is also continuing to increase.
International comparison shows Australia has also outpaced many other countries in recent years when it comes to growth in agricultural land values.
Report author, RaboResearch general manager Australia and New Zealand, Stefan Vogel, said this growth has been driven by a very positive constellation of factors, including strong agricultural commodity prices and good production volumes enjoyed by many in the nation's farm sector, that have bolstered farmers' cash reserves and driven demand for land purchases.
"For multiple years in a row, the macro settings have been exceptionally favourable for land purchases.
"Prices of most major agricultural commodities hit or moved close to record highs, widespread rainfall has supported Australian production and interest rates have been at record lows," he said.
Farm input costs are turning the tide
Slower growth in farmland prices is forecast for 2023 and beyond, although no decline in farmland prices is on the horizon.
"Our base case forecast is that farmland price growth will continue, but we expect a significant slowdown in the rate of growth of prices in 2023 and the years beyond to 2027 from the unprecedented strong growth seen recently," Mr Vogel said.
This view is driven by a declining economic outlook, with higher farm operating costs and lower farm incomes expected in comparison with recent buoyant conditions. Mr Vogel said the market could not be expected to sustain a continuation of the massive rates of growth seen in land prices in recent years.
"The tide is turning slightly as the land market needs to take a breather after the staggering growth over the past 18 months, and also given the increased cost of finance and of farm inputs like energy and fertiliser.
"And there is also the likelihood of agricultural commodity prices and production volumes in coming years falling short of the exceptionally high or even record levels seen in 2021 and the first half of 2022."
Mr Vogel said while agricultural commodity prices are likely to stay well above the five-year average for the next one to two years, costs – including for farm inputs such as fertiliser – are also expected to exceed their five-year average, and interest rates are rising.
"However, in our view, a more severe slowing than our base case forecast or a decline in agricultural land prices would require a significant worsening in conditions, like a substantial drought forcing herd liquidation, a multi-year loss of major export markets or the unlikely case of interest rates climbing to the levels last seen in the early 2000s," he said.
Recessionary impacts of higher interest rates are an issue
The report said an analysis of past periods of rate rises does not show any immediate downturn in farmland values, either in Australia or abroad.
"Australian data on land values reaching back to the early 1990s does not show an immediate negative impact on farmland values from moderate interest rate increases, while the correlation is also weak between land prices in other regions of the world declining and interest rates increases," Mr Vogel said.
The report said it is the longer-term recessionary impacts on the broader economy that often follow interest rate hikes that are found to exert downward pressure on farmland values, and this is generally with a delay of several years.
Mr Vogel said these past periods of downturn in farmland values had generally also coincided with changes to farm policy or a combination of lower farm production volumes, lower commodity prices and elevated input costs.
Tight supply and strong demand
Mr Vogel said the bank's research showed that while demand for purchasing more land has come off recent highs, there is still solid appetite for farm expansion, driven by healthy farm balance sheets following good seasons and also a fear-of-missing-out (FOMO) on the few opportunities that come up to purchase land.
"Competition has been fierce for land purchases and we observed a FOMO factor, which has sometimes prompted buyers to enter the market earlier than they had planned not knowing when an opportunity may arise again, and, in some cases, entering expressions of interest for a property that were much higher than the productive value might justify in order to secure the purchase."
Overall, 6pc of Australian farmers have intentions to buy land within the next 12 months, recent Rabobank research showed.
Local and foreign investors still keen
Interest from local and foreign investors is also expected to continue to add depth to farmland demand, the report said.
"We expect corporate inflows in Australian agriculture, and more specifically agricultural land, will remain strong.
"Investors will continue to be attracted to agriculture, not only for competitive returns, but also because returns are often less volatile and not necessarily correlated to other asset classes," Mr Vogel said.
While increased restrictions from the Foreign Investment Review Board (FIRB) have extended turnaround times and made some purchases more difficult, they have not decreased the appetite for Australian ag land, he said.
Biggest price increases in Victoria and Queensland
The report said some of the biggest increases in farmland prices in 2021 had occurred in Victoria and Queensland. Victorian cropping land was found to have increased by 78pc and grazing land by 42 pc. In Queensland cropping land values were up by 63pc and grazing land by 37pc.
Overall, the median price for arable (non-irrigated) farmland across Australia rose by 27pc in 2021, by 33pc for grazing land and by 40pc for dairy country.
Rabobank's report also showed agricultural land deals are getting bigger, with 9pc of grazing and 6pc of arable farm sales exceeding $A10 million in 2021, particularly in Queensland and New South Wales.
By region, the data set showed 30pc of the nation's farm sale deals occurred in New South Wales in 2021, with 22pc in Queensland, 20pc in Victoria, 12pc in Western Australia, 11pc in South Australia and 4pc in Tasmania.
Source – Rabobank.