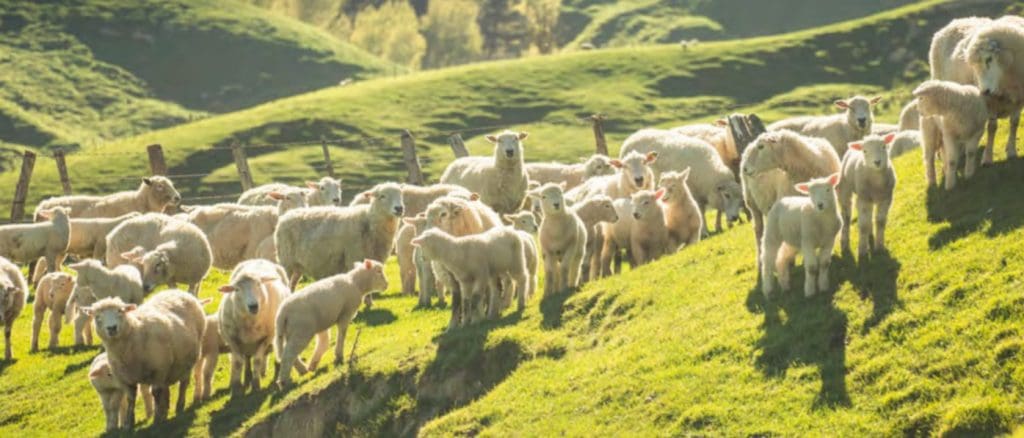 NEW Zealand's lamb turn-off is expected to be down more than four percent this year after drought conditions impacted the country's flock.
Although for the year to 30 June 2020, New Zealand's number of breeding ewes was estimated to be up 0.1 percent, the country's flock decreased 2.3pc to 26.21 million due to destocking, according to Beef + Lamb New Zealand (B+LNZ)'s annual stock number survey.
The lamb crop is expected to be 980,000 head lower at 22.28 million, down 4.2pc compared to spring 2019.

B+LNZ said the overall flock reduction was due to an 8.1pc decrease in hoggets to 8.4 million from destocking in response to the dry conditions. This was largely due to decreased numbers in east coast and Marlborough-Canterbury areas due to feed shortages from the dry conditions and substitution with dairy winter grazing.
Scanning ewe pregnancy scanning results were 5-10pc lower due to dry conditions and feed shortages, reducing the potential lambing percentage achievable. B+LNZ said this season fewer ewe hoggets were mated, leading to a lower expected lamb crop from hoggets. Climatic conditions leading into spring, and any adverse weather events may impact this change further.
The survey founded that beef cattle numbers were up just +0.1pc at an estimated 3.89 million at 30 June 2020. More older cattle were retained due to the COVID -19 lockdown preventing processing, but fewer calves were purchased due to weak meat prices, B+LNZ said.
The survey found that supplementary feed usage increased accordingly, as farmers used expensive feed in order to maintain the condition of their livestock.
COVID-19 also reduced demand for stock as international trade was disrupted, sale yards were unable to operate and processing capacity was restricted under social distancing requirements, causing delays of up to six weeks.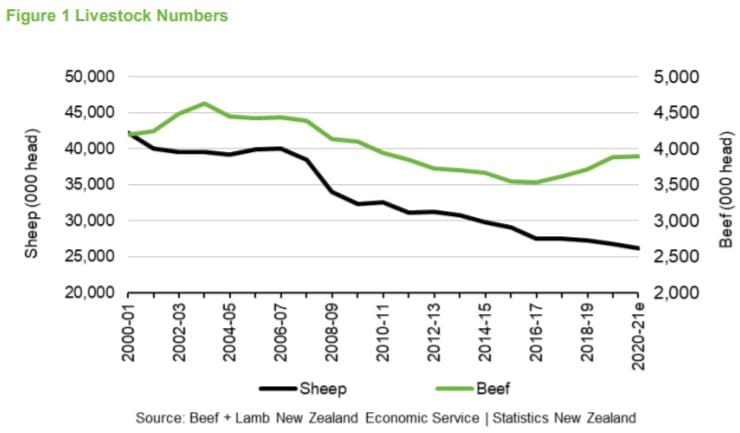 B+LNZ Economic Service chief economist Andrew Burtt said that drought meant that farmers decided to have fewer hoggets, weaner cattle, and cows mated, which will have impacts on future stock numbers.
"The impact of the combined decisions to destock younger animals this year will be fewer stock in future years," said Burtt. "Capital breeding stock may have been retained this year, but the effects of the disruption in 2019-20 will be felt for at least a couple of years."
The NZ sheep flock has declined from 57.85 million in June 1990 to 26.21 million in June 2020.
Click here to read the full NZ stock number survey report.