CROSSBRED, Merino, composite and shedding breed lamb prices improved on AuctionsPlus last week.
Commercial sheep and lamb listings on the online markletplace rose 20 percent above the previous week to 69,049 head, a figure up 32pc year-on-year.
AuctionsPlus said the value over reserve slipped $5 to average $7 and clearance rate was flat week-on-week.
Results were mixed across the board while demand for crossbred lambs was strong. Listings of joined and unjoined ewes increased 61pc and 42pc respectively, while fewer lambs were offered.
AuctionsPlus sold 63pc of the 11,201 crossbred lambs offered, up from 38pc the previous week. The average price was $113, up $13. Prices ranged from 229-342c/kg live or an average of 293c/kg lwt. At Cooma in New South Wales, 670 September 2022 drop Poll Dorset cross mixed sex store lambs weighing 40kg sold for $121/head or 302c/kg lwt.
AuctionsPlus sold 67pc (up 10pc week-on-week) of the 4160 Merino wether lambs offered, with the tighter supply increasing competition and prices averaging $61, up $6. Prices ranged from 147-232c/kg live and averaged 179c/kg lwt, a 14 cent increase from the previous week's sale. At Balmoral in Victoria, 380 August 2022 drop Merino store wether lambs weighing an average of 31kg returned $56 or 178c/kg lwt.
AuctionsPlus said there was more downward adjustments for scanned in-lamb Merino ewes, with the average price falling $40 to $102. Higher supply contributed to the decline, with 62pc more ewes offered for sale with 12,641 head, AuctionsPlus said. Prices ranged from $58 to $185, and the clearance rate reached 45pc. At Milaton in South Australia, 225 rising two year-old Poll Merino ewes SIL to Merino rams, made $163/head or 251c/kg lwt.
Only 24pc of the 10,843 scanned in-lamb first cross ewes offered sold for an average of $207, down $9. Prices ranged from $90-$281 and averaged $207 or 333c/kg lwt. At Ballarat in Victoria, 1166 12 month-old SIL first cross ewes averaging 62kg sold in seven lines for an average of $277, and ranged from $270 – $281.
Note: Prices as at 5pm Thursday, 25th May 2023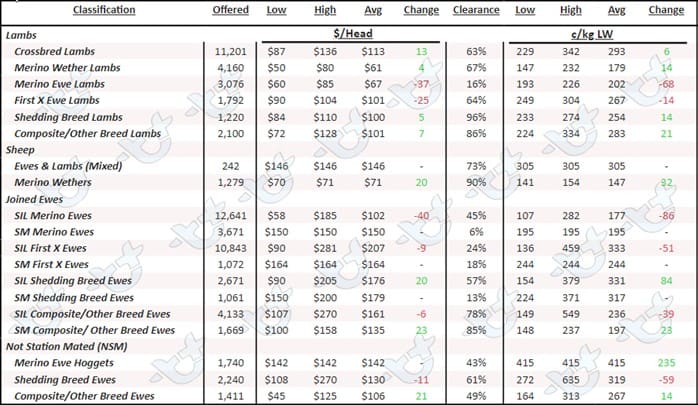 Source – AuctionsPlus.