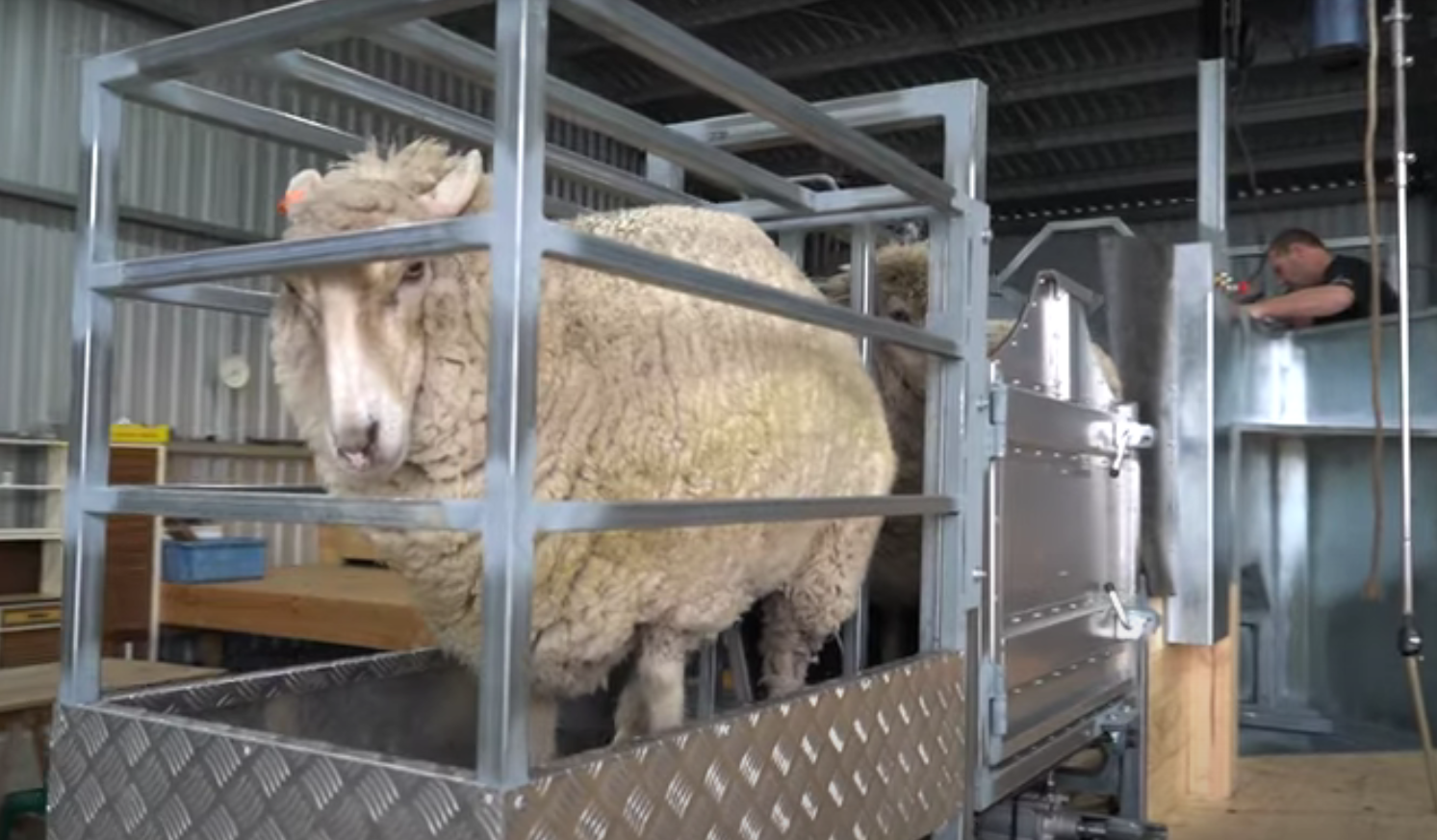 AN AUTOMATED sheep cradle has been developed to replace the "catch and drag" in the shearing shed – as the industry aims to reduce injuries.
A group of shearers, trainers and engineers have come together to design the prototype which brings sheep to the stand with the press of a button. Sheep come up the race and into a cradle, which detaches and brings them to the stand, before tipping them back into position for the shearer.
The original designs operate on a pneumatic arm, with the option of manually pulling the cradle away from the race.
Glenn Haynes from Shearer Woolhandler Training in South Australia, who organised the project with funding from Australian Wool Innovation, said the main aim was to reduce injuries.
"The older guys who are leaving the industry will all tell you it is not the shearing process hurting them, it is dragging them out of the pen," he said.
"We have so many females who come to our shearing courses, who have unbelievable talent, but they struggle bringing the sheep from the pen."
As part of the promotional video, former world champion SA shearer Shannon Warnest said the size of sheep were increasing, making it important to reduce handling.
"We have crutching trailers now and we really need something to deliver sheep to the shearer in the shed," Mr Warnest said.
"We have had some 70 and 80kg ewes through the trial and they are not going away."
While reducing handling and injuries in the shed was the main aim of the project, keeping up the speed of delivering the sheep was also made a priority.
Mr Haynes said the machine took seven seconds from the time the shearer pushed the button to when the sheep is ready to shear in the initial trials
"The time it takes to catch and drag varies depending on the sheep, the set-up of the catching pen and how keen the shearer is," he said.
"If you are going at a normal pace, not going in like a mad-man, it normally takes an average of 10 to 12 seconds per sheep."
More adjustments needed
Mr Haynes said the machine needed fine-tuning before it will be released to market.
"We took it out for the first in-shed trial, after a heap of trials in the workshop, and we noticed we needed to fix a few things" he said.
"All those adjustments have now been made and we're hoping to take if for a decent stint in the sheds later this week."
Mr Haynes said the group predicted the machines to cost between $18,000 and $25,000 when it is ready to be sold.
"It depends on what level you want to go with it," he said.
"There might be some people who don't want to use the pneumatics and that will be a saving of about $5000."