Wool's unique relationship with Australia's national game – AFL football — will be highlighted in a series of Youtube videos linking leading players and the league's clubs with woolgrowing as the 2015 season plays on.
Australian Wool Innovation this week kicked off the video series with a clip giving a rare insight into Geelong superstar Tom Hawkins' passion for farming and football.
The video clip was produced as part of AWI's Fibre of Football campaign, to demonstrate the ongoing close connections between farming communities and Australian football. Ever since young Tom Wills thought of the game on his father's sheep station in the 1850s, closeknit woolgrowing communities across Australia have been held together through football, AWI said.
The video gives an insight into a Geelong-Hawkins dynasty; with Tom's mother Jennifer and father, former Geelong star John 'Jumping Jack' Hawkins, explaining life on the family's sheep, beef and rice property near Finley, NSW.
Mr Hawkins said a love of agriculture was his destiny and "the footy came along on the way through".
"People certainly want to talk about sport and football.
"It is a really important part of small communities — it's an important part of their life," he said.
Tom said he loved returning to the farm as an escape from life as an elite footballer, though as a boy he practiced by kicking a football through a vent in the woolshed.
"You would be struggling to find an area of the farm that I haven't held a footy in."
AWI said Fremantle superstar Nat Fyfe will join Tom Hawkins as an advocate for the country and the wool industry in his own video to be released in coming weeks.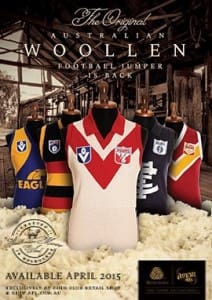 The nation's game and wool is being celebrated through the Fibre of Football campaign with AFL clubs this year offering pure woollen football jumpers, scarves, beanies and gloves for sale on www.shop.afl.com.au/woollen-range  For more information and videos about the Fibre of Football campaign see www.fibreoffootball.com.au
Linking woolgrowers to their AFL clubs is the next step
AWI is also linking AFL clubs with woolgrowers whose wool was made into the range of pure woollen football jumpers, scarves, beanies and gloves available this season.
AWI media manager Marius Cuming said the 25 contributing woolgrowers have been asked which AFL club they support.
"So now every club has their own woolgrower."
The coming video series will include clips featuring a Tasmanian woolgrower "growing" wool for Richmond, and North Melbourne supporters Doug Todd and his daughter Louise Hanmer from the Ninuenook Merino stud at Wycheproof, Victoria. Other growers and AFL supporters already featured with clips on the Fibre of Football website include Fremantle supporter John King from Darkan, WA, and Geelong supporter David Cooper, Mulwala, Victoria.
"So we are trying to get a jumper to each of these growers so they become a media opportunity," Mr Cuming said.
Source: Australian Wool Innovation.