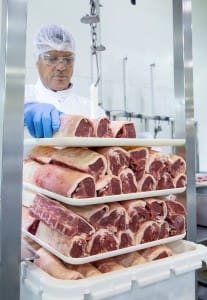 YOUNG food producers with innovative ideas have only this week to join an intensive program to improve their market insights and capabilities.
Young producers and supporting professionals looking to develop new high value opportunities or introduce disruptive technologies are encouraged to apply for round two of the Food Value Chain Innovators: Young Food Innovators program.
The Young Food Innovators program is a 12-month intensive, accelerated development opportunity for young people working in the red meat, horticulture, seafood and dairy primary producer sectors.
For participants in the red meat industry, the program is supported by funding from MLA Donor Company (MDC) and the Federal Department of Agriculture as part of its Rural Research and Development for Profit Program. The first round of the program commenced in mid-2016 and applications are now open for the second round.
MDC project manager Stuart Quigley said the red meat industry was one of several agricultural sectors the program will help in attracting, developing and retaining new talent.
"The second round of the YFI program specifically seeks to empower young producers with the market insights and innovation capabilities they will need to participate effectively in the value chains of the future," Mr Quigley said.
"It will focus on attracting people who have been working in primary production, across all participating sectors, looking to build new high value opportunities in either domestic or export markets, implement innovative new business models, or to accelerate the adoption of new disruptive innovations within their production businesses.
"The second intake will be linked with the first cohort of agri-food participants to build a strong network group that represents the whole value chain. Both groups will benefit by collaborating to increase their whole of value chain knowledge."
Participants in round two of the YFI program will draw on market and consumer insights, and use real-life industry case studies to learn how to use the latest innovation tools in a practical way. They will also undertake a major project as well as develop a new business opportunity that is not standard 'business-as-usual'.
The program includes:
An introductory, one-week residential;
Three residential workshops of 3-5 days duration where participants will apply learnings across topics including: global market trends and insights; design-led innovation; value chain design; food innovation; business start-up skills and new venture creation; and business model design;
Participation in food value chain innovation, market and insights projects;
Support to design and manage targeted value chain insights and innovation projects within their business;
In-market study tours;
Access to senior industry mentors;
Exposure to relevant industry events;
Participation in the YFI network, which includes members from the first YFI cohort and from a similar New Zealand program.
To be eligible for the program, applicants should be working within the production sector, or a business closely related to the production sector, with a minimum of five years' experience. They should also hold a university degree or relevant qualification.
Any applicants not currently employed in a farming enterprise will need to demonstrate how this program will help them return to the production sector. Program participants will be provided with a full scholarship to cover tuition and program fees, and will need to cover travel and accommodation costs to attend the four residential workshops.
Applications for the YFI program close on Friday, April 28, 2017. To apply or for more information contact Stuart Quigley, Program Manager, Insights2Innovation, on 0419 773 007 or email: [email protected]
The program is part of a larger, over-arching project – Market and Consumer Insights to Drive Food Value Chain Innovation and Growth (Insights2Innovation) – one of 12 projects that received funding in round one of the Rural Research and Development for Profit Programme.