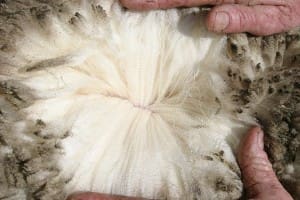 Increasing throughput of fine worsted yarn through European mills, especially in the United Kingdom, was an early positive sign of increasing future demand, Australian Superfine Wool Growers Association president John Taylor said today.
While on a European mill tour this week, Mr Taylor said while prices received by superfine wool growers remain at unacceptable levels in Australia, throughput of fine worsted yarn has increased by up to 25 per cent in European mills in the last 12 months.
China market dominance a price concern
Traditional fine crimping wool is still required, revered and acknowledged as a special and unique fibre by processors and retailers despite the adverse lingering effects of the global financial crisis, he said.
"Retailers, spinners and weavers are alarmed at the continuing and accelerating decline in the availability of these wools.
"The dominance of China is still a concern, now taking up to 80 percent of the Australian clip also allows them to control prices paid to growers," he said.
"The message given to the trade in Europe is to seek out and demand these special superfine wools that still remain in their specifications, in order to differentiate them from the perceived over-production of superfine wool as a whole.
"A small group of dedicated growers continue to produce these special wools."
New England Wool agrees European prospects improving
New England Wool managing director Andrew Blanch, who has been sourcing an order for up to 2000 bales of wool, average diameter of 17-17.5 microns, for an Italian buyer for mens suiting and close-to-skin apparel, agreed business was improving for European wool processors.
"It is not going to happen overnight, but I do think it is a positive sign that those guys are going well and people are coming back to buy their fabrics, are interested in buying quality and that part of the market is certainly on the improve.
"But it is based on quality, not just micron."
Mr Blanch said the reaction to his order has been very positive among superfine woolgrowers.
"People are still saying it is not enough and the company is the first to admit that we hope that it is going to be even better than that in the future.
"But we have got to start somewhere and in the end we still have to be able to sell the product that we are making."