A WORLD-FIRST lamb meatball product conceived in Victoria will be offered in vending machine 'Flavour Stations' to New South Wales consumers.
The new vending machine product developed by Victorian lamb processor Robert Frew and UK-based consultant Koorosh Khodabandehloo aims to tap into the booming billion-dollar ready meal market.
Mr Khodabandehloo said the Australian Lamb Meals lamb meatball products have been received well by everyone who has tasted them and were a hit at the recent Lambex 2016 conference in Albury, NSW.
Funding for the two-year project came from Meat & Livestock Australia and the Australian Meat Processor Corporation.
"We initially had an informal taste panel including MLA, including chef Sam Burke, and Australian Meat Processor Corporation members and later we received feedback from employees at Frewstal (in Stawell, Victoria).
"We have had the product at IFFA in Frankfurt tasting the recipes, as well as a select trial group in Cootamundra where we are planning to operate and sell to the general public."
Four lamb meatball meals will be sold initially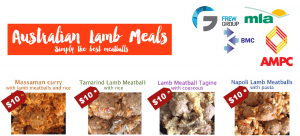 The lamb meatball meals will be initially be offered in four varieties, including rice and Massaman curry sauce, rice and Tamarind Lime pepper corn sauce, with couscous and Tagine sauce, and with pasta and Napoli sauce.
Mr Khodabandehloo said the fully automated vending machines have been trialled in Frankfurt, Belgium and Australia.
"The machine was a standard, but improvements have been required including branding and adding more IT capability and catering for needs of the fresh food retail of hot ready meals, which we specialise in.
Mr Khodabandehloo said the ready meals market was estimated to be worth about 70 billion (A$119bn) per year in UK and a meal price of about 5 British pounds (A$8.50) put estimated sales at around 50 million meals per year.
He said quality ready meals were difficult to achieve, but the market has expanded rapidly in recent years.
"The range we have is at the highest quality.
"Our lamb meatball dishes are the first in the world," he said.
Mr Frew said the product was developed to value-add to lamb trim, which had to compete against the lower value mutton trim.
"We just wanted to do some easy lamb products and we will possibly do some other different lamb products down the track as well."
The cashless vending machines store 80 chilled pre-cooked meals which are served hot after a few minutes, but to be viable each machine would need to sell 15-20 meals daily, 300 days a year, he said. The machines can be monitored remotely to assess temperature and stocks.
"We are ready to roll out with it now."
Mr Frew said his Tier II lamb plant at Stawell processed lambs from 12-30kg cwt, selling domestically and overseas. But he said no processors had made money from lambs in the past two years at the current prices.
"So you just try to do anything you can.
"When lambs are making $150-$200 — you get the same price for your lamb trim when they are making $50 as when they are making $150," he said.
"You are probably only going to get $3.50 a kilogram for the trim that you might put into a product like a sausage, burger or rissole, because you are lining it up against the mutton price – that's the issue."
Mr Frew said the company once processed sausages for supermarkets.
"My background is in further processing products as well, so we know how to do them."