Australian wool production is forecast to stabilise this year as a drop in shorn sheep numbers is offset by higher average fleece weights.
But the first projection for 2015-16 output by the Australian Wool Production Forecasting Committee (AWPFC) has been set at 332 million kilograms, down by 2.7pc from 2014/15, due to lower on-farm sheep numbers arising from the high sheep and lamb turn-off rates this season.
The committee has set its forecast production for the 2014/15 season at 341 mkgs greasy for the 2014/15 season, the same as the estimate for the 2013/14 season.
Committee chairman, Russell Pattinson said while there is expected to be a reduction in the number of sheep shorn this season, this decline will be offset by an increase in average fleece weights across Australia due to good production conditions in several regions, including southern NSW, northern SA and regions in Victoria.
The committee said that the AWTA wool test data for 2014/15 shows a reduction in volumes of wool 17.5 microns and finer, and an increase in 18-19 micron, 22-23 micron and broad wool (27 microns and broader), in the first nine months of the season. This has resulted in a 0.2 micron increase in the mean fibre diameter for Australia so far this season.
Number of Merino ewes joined for wool is up 2pc
The wool forecast projections come as AWI and MLA's 2015 wool and sheepmeat survey respondents indicate that the number of Merino ewes to be joined with Merino rams increased 2pc year-on-year in the February survey period, at 21.3 million head, while Merino ewes to be joined with other breeds declined 5pc, to 9.1 million head.
The survey indicated first cross ewe numbers were up 1pc in February, at 5.7 million head, while dual purpose breeds registered a 28pc decrease, totalling 1 million head. Shedding ewes on hand increased 11pc in February, at 1.4 million head, and all other breeds (pure meat, second cross, composite breeds etc) recorded a 17pc lift compared to last year, totalling 2.3 million head, MLA and AWI said.
MLA and AWI said the proportion of producers reportedly intending to increase their ewe flocks in 2015 was 18pc higher than year-ago levels, at 24.3pc of the total respondents, while 57pc  of respondents (up 12pc) planned to maintain their flock size for the year. Encouragingly, only 10pc of respondents are intending to decrease their ewe flock this year – 48pc lower than the same time last year.
The survey results suggest that seasonal conditions across Australia over the three months to February improved on the same time last year, with 21pc of respondents reporting 'above average' conditions, compared to only 10pc last year. The proportion reporting drought conditions had also halved year-on-year, down to 11pc. Despite these results, water and feed stocks are becoming an increasing concern in the south-eastern states, particularly, and the season ahead will hang in the balance of whether decent autumn and winter rainfall eventuates.
The Australian Wool Production Forecasting Committee (AWPFC) drew on advice from six state committees, each of which includes growers, brokers, private treaty merchants, representatives from state departments of agriculture, and the Australian Wool Testing Authority. Data and input was also drawn from AWEX, wool exporters, the Australian Bureau of Statistics, ABARES, AWTA and Meat and Livestock Australia.
Click on tables below to view in larger format: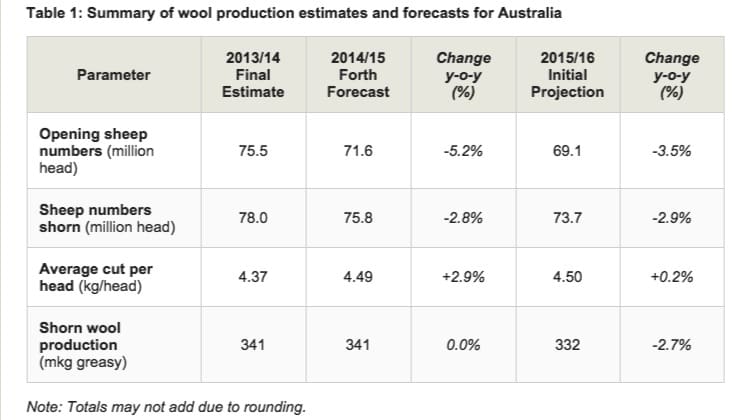 The full wool production forecast report will be available on the AWI website at www.wool.com/forecasts by April 22 2015.
Sources: AWI and MLA