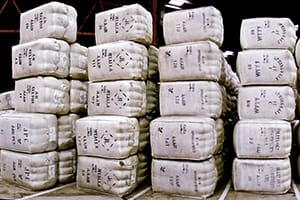 AUSTRALIAN wool prices have fallen for the fourth consecutive week, with the AWEX Eastern Market Indicator closing below 1200 cents for the first time in six months.
AWEX senior market analyst Lionel Plunkett said the strong Australian dollar contributed to the downward pressure on the market after rising steadily over the past week.
"The weekly rise in the AUD totalled 1.38 cents (to US71.93c) and in percentage terms was equivalent to the movement in the AWEX EMI — in US terms the EMI barely moved, rising 1 cent (to US860 cents)," he said.
The AWEX EMI settled at 1195 cents clean, down 22 cents, with brokers passing in 12.4 percent of the 40,052-bale offering.
Mr Plunkett said the week started off reasonably promising when a NZ catalogue was sold in isolation on Tuesday.
"Stylish types found good support but the few lower spec types were patchy.
"Sentiment deteriorated at the Australian offering the next day and fleece prices eased back 1pc, or around 15 cents."
Mr Plunkett said Thursday was more encouraging when buyer pressure pushed a number of the Micron Price Guides onto the positive side of the ledger.
"Again, it was the better types which drove the rise, especially in the finer microns where the few spinners attracted keen support.
"Any losses were generally restricted to part-tender, overlong types (>100mm) and the mid-microns centred around the 20-21 micron range."
Merino skirtings lost ground each day, closing 30 cents lower for the week, he said.
"Crossbreds gave up 30 to 40 cents for the sale after making losses in equal daily instalments.
"It is the fourth week of losses for the 28 MPG and it is now 100 cents lower over that period."
Merino cardings were also pushed lower, closing 20 cents below last week, Mr Plunkett said. An offering of 46,032 bales is expected next week in three centres, including a designated Superfine sale in Sydney.
Source: AWEX