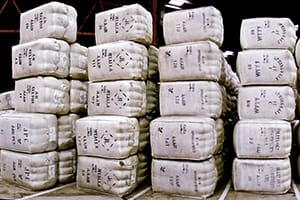 WOOL prices slumped again this week and pass-in rates soared, as buyers shrunk back from recent high levels and growers refused to sell for lower rates.
AWEX chief market analyst Lionel Plunkett said the overall movement in the AWEX-EMI was a carbon-copy of last sale with the benchmark indicator losing another 41-cents over two days this week.
The AWEX Easter Market Indicator closed at 1222 cents clean, with the EMI in US dollars finishing down US57 cents at 872 cents and the $A-US exchange rate at 71.35 cents, down US2.18 cents for the week.
Growers and brokers passed in 21.5 percent of the 38,588 bale offering nationally; the highest pass-in rate in 18 months.
Mr Plunkett said all three selling centres operated, but sold in an uncommon Tuesday/Wednesday pattern due to Wool Week events in Melbourne this week.
"Prices tumbled immediately at the opening, eventually closing the first day as much as 50 cents lower when compared to the previous week,
"The 100-130 cent falls in Fremantle reflected their absence in the selling program last week and was measured against their previous sale held a fortnight earlier," he said.
"The results on Thursday were somewhat better despite the market continuing to worsen.
"Falls were restricted to a maximum of 25 cents and 5 to 10 cents was more typical on the east coast and even managed to firm over the course of the day after an initial slump in the opening hour."
Mr Plunkett said that strengthening trend was confirmed late in the day when Fremantle recorded modest increases of 5 cents through most microns.
"A 10-cent gain in the finer microns was testament to the increasing interest shown for the superfine range which recorded better results than the medium and broader categories throughout the week."
Mr Plunkett said Merino skirtings again managed to outperform a plunging fleece market, closing around 50 cents lower for the sale.
"Crossbreds finished around 10 cents cheaper but showed promising signs on the final day when it firmed slightly.
"Merino cardings ended 10 cents lower for the sale after a late fade."
Buyers disbelieving of tight wool supply situation
Australian Wool Network managing director John Colley said the volatility this week originated in the supply and demand issues at the end of June.
"When there were people that were caught short and pushed the market up to fill orders, and it became an unrealistic level; none of the exporters could sell at the peak here about three weeks ago.
"It was sort of destined to come back," he said.
"The market volatility in China is also having some impact.
"It is a lack of confidence."
Mr Colley said overseas buyers are also waiting for more wool to come onto the market "to get their teeth into".
"There is not a lot of wool on the market.
"There are small quantities, small offerings, still a lot of fine wool, not a lot of medium wool, which is the stuff that is in demand," he said.
"We are in a situation where I think in the short term we are going to get more volatility, but still the underlying demand is strong, but supply is not.
"It (supply) can't recover quickly."
Mr Colley said with extensive drought across parts of Australia and many flocks converting back into crossbreds and cattle, wool supply cannot recover in the short to medium term. He said overseas buyers do not yet believe the reports of the tight wool supply situation.
Source: AWEX, Australian Wool Network.