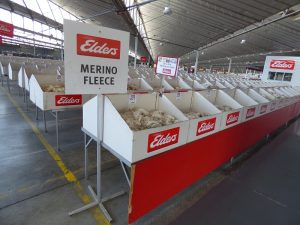 BUYING was more subdued in Australian wool auction rooms this week as the rising Australian dollar made purchases dearer for overseas buyers.
The Australian Wool Exchange's benchmark Eastern Market Indicator lost 17 cents to close at 1801c/kg clean, as buyers were more selective on Merino and crossbred types as the Australian dollar's value lifted to US79.64 cents by the week's end.
Brokers passed in 7.1 percent of the 54,350 bale selection as 18-22 micron Merino wools generally lost 10-35 cents and crossbreds dipped 5-20 cents. Merino fleece under 18 micron appreciated 5-37 cents.
Australian Wool Exchange senior market analyst Lionel Plunkett said over the previous few sales, many unfavourable qualities have been mostly overlooked, in particular high mid-breaks and slight impurities.
"These types sold at levels very close to those of wools not exhibiting any flaws, as buyers attempted to secure quantity in the rapidly rising market.
"This sale, buyers reverted to becoming more selective in their purchases, the result was these wools again attracting discounts that were previously overlooked," he said.
Mr Plunkett said Merino skirtings tracked a similar path to the fleece, generally losing 10-30 cents.
"Wools with good length and strength results and those carrying low vegetable matter, sold at levels close to the previous sale.
"However, lots with poor numbers and those carrying more fault, were quickly discounted."
Crossbred wools also tracked downward this week, with 26-30 micron lines recording general losses of 5 to 20 cents. Better prepared lines were the most resilient in the falling market, Mr Plunkett said.
"After being the best performing sector in recent sales, the oddment market experienced sharp corrections.
"Prices for locks, stains and crutchings reduced by 40 to 60 cents resulting in the three carding indicators falling by an average of 50 cents."
However, Mr Plunkett said lambs wool went against the trend and managed to record further gains, generally 20 to 30 cents with some finer types extreme.
EMI in US dollars reflects true market position
Australian Wool Innovation said it was significantly that the market was largely unchanged to slightly dearer when expressed on a US dollar ($US) basis and the US EMI actually gained 3US cents to finish at US1434c/kg clean.
"This is significant given the world largely buys wool in this currency and therefore this is a true reflection of the market."
Following on from the extremely strong season opening, most trade participants had expected a largely unchanged market and just reactive to the $US-$A exchange rate, AWI said.
"This is largely what eventuated.
"What did surprise though was that the market held on and actually continued to generally gain ground throughout Tuesday and the most part of the Wednesday auctions before finally relenting to the large 54,000-bale plus quantity on offer in the latter part of the selling week.
AWI said reports that fresh business had slowed into China did filter through in the middle of the week, but that is largely what is expected at this time of the year as that nation heads into its New Year celebrations in the middle of February.
"After such a hectic year for the Chinese and other countries as the mill owners and managers chased supply and faced the constantly rising price levels, a brief respite has probably been on the cards. Many traders believe this respite to be a brief interruption to the ruling trend, even though a few weeks of an easing purchasing policy may occur as many of the overseas wool users appear to have their immediate orders and machinery demands covered."
AWI said with very little in the way of greasy wool stocks being held in Australia, local buyers are more than ever keeping a keen eye on supply variables such as rostered quantities, shearing patterns and seasonal conditions.
"The past few months have seen our local exporters largely risk adverse by purchasing then selling on immediately, rather than going short and selling forward with no stock in their inventory.
"General expectations are of lower quantities upcoming, so this buying strategy appears cast in stone for the time being, as risk taking selling forward at these price levels is seen as unnecessary and a no-win situation,' AWI said.
"As prices have continued to soar, some nervousness has come to the fore regarding being able to pass on the price to overseas buyers.
"This is said to be particularly relevant to the woollen sector types," AWI said.
"One can see this may well be the case as for example many locks lines are now fetching near $2,000 a bale.
"Only retail sales can determine that future, but at present, reports are that wool and particularly Merino, continues to sell well in the shops and online globally."
Auction sales of about 43,000 bales Australia will be conducted earlier in the week on Tuesday and Wednesday as Australia has a national holiday on January 26.
Click here to see the latest AWEX Micron Price Guides.
Sources: AWEX, AWI.