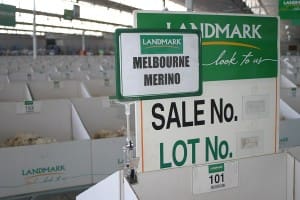 STRONG demand for wool sustained prices through foreign exchange changes this week.
The AWEX Eastern Market Indicator closed the week at 1285 cents, a 1 cent increase on last sale.
AWEX senior market analyst Lionel Plunkett said the offering of 42,612 bales was almost 5000 bales more than last week, but around 93 percent was sold, with just 6.7pc passed in.
The EMI in US dollar terms was up US8 cents to 921c/kg, with the $A-US dollar exchange rat at US71.67 cents.
The Australian Wool Innovation weekly market review said price movements this week largely traced the daily shift in the $A-US foreign exchange rates.
"By the week's end the EMI when expressed in $US rose US9c/kg to US919c/kg clean, rounding off the fifth consecutive week of the US indicator rising, underscoring the solid demand from our end users," the report said.
Mr Plunkett said price movements in the Merino fleece catalogue were limited and mixed.
"The opening day was fairly positive as it continued the rising trend from the previous sale.
"The increases averaged around the 10-cent mark, but varied between an unchanged result and 20 cents dearer depending on the micron and the selling centre," he said.
Price movement on Thursday was generally a reversal of the first day and prices finished similar to where they had closed the previous week, Mr Plunkett said.
"Notable exceptions were at both the fine and broad edge, where there were slight improvements, while some types around 19-microns fell slightly.
"The better spec types were again in demand, particularly selected lots throughout the superfine ranges which continue to bring large premiums."
Merino skirtings also made only minor movements this week with odd lots showing some improvement, Mr Plunkett said.
"In the crossbred market, the broader microns (30/32) underperformed as buyers focussed on the 25 to 28 range, an emerging trend over the past month.
"The 30 Micron Price Guide (Eastern average) is now at a 12pc discount to the 28 MPG – three months ago that measure was less than 4pc."
Merino cardings closed 10 to 20 cents higher this week, he said.
"The increases came early in the week before a steady finish on Thursday."
Almost 50,000 bales are currently forecast for next week, 7650 bales more than this week, including a designated superfine sale in Sydney.
The AWI report said perhaps this figure played a part in the diminishing auction values on Thursday.
"Buyers, both locally and overseas, strategize their buying according to the available published industry figures and for this figure to vary so much in such a short space of time obviously affects their buying intent.
"Whilst definitely not always following to rule, the market for the past month or so appears to be tracking roughly in line to the forex rates of the day, and we expect that to continue in the short term," the report said.
Sources: AWI, AWEX.