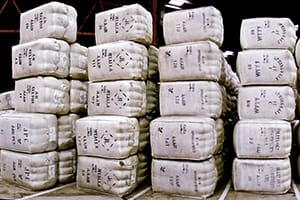 WOOL prices rose this week for smaller auction offering, reflecting a restocking of the supply chain, Australian Wool Innovation said.
The AWEX Eastern Market Indicator closed 43 cents higher on 1544c/kg clean, with brokers passing in 4.5 percent of the 38,292 bales offered, 13,897 fewer than last week.
The EMI in US dollars rose US22 cents to 1146c/kg clean, as the $A-$US exchange rate dipped to US74.21 cents.
AWEX senior market analyst Lionel Plunkett said a positive tone was apparent from the first lot in the eastern states auctions, all the way to the final hammer in Fremantle in Western Australia.
"All types and descriptions across the entire Merino micron spectrum enjoyed gains, generally between 30 and 60 cents with lesser style/spec wools experiencing similar rises as buyers fought for market share," he said.
Click here to get the latest Sheep Central story links sent to your email inbox.
Mr Plunkett said the EMI rose 22 cents to close the first day of selling at 1523 cents, easily accounting for the fall of the previous week.
"The second day of selling was very similar to the first, the market quickly found an increased level and then strongly maintained or slightly increased those levels until the final lot.
"Once again all types and descriptions experienced similar rises, this time generally between 20 and 40 cents."
Mr Plunkett said the skirting market also recorded gains, but not to the extent of the fleece; generally increasing 20 to 40 cents, with lower vm lots (>3pc) most affected.
"The crossbred market again found good trade support, resulting in general price increases of between 5 and 10 cents for the week.
"The oddment market performed solidly on both selling days with most types and descriptions selling at levels slightly above those achieved at the previous sale," he said.
Bale offering under what trade required
Australian Wool Innovation's weekly market report said the bales offered this week appeared to be short of what the trade demand currently requires, hence the upward spiralling price movements.
"The market talk pre-auction centred around opinions that manufacturers are still struggling to satisfy their demand needs, particularly those using Merino types in their production.
"Many in industry believe that whilst we are very much still in a hand-to-mouth operational cycle, some manufacturers are actually still trying to catch up after global stocks of raw material had been run down too far," the AWI report said.
"The Merino wool price at present reflects a restocking of the supply chain and is likely to continue until all users are set.
"On the other hand the comparatively lower price on the crossbred sector is indicative of stocks held and a reasonably full chain from greasy through to yarn, although this is reportedly being depleted."
AWI said traders reported strong purchasing interest from India and China, but many of Australia's local exporters were extremely reticent to go short and take on some of the reasonable prices being offered.
"Much of the prompt shipment needs was therefore transferred to indent operators where possible and arrangements with Aussie buyers were in place.
"On the other side, the local buyers pushed to buy early to add to any existing stocks of greasy wool, knowing that advantageous sales were available once containers were bought and available to sell."
AWI said one European buyer dominated on the good wools available in the very limited supply of the superfine and ultra-fine Merino wools offered.
"Other trader exporters for Europe were rather subdued as buying activity from those operators was appearing limited, indicating demand has been met for immediate shipments to those zones as they head closer towards their summer holiday and slow down."
The South African wool market is also close to the end of their wool selling season, AWI said.
"As they have a two-month sojourn, some of the demand traditionally for that market will swing to Australia to fill any shortfalls in raw material required."
Just over 39,000 bales are expected in Sydney, Melbourne and Fremantle next week, with less than 40,000 bales to be offered weekly for the next three weeks.
Sources: AWEX, AWI.