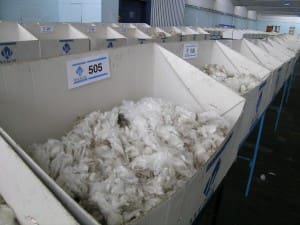 Australian wool prices generally lost momentum this week despite a lower Aust-US dollar exchange rate, but crossbred fleece rates were firm and Merino prices lifted in Fremantle.
AWEX senior market analyst Lionel Plunkett said the market eased slightly for the second largest sale this year of 48,000 bales.
"Only three cents lower in local terms, the AWEX-EMI was 13 US cents lower as the Aussie dollar fell below 86 US cents amid a tumbling iron ore price and bearish commentary from the Reserve Bank of Australia," he said.
"Results at the wool auctions were mixed, with Sydney unchanged and Melbourne 5 to 10 cents lower against a large offering."
The AWEX Eastern Market Indicator finished the week on 1047c/kg, down three cents, while the EMI in US cents was at 900 cents, down 13 cents, with the Australian dollar at US85.92 cents, down 1.01 cents. Brokers passed in 9.8 percent of the offering.
Fremantle prices gain 15 cents
Mr Plunkett said Fremantle gained 15 cents at its one-day sale, however this was compared back to the previous Wednesday.
"Better spec types were well-received and still managed significant premiums despite an increase in volume for low mid-break types.
"Numbers for these types have been at historical lows but increased this sale, assisted by good representation in Launceston and NZ catalogues out of Melbourne."
He said Merino skirtings managed small increases this week, especially in the broader 20-21-micron range.
"Crossbreds continued to find favour among buyers with additional increases this week on the back of the largest offering in nine months.
"The broader range received the most support, firming by a few cents."
He said once again the carding sector remained reasonably steady during the week and the carding indicators posted varied results depending on the region.
"At 53,793 bales, the estimate for next week is shaping up as the largest sale in 12 months."
Coarser crossbred wool prices firm
Landmark wool risk manager Anthony Boatman said Melbourne hosted New Zealand-sourced wool at auctions on Tuesday.
The large offering was mainly in the range of 16-17.5 micron and while the limited number of 14-15 micron wools sold well on good support, the majority of the offering was under pressure. This resulted in a high pass‐in rate of over 40 percent, reported to be the largest in eight years, he said.
"Australian wool sold on Wednesday, also with a softer tone to the market, as prices for most 21 micron and finer wools sold 5-10 cents under last week's close.
"The 22 and 23 micron categories were unchanged, while crossbred wools were generally only slightly softer, with a firmer swing at the coarser end."
Mr Boatman said support was patchy again on Thursday, with the 16.5-17.5 micron lots closing softer again, easing around 5 cents, and the 21 to 23 micron wools also lost a few cents.
"The 18-19.5 micron categories managed to pick up a few cents, ranging from 1-8 cents."
Crossbreds prices were firm to unchanged, as were oddment rates.
17-17.5 micron wools lose ground in Sydney
Most Merino fleece wools on offer in Sydney on Wednesday sold slightly firmer to unchanged from last weeks close, with just the 17 and 17.5 micron wools losing ground, Mr Boatman said.
"Crossbreds also sold firmer to unchanged.
"Oddments sold well with locks and stains pushing 10-15c higher, and crutchings also generally firmer," he said.
"Some softness showed through on Thursday, as a less stylish catalogue was offered."
Mr Boatman said support was still reasonable for the lower style lots on offer, with just the 18 and 18.5 microns, along with the medium 21 and 22 micron categories recording losses.
"Otherwise, the Merino fleece wools all sold firm to unchanged.
"Crossbreds and oddment categories sold mostly unchanged."
Fremantle wool prices buck eastern trend
Mr Boatman said the single day sale in Fremantle bucked the soft to unchanged trend in the eastern states with a generally better styled, low mid‐break offering.
"Prices for most categories from 18-21 micron wools sold at levels 10-20 cents higher than last week's levels.
"The 18.5 and 20 micron categories reaped the largest increases of 18 cents and 19 cents respectively, while the 22 micron categories were quoted just 5 cents higher on low volumes," he said.
Oddments closed the sale with prices generally 5-10 cents under last week's levels.
Sources: AWEX, Landmark