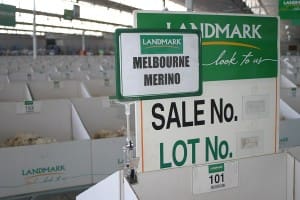 Australia's wool market closed overall firm this week, with 20 micron and broader wools losing up to 10c/kg in the east while some 16.5-19.5 micron lines gained up to 16c/kg in Fremantle and 3-6c/kg in Sydney and Melbourne.
AWEX market information manager Lionel Plunkett said crossbreds had another positive week with increases in all microns.
"The 28 MPG is around four percent higher than the most recent low made four weeks ago."
AWEX EMI up one cent to 1023c/kg
The benchmark AWEX Eastern Market Indicator closed up one cent at 1023 cents a kilogram, despite a 2.2 cent drop in the Australian-US dollar exchange rate making wool cheaper to international export destinations, he said.
"The currency eventually closed at 89.74 US cents on Thursday after briefly hitting a six-month low at 89.4 cents.
"The sideways movement in the indicator masked a continuation of the dominant pattern in the wool market which has been evident over the past few weeks."
Mr Plunkett said sale lots with a combination of part-tender and high mid-break were 20-30c/kg cheaper this and were sharply discounted when compared to the better types.
Buyers remained focused on particular specifications which are favoured by some early stage processors, he said.
"Stylish, high strength, and especially those with low mid-breaks all attracted solid competition during the week and generally closed ahead in the finer microns.
"The gains in these types outweighed falls in the lower spec types, which remained under pressure," he said.
Buying patterns in the 20 microns and broader range was similar to the finer microns where support for the better types came at the expense of low strength and high mid-breaks.
Merino skirtings closed at similar rates to last week with best length and low vegetable matter content types maintaining the strongest support, Mr Plunkett said. Merino carding types remained steady for the week. AWEX said 11.7 percent of the national offering of 42,107 bales was passed in.
New inquiry indicates firm market next week
Techwool Trading managing director Rod Franklin said buying was dominated by China, happy to buy wool at these prices, though dependent on currency movements the market next week might be unchanged. The Eastern Market Indicator at 918 US cents this week, down 22c on last week, has sparked more interest in Australian woo, he said.
"It certainly a lot easier when the Australian currency is around the US89-90 cents."
With two distinct types of wool being sought in the market, Mr Franklin said the Europeans, Japanese and Indians were buying the much better specification, sounder and low-mid-break wools whereas China was seeking different types.
"The two don't seem to clash a lot."
Techwool Trading was the main buyer of Australian wool at auction this week, purchasing 20.1pc of the offering, or 4720 bales, and Mr Franklin said his company got a lot of inquiry for wool on Thursday night and today.
"Which is the reason why I say I think the market should be alright next week."
Mr Franklin said China's bigger more cashed-up mills and wool companies were still trading wiothout being affected by credit issues.
"It is the medium and smaller mills that are more affected than anything.
"It has certainly got an effect but it is not as bad as what we originally thought it would be."
Better style and tensile strength wools sell well in Sydney
Landmark wool risk manager Anthony Boatman said support remained good for the better style and strength wools in Sydney, with these types increasing in value over Wednesday and Thursday, causing the discount gap for the high mid-break, cotted and tender wool to widen.
"The 17.6-20 micron categories were quoted up to 5 cents higher during Wednesday's sale, while the 21 and broader lots were quoted down a few cents.
"Crossbreds enjoyed good support, with prices lifting close to 10 cents higher," he said.
Mr Boatman said fine wools were able to hold their ground on Thursday with just the 18 micron wools quoted softer, and other categories quoted firm to unchanged on a relatively good quality offering.
"The medium micron wools were less sought after, with the 19-21 micron categories easing back.
"Largest losses were seen by the 20 micron wools, which were off 11 cents."
Crossbreds continued to perform well, increasing their values by up to 10 cents, he said.
Fine wools up to 5 cents dearer in Melbourne
In Melbourne on Wednesday saw prices reduced by a few cents across most of the 21 micron and finer wools, Mr Boatman said.
"Medium to broad Merino fleece wools were quoted 5-15 cents lower.
"Similar to the Sydney market, support fell away for the lower spec lots, while the better style and strength wools were sought after," he said.
Crossbreds enjoyed good support, also pushing up to 10 cents higher.
On Thursday there were a few pockets of lower prices, mainly in the 20 and 21 micron ranges, Mr Boatman said.
"High mid-break lots continued to suffer discounting, while support was good for better strength lots.
"Fine wools were generally firmer, with gains up to around 5 cents."
Crossbreds also sold firmer in the range of 1-5 cents, while oddments sold at generally unchanged levels.
Positive demand for 19-22 micron wool in Fremantle
The 18 and 18.5 micron categories offered in Fremantle on Wednesday clawed back some of the losses made over recent sales with 15 cent gains.
"Demand for the 19 through to 22 micron categories was also positive, with indicators quoted from unchanged to around 5 cents firmer."
Mr Boatman said there was a mixed result on Thursday as prices for 19.5 micron categories and finer managed to hold their value, quoted mostly firmer or unchanged, though the 18.5 micron wool lost one cent.
The 20 micron wools lost four cents and the 21 micron fleece was down one cent, with the 22 micron categories quoted 5 cents higher on low volumes, he said.
Oddments closed the week on positive note, with most categories selling firmer.
Sources: AWEX, Landmark, Techwool Trading