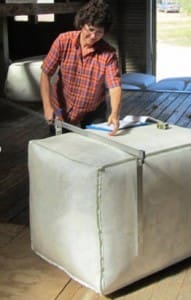 MERINO and crossbred wool prices lost ground this week, generally closing around 20c/kg clean lower than last, AWEX said.
On Tuesday the southern indicator fell below 1000 cents for the first time since April after widespread weaknesses.
After sales in Melbourne and Sydney on Tuesday and Wednesday and no sale in Fremantle, AWEX's Eastern Market Indicator finished the week on 1001 cents, down 19.
AWEX said volumes dipped to below 30,000 bales for only the fourth time in 12 months.
"Price-wise the market followed the lead established last week, continuing the weakening trend over both days.
All of the microns through the Merino range lost ground, generally closing around 20 cents clean lower," AWEX said.
The most significant falls occurred on Tuesday as part-tender types were heavily discounted in Melbourne. On Wednesday the rate of price decline slowed and the final hour traded marginally higher than the opening, AWEX said.
Sydney also posted some positive signals in the finer ranges when some of the Micron Price Guides firmed a few cents.
"The increases came on the back of good support for selected types, typically lines with a tensile strength around 50Newtons/kilotex and for a small number of "Average Spinners" that also found good competition in Melbourne on the opening day.
AWEX said Merino skirtings initially followed the fleece type trend, falling 10 to 20 cents, before renewed interest on Wednesday saw prices firm slightly.
"Crossbreds recorded varied results but were mostly 10 cents cheaper over the course of the sale."
Carding types fell sharply this week and included Melbourne's largest one-day Merino Carding Indicator fall in two years, of 28 cents on Tuesday.
"The last day of sale recorded a better result with prices only a few cents lower," AWEX said.
The carding indicators have fallen steadily over the past 12 months and are now about 100 cents lower than the peak made in early September 2013.
Landmark market analyst Anthony Boatman said if the current downtrend continued, the market might behave similar to 2012, when the EMI traded well below this level for most of the spring.
Mr Boatman said there was some support for the better style and strength lots in Sydney this week, with 16.5 micron categories unchanged and 20 micron wools easing just 4c.
"Largest losses were recorded by low strength, high mid‐break wools.
"Crossbred fleece also struggled, generally losing 10 cents to 15 cents."
Locks and stains dropped 10 cents, while other oddments were 20 cents to 30 cents lower, he said.
"Some positive movements for the 16.5, 18 and 18.5 micron categories on Wednesday kept losses for these wools in check, based on the support for better style and strength lots.
"Other fine wools recorded losses of around five cents, Mr Boatman said.
Medium microns continued to lose ground, handing over 10 cents to 15 cents.
"Crossbred categories were little changed, tending firmer while oddments closed slightly softer."
In Melbourne on Tuesday, better style and strength wools had some support, but still fell by around 10 cents.
"High mid‐break and low strength lots bore the brunt of the poor market conditions, pushing most Merino fleece categories down 10 cents to 20 cents."
He said coarse crossbreds were relatively little changed, although still softer, however the 26 micron wools were quoted down 27 cents and lost another 10 cents on Wednesday.
"Merino fleece wools also continued to lose ground on Wednesday, although losses were kept to around five cents for most categories.
"The most notable exceptions were the 22 micron wools, which were quoted down 14 cents," Mr Boatman said.
Oddments were quoted only slightly softer after the previous sales heavy 20 cents to 30 cents losses.
Sources: AWEX and Landmark.