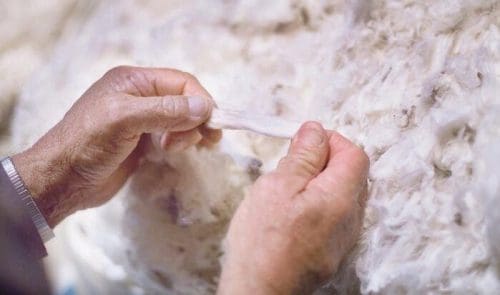 The Australian wool market has defied expectations and recorded solid overall price increases this week.
The national offering remained large, with a total of 42,794 bales available to the trade. Some buyers expressed concerns over the large quantity, however these concerns turned out to be unwarranted.
There were numerous anecdotal reports from exporters that large amounts of business had been done during the week, particularly in China in the lead up to Chinese New Year.
These sales resulted in a noticeable increase in buyer sentiment, which had the effect of pushing prices higher.
Good style Merino fleece types attracted the strongest demand and enjoyed solid gains for the series. This was reflected in the individual Micron Price Guides (MPGs) across the country for 21.0 micron and finer which added between 6 and 50 cents for the series. The only exception was the 19.5 MPG in the North which fell by 5c.
These increases combined with overall positive movements in the other sectors helped to push the AWEX Eastern Market Indicator up by 15c for the series. The EMI closed the week at 1407c/kg.
Due to a weaking of the Australian dollar compared to the US$ (the A$ lost US1.56c compared with the previous week) when viewed in US$ terms, the EMI lost ground. The EMI lost US11c for the series, closing at US995c.
The crossbred market recorded rises this week, generally between 5 and 15c.
Next week sees another to change to the normal sale day schedule, sales will be held on Wednesday and Thursday due to a recent decision to not hold sales on Chinese New Year's Day (Tuesday 1 February).
The national offering is of a similar quantity to this week. A total of 41,790 bales are currently expected to be offered in Sydney, Melbourne and Fremantle.
Source: AWEX