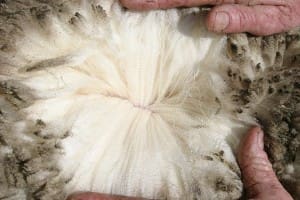 WOOL officially became a $20 a kilogram fibre in Western Australia this week with the state auction market's indicator lifting 66 cents to an historic 2018c/kg clean.
Now wool as a $20/kg fibre as measured by the Australian Wool Exchange's benchmark Eastern Market Indicator is a distinct possibility, as it rose 55 cents to a record 1891c/kg this week.
Elders WA wool manager Danny Burkett said the prices were coming on the back of a price rally that started nine months ago and helped by a "squeeze" among exporters struggling to buy quantities and pushing some prices up 90-100c/kg.
"We might see this squeeze run for 2-3 weeks, but on the back of that we are still in the midst of an extremely strong market."
Elders showfloor manager in Melbourne Mal Nicholls said he had a Victorian client this week that sold about 140 bales this week and netted about $520,000, or more than $3700/bale.
The new price level values a 185 kilogram 23 micron bale of Merino fleece wool at $2363 and a 17 micron bale at $3244. On the sheep's back, a 5kg 17-19 micron fleece is worth $70-$88 and a 6kg 21-23 micron fleece is worth $77-$79, AWEX estimated.
Some Merino wool micron price guides have been above the 2000-cent mark since mid-2017 nationally, but market conditions are making a 2000-cent AWEX EMI a likelihood, possibly within months, according to some industry analysts. Leading market analyst Chris Wilcox said a 2000-cent EMI was certainly a possibility.
"If it is going to happen I would have thought it might happen in the next 2-3 months – that's when I think it is more likely."
But Mr Wilcox also sounded a word of caution with the current Merino price 'super-cycle' being close to the longest the industry has ever experienced.
"It is always possible that this super-cycle will be longer than what we've ever had, but the longer it goes, the increased chance there is that something will kick it over," he said.
Little push-back in China on wool prices
Mr Wilcox said despite the AWEX EMI being nearly at 1900 cents, he found little push-back in terms of the current price levels when talking to mills in China this week.
"Some of the clients are questioning the price levels and thinking about blending, but in terms of the mills themselves they seem to be relatively comfortable."
He said the mill owners have been surprised by the forecasts of declining wool production next season, but understand it is due to the dry conditions in Australia.
"So with the combination of them being fairly comfortable, demand seems to be pretty firm and the lower production levels, it is well and truly a possibility – an EMI of $20."
Currently the EMI is being held back by broader crossbred prices, with all the AWEX Micron Price Guides from 22 microns down are well over the $20 or 2000-cent mark, and the 23 micron MPG is at 1986 cents, he said.
The mill owners' lack of concern about wool prices was affected by a "pretty rosy" global economic situation, probably the best in 10 years.
"It is the first time (since the Global Financial Crisis) that we've had a synchronised improvement in economic growth around the world in the major developed countries.
"Consumer confidence is at the highest levels we've seen in the millennium; they haven't been this high in the United States and Europe since the late 1990s," he said.
Retail sales in the Northern Hemisphere's autumn winter season were also better than last year in America and Europe.
"There are a bunch of reasons why the demand conditions are good, plus commodity prices in general are rising; so we've got a pretty positive scenario."
Mr Wilcox said the Australian-US dollar exchange rate coming back to US74-75 cents had also helped prices, although prices in $US are still relatively high.
AWI leader believed in a $20 wool benchmark since 2010
In mid-December last year, Australian Wool Innovation chief executive officer Stuart McCullough predicted wool would become a $20 fibre, reaching an EMI of 2000c/kg, because cashmere was worth $100/kg and the two fibres shared many characteristics. He said Merino wool's staple length was longer than cashmere and thus wool had all the attributes of cashmere "and more".
"So I don't see any reason why it (wool's price) shouldn't be even 20 per cent of the price of cashmere, so I think it has some runway yet to go."
Today Mr McCullough said Australia's Merino wool clip was going into a "rare space", getting finer and was being well used and was accessing new markets like athleisure.
Since 2010 he has had a belief that Australia's wool market benchmark would reach 2000c/kg clean "or better".
"I honestly don't see any reason why it should change at the moment."
He said wool supply could drop 5-7 percent due to dry conditions now compounded now by cooling temperatures into winter and there were no world events at the moment that could fundamentally disturb demand for wool.
Mr McCullough cited the 300 million affluent Chinese, another 300 million that "want to be" and said the sports and active wear, and soft tailoring sectors were also favouring wool.
"Our fibre awareness strategies have had an effect; I don't we can claim all the credit, but I think they've done something."
There was also solid demand growth in markets like Japan, which was a good supporter of the wool industry, but has been plagued with natural and fiscal disasters for the last 20 years, he said.
"Supply is predictable, demand is not always predictable, but nothing has happened to upset the status quo, in fact everything looks like it has got a bit of runway."
Mr McCullough said he was happy that wool growers are realising the current prices, although he would like to see them higher "naturally".
He agreed with Mr Wilcox in that if something is going to end the current supply/demand 'supercycle' it would a global event, perhaps a recession "of some description, but the world is ticking along quite nicely."
Mr McCullough said there was lots of wool in retail stores and coming down runways.