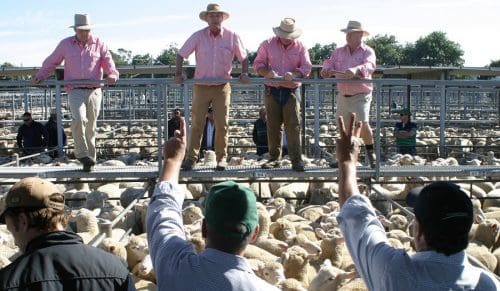 COVID-19 workforce restrictions on metropolitan Victorian abattoirs, staff shortages, shipping constraints and a bigger new season lamb flush are suggesting price and supply issues ahead for producers and processors.
Processors nationally are facing increased unit costs through staff shortages, limited availability of export containers and delayed arrival of consignments in offshore markets cutting product shelf life windows at retail.
And strong demand for sheep meat globally has kept Australian prices high and competitive, and ABARES said this week that the higher shipping costs are not assumed to have a strong influence on demand for most Australian agricultural products, because other global exporters are facing similar price increases.
WA processor WAMMCO has even been shipping lamb by train from Perth to Brisbane in an effort to overcome shipping delays out of Fremantle, Melbourne and Sydney, to maintain a valued US customer's business within the market's 90-day shelf life requirements for chilled product.
On the eastern coast, freight rates and shipping times are described as "out of control", including into the Middle East and the United States, with export shipping costs increasing 25-50pc, and the cost of bringing empty containers into Australia increasing up to three-fold.
"They are just not bringing empty containers back into Australia because the demand for shipping in the Northern Hemisphere is so strong," one processor said.
"The hardest thing now is to actually get space, to be able to get containers on the boats," he said.
"And there is only so much freezer space in Australia.
"There are going to be limitations on production and limitations on shipping – it has to cause some issues."
All this is adding 10-15c/kg on sheep meat product export delivery costs – including lamb, mutton and skins.
A New South Wales processor said he was trying to land chilled lamb into the United States 35-40 days post-slaughter, but is experiencing shipment times of 40-60 days, which puts pressure on retail marketing before the market's 90 day limit expires.
Australian Lamb Company livestock manager Ben Verrall told Sheep Central store sheep specialist Murray Arnell in a recent Elders Livestock update that all red meat processors have already had their throughput limited by the staff shortage, even before the workforce restrictions in Victoria were brought in.
He said the shipping problems included reduced availability of containers, with companies not yet replacing recently retired containers, but also some vessels were bypassing Australia and focussing on the Northern Hemisphere.
"Our receivables are generally running around 30 days, which is container delivery and payment on delivery into the US, but this is now pushed out to 55 days."
ABARES' Agricultural Commodities: September Quarter report said COVID-19-related disruptions have increased freight costs and transit times in the shipping industry. On average, global shipping prices for containers doubled between May 2020 and June 2021.
ABARES said mismatches in supply chains because of strong demand for manufactured products have meant that shipping prices have declined on some routes, such as from North America to Europe, but costs for most other routes have increased. Prices on major Australian containerised shipping routes have increased, but less so than others. Shipping costs are assumed to remain elevated throughout 2021 and into 2022, which will continue to drive up commodity prices.
Research prepared by ABARES in April 2020 investigating the impacts of COVID-19 on trade found that on average transport costs account for around 7 percent of the final price of Australia's food and fibre products.
Is there a lamb price "cliff" coming?
In Victoria, the Department of Health has continued its 20 workforce restrictions on metropolitan processors and abattoirs, giving no indication of when they would be eased, while the industry estimates the shortfall in processing capacity could lead to at least hundreds of thousands of lambs not being processed in the normal seasonal timeframe.
Then there is the added risk of COVID-19 outbreaks in processing plants, with one positive case reported today in Southern Meats Goulburn lamb-mutton export plant. The Southern NSW Local Health District said it is working with Southern Meats at Goulburn to determine close and casual contacts following confirmation of a COVID-19 case linked to the abattoir today.
Lamb prices are currently historically high and when the cold, wet weather conditions that have set back the normal new season flush by 2-3 weeks change, many producers are expected to rush suckers into markets. Mr Verrall said all areas are reporting that the new season lamb turn-off is late.
"We feel like we are going to get a few come at us all of a sudden."
He suggested producers might have to spread lambs out a little bit.
"But you can't control it when you get a hot north wind and three days of 30 degrees in a row – it soon changes the game."
Mr Verrall said it could also be hard to get shearers to shear lambs for backgrounding, with the current New South Wales lockdowns and border rules limiting worker movement.
A further complication is the decline in the bag lamb or Middle East (MK) kill market for light lambs, which one processor said has dropped by about 70 percent due to air freight availability and less subsidies in ME markets such as Bahrain and Kuwait.
One New South Wales processor suggested this week that the sector's current fundamentals of supply and processing capacity pointed to "pretty serious cliff (in prices) when the sun starts shining and lambs come on."
"How orderly that will be … the only saving grace we've got is grass, so they can get heavier."
Agents are reporting that the new season lamb turn-off has been set back by a colder, wetter winter despite good pasture growth in most areas. The improved pasture and crop conditions, with the increase in on-farm feedlots and containment areas, could give producers options to retain lambs for later turn-off, assuming they can get shearers.
A major processor said many areas of Australia are still understocked and with flock rebuilding, the ewe portions in some second cross lamb drops could be retained for future breeding, including among White Suffolk and composite terminal flocks, and fewer lambs would cross the Nullabor from Western Australia, which could limit new season turn-off glut impacts.
What are new season lamb producers likely to do?
Delta Livestock agent at Wagga Wagga Scott Hall said the "writing is on the wall" for a lot of lambs to hit the market soon.
"By early October there are going to be a lot of suckers from southern New South Wales right through to northern Victoria that are going to come up for sale, and they are going to be good too."
Mr Hall said his feel of producer intentions in southern New South Wales is they are taking $180-$200 for new season lambs "and they're running."
"So if they can get $180 out of their lambs, they will sell them and then under that they will keep them and shear them and get them big and heavy for Summer."
He said some producers who sell lambs for $200 would be prepared to buy back store lambs for around $120 "all day long."
Nutrien national livestock director Mark Barton said on the current strong prices for quality lambs, clients are being advised sell new season lambs as soon as they reach 18kg cwt, and then look at trading in store lambs later in the season.
He said forecasts indicate that the market will still be strong into next Autumn and Winter.
"Personally, I'm saying to my blokes, 'take the money, I like where the market is at."
Clients' sucker lambs in the Wagga saleyards recently "were the best part of $11/kg cwt" including skin value.
"They were 44kgs full and they averaged $244.
"It's north of $10.50/kg plus skin."
He said processors have also been generous and have posted good forward prices for after Christmas into Autumn. With a good Spring and crop stubbles, producers will be able protect their position with some store lambs bought at around $150-$160, Mr Barton said.
"Despite the problems in slaughtering and shipping, we are still seeing really strong competition at the moment.
"It would be a shame to miss this market at the moment if you have some early lambs.
"The magic (turn-off weight) number for us at the moment is probably 40kg, which will give me on a good sucker closer enough to 18.5-19kg dressed."
Concern at prospect of reduce competition for lambs and sheep
Sheep Producers Australia chief executive officer Stephen Crisp said maintenance of the 20 percent workforce capacity cuts imposed on metropolitan processors during Victoria's current COVID-19 lockdown could lead to an absence or a reduction in buyer competition throughout the eastern states.
"Yes it may only be over three or four months, but that is peak period and that will then lead into carrying capacity issues for the months in which that major surge of lambs is finally filtered through the system."
He said the lack of competition for new season lambs could put pressure on producers' pasture and supplementary feeding systems.
Mr Crisp said if processor were forced to freeze lambs for storage this would create a product of less value chilled lamb.
"There is pressure from all directions at the moment and it is quite a strange world because we've got great prices, but the threats are starting to mount.
"Some of them aren't of our own making, but this latest one is somewhat in our control, so can we ate least start helping each other when we have things that are within our control to assist our industry."
Mr Crisp said there has been some rebound in flock numbers meaning there will be more lambs on the market than last year.
"This natural Spring surge (of lambs) will be slightly bigger than last year, yet we are ate reduced capacity and wee seem intent on reducing it further."
Mr Crisp said the new arrangements announced last month to limit the movement and widespread infection of COVID-19 in Melbourne with a 20 percent reduction in workforce, as well as increased surveillance testing, still has no clear direction on that process despite repeated requested from industry."
"The meat processors showed last year that they were essential and invested millions of dollars in COVID safe plans, PPE and COVID marshal training.
"It is of the upmost importance that meat processors are able to operate to avoid the large scale impact on sheep producers who will have to carry stock longer, and possibly supplement feed, sell into a market without the usual buying competition," he said.
Preliminary figures provided by Meat & Livestock Australia (MLA) on the possible impact of Victorian processor restrictions show, at a normal processing spring season for lamb, the restrictions, if applied across all Victoria, would see a surplus of almost 1 million lambs.
"Even at the current restrictions on Metro abattoirs, there would be around 250,000 surplus lambs, which would not be able to be processed in NSW as was shown to have happened last year.
"As the Victorian buyers are prominent in NSW, TAS, SA, and they process around half of Australia's lambs, this is a national problem for producers," he said.
"It is disappointing that there was no consultation with the meat industry prior to the announcement.
"This ill-informed decision has forced processors to reset their forecast for production."
He hoped the easing of regional COVID-19 restrictions in Victoria might lead to an easing of the restrictions for metropolitan processing plants.