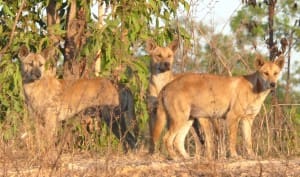 An attitude change to co-ordinated collective wild dog control programs by landholders and statutory bodies has generated dividends in Victoria and nationally, according to national wild dog facilitator Greg Mifsud.
The latest 2014 wild dog report and trapping statistics for parts of eastern Victoria point to the success of co-ordinated collective control measures. This included a decrease in wild dogs being trapped or shot in Victoria and the return of sheep to some areas.
Yet in the last 12 months – from July 2014 till now — the reports of sightings to wild dog officers has increased overall, Mr Mifsud said.
"The stock attacks and the number of dogs has declined, so the reporting to me is actually a function of confidence in the program.
"The big issue we've always had in Victoria is that people have had no faith in the program, so they wouldn't report."
In the 12 months to June 2014, 807 reports were made to wild dog controllers (WDCs) in Victoria. The WDCs trapped 2477 sites in Victoria and shot or trapped 480 dogs. The Department of Environment and Primary Industries laid 17,876 ground baits and 4005 from the air, of which 2943 were taken, and community groups laid 33,112 baits.
From June-September 30, 2014, 153 reports were made to wild dog controllers in Victoria. They trapped 470 sites, shot or trapped 87 dogs and 162 pelts were handed in for the bounty. Wild dog controllers laid 4505 baits, of which 942 were taken, and community groups laid another 15,886.
Landholders becoming more vigilant
Mr Mifsud said an increase in wild dog sightings did not mean there were more dogs out there.
"It means that more people are aware and vigilant, and they are actually reporting it because they have got confidence in the program.
"We've seen this in other places as well."
In SA after a series of planning days, the reports of dogs "went through the roof", he said.
"It wasn't the fact that there were more dogs, it was just the fact that people were taking notice now.
"There has been a massive attitude change," Mr Mifsud said.
"The incorporation, involvement and consultation with stakeholders in our planning approach has actually given them confidence in the programs.
"As a consequence people feel they are a part of it and feel, yes it is worthwhile reporting because they know that there going to be a response."
Attitude change is occurring  nationally
Mr Mifsud said attitudes to wild dog control programs are changing nationally.
"But from a Victorian perspective, from where they were, the attitude is vastly different.
"Producers genuinely feel they are a part of the program and that it is actually delivering the outcomes that they want, and they want to be a part of it."
But Mr Mifsud said in some areas where the dogs are turning up where they haven't been before – such as Clare and Burra in SA – there was a need "to keep spreading the word".
"Part of the action plan is to identify those areas and to implement some extension and training activities."
Mifsud says "keep the foot to the pedal"
Recent statistics indicate wild dog numbers have dropped dramatically in eastern Victoria, but Mr Mifsud urged stakeholders to maintain vigilance and "keep the foot to the pedal".
"I am pleased to say that a concerted effort by all stakeholders to deliver strategic and coordinated wild dog control is really starting to pay dividends with reduced stock attacks and very few wild dogs being seen on private lands in the north east and south east areas of Victoria recently.
"However, it must be emphasised that this hasn't happened overnight, it has taken over four years to get to this stage with a considerable amount of dedication and hard work from a wide range of stakeholders."
Co-ordinated collective programs work
Mr Mifsud said the results clearly show that stakeholders working collectively and using current best practice can manage the impacts of wild dogs.
"This has included major changes to control programs including the use of extensive ground baiting, delivery of the community wild dog baiting program on over 400,000ha of private land to complement the government program on public lands and the introduction of aerial baiting in areas with limited access on the public-private land interface," he said.
"The approach taken in Victoria has been captured in the National Wild Dog Action Plan.
"It highlights the importance of having a national overarching plan which promotes and directs management using a nil or cross tenure approach, encourages capacity building amongst stakeholders to assist themselves, and encourages the development of effective local area management plans based on current best practice where all stakeholders are involved in the decision making and delivery of the program."
Chair of the National Plan's Implementation Steering Committee Duncan Fraser said the fact that producers are now moving back into sheep or increasing their flock size in some regions is testament to the confidence they now have in the wild dog management program.
He congratulated all those who have been and are involved in management plans and emphasised that stakeholders must avoid complacency and remain vigilant.
Source: National Wild Dog Management Project