PRICES fell for most sheep and lamb categories on AuctionsPlus last week as widespread rain and flooding continued to impede offerings.
The online marketplace's throughput eased 16 percent to 81,107 head.
AuctionsPlus said wet paddocks, road closures and forecasts for further flooding rains across eastern Australia has created a headache for producers and processors, as the traditional momentum for Spring selling continues to be "bogged" down.
Clearance rates across sheep and lamb sales were subdued; impacted by the logistical and welfare considerations of moving stock and limited availability of dry paddocks.
AuctionsPlus' national lamb sale with 54,848 head, accounted for 68pc of the total weekly offering. South Australian producers offered 33,509 head, almost half the weekly lamb listings, while New South Wales recorded a contraction in numbers. Overall market sentiment was softer this week, as only two of the six lamb categories registered price gains on last week, AuctionsPlus said.
The 27,656 crossbred lambs offered – up 9pc — was the largest category. Post-sale negotiations lifted the clearance rate from a subdued 53pc at the immediate close of sale to 73pc by late Thursday, AuctionsPlus said. Prices eased $2 to average $139. Topping the category were 310 first cross wether lambs weighing 43kg lwt at Naracoorte, SA. The lambs sold for $157 to a SA buyer at Mt Gambier.
The number of Merino wether lambs offered online last week fell by 33pc to 13,164 head. The clearance rate for the category also eased to 59pc, and the average price of $107 was $6 lower. At Bordertown in SA, 540 Merino wether lambs weighing 45kg lwt made $149.
Merino ewe lambs recorded the largest drop in weekly listings; back 64pc to 3152 head. The limited offering sparked increased competition and prices averaged $37 higher at $181. The clearance rate was 94pc. At Lani Logan in Victoria, 355 Merino ewe lambs weighing 48kg lwt sold for $212.
After post-sale negotiations, AuctionsPlus sold 44pc of the 5243 composite and other breed lambs for an average price of $139, down $3.
AuctionsPlus offered 1906 joined ewe last week, including 1252 shedding breed ewes. Prices for the category rose $2 to average $226 for a 75pc clearance. A highlight was 53 12-15 month-old Australian White ewes at Keith in SA weighing 65kg lwt that sold for $570, $270 above reserve.
The 23,098 unjoined ewe numbers offered made up 28pc of total offerings. Prices fell in four of the five categories and clearance rates were subdued across all categories, AuctionsPlus said.
AuctionsPlus sold 52pc of the 7288 unjoined Merino ewe hoggets offered for an average price of $228, back $59. At Kingston in SA, a line of 16-18 month-old Merino hoggets weighing 56.6kg lwt made $300.
The number of unjoined Merino ewes offered dropped 68pc to 3591 head. The average prices for the category eased $40 to $186. The clearance rate reached 61pc, up from 46pc at the immediate close of sales. At Narrandera in NSW, 250 3.5 year-old Poll Merino ewes weighing 72kg lwt sold for $250.
The 4021 unjoined first cross ewes averaged $226, down $54, and the clearance rate reaching 61pc, up from 43pc at the immediate close of sales. At Kewell in Victoria, 170 14-16 month-old first cross ewes weighing 54kg lwt sold for $272.
The 6870 composite and other breed ewes registered the only price rise for the unjoined ewe categories; lifting $2 to an average of $200.
Note: Prices as at 5pm, Thursday 20th October 2022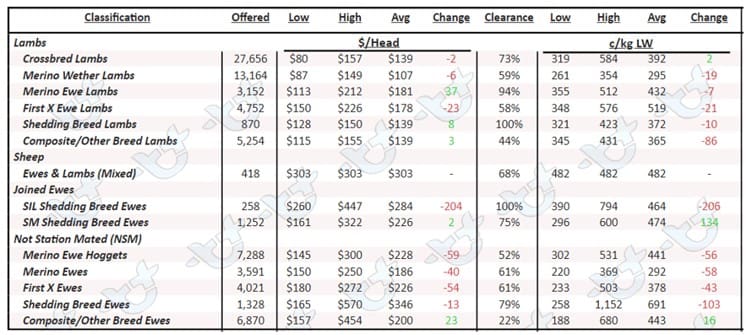 Source – AuctionsPlus.