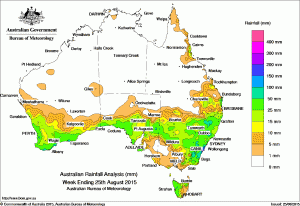 The best falls of the week of greater than 50mm were recorded in parts of the south coast of Western Australia, isolated parts of western Tasmania, and in areas of the east coast of New South Wales, with totals in excess of 100mm recorded in the NSW Illawarra, including 301mm at Bendalong.
Falls between 10mm and 50mm were recorded in the southwest and south coast of Western Australia; in the southern half of South Australia including parts of the pastoral and agricultural districts, but excluding the southeast; parts of the Otways and in alpine to northeastern Victoria; the western half and the northeast of Tasmania; most of New South Wales except the far northwest; and in southeastern and coastal far north tropical Queensland.
The week began with a cloudband extending from the Indian Ocean over central Western Australia and South Australia with a cold front tracking over southwest Western Australia. Large parts of the South West Land Division recorded moderate rainfall totals as the system progressed eastwards.
The cold front and a pre-frontal surface trough tracked across South Australia, bringing moderate falls to the coastal area from about Ceduna to Kangaroo Island. Light rain fell along parts of Western Australia's southern coast and in northwestern Tasmania.
Another low pressure system and cold front crossed Western Australia in the middle of the week bringing moderate rainfall across most of the southwest of Western Australia.
A moist, onshore flow over southeastern Queensland generated light to moderate falls along the east coast between Yeppoon and Coolangatta.
During the last half of the week, a cold front and associated surface trough crossed Tasmania, bringing moderate falls to most of northwestern Tasmania. A complex trough of low pressure also developed over central Australia and moved slowly eastwards. Along with a middle level disturbance, the system produced broad areas of moderate falls across central and eastern South Australia extending into western New South Wales to the northeast of that State.
A small area of low pressure at the centre of these troughs deepened further after tracking offshore over the northern Illawarra coast at the end of the week, becoming an East Coast Low. Vigorous onshore winds and moderate to heavy rainfall was recorded on the last day of the week in the southern half of New South Wales, with moderate falls also recorded in East Gippsland as the system tracked southwards along the coast. A surface trough extended from the low pressure system into eastern Queensland, generating light to moderate rainfall across southeastern Queensland and northeastern New South Wales.
The Northern Territory, the northern two thirds of Western Australia, northern South Australia, much of central and western Victoria, and most of Queensland away from the east coast recorded little or no rainfall.
New South Wales and Australian Capital Territory
301 mm Bendalong STP
232 mm Kiama (Brighton St)
196 mm Ulladulla AWS
196 mm Sanctuary Point
For more NSW totals click here
Victoria
45 mm Haines Junction (Mount Sabine)
45 mm Reeves Knob
41 mm Mount Useful
For more Victorian totals click here
Queensland
113 mm Corbould Pk Racecourse
98 mm Rainbow Beach
64 mm Sunshine Coast Airport
Higher inland totals:
46mm Kingaroy
37mm Yuleba
35mm Meandarra
27mm Texas
25mm Dalveen
19mm Bauhinia Downs
16mm Wandoan
Western Australia
74 mm Karnet
63 mm Bickley
62 mm Merivale Farm
62 mm Dwellingup
62 mm Mettler
South Australia
62 mm Wilpena Pound
52 mm Boolcoomatta
46 mm Parndana AWS
46 mm Wirrulla
Tasmania
64 mm Mount Read
45 mm Waratah (Mount Road)
42 mm Mount Victoria (Una Plain)
Northern Territory
6 mm Darwin Hospital
4 mm Point Stuart
0.8 mm Centre Island
Source: BOM