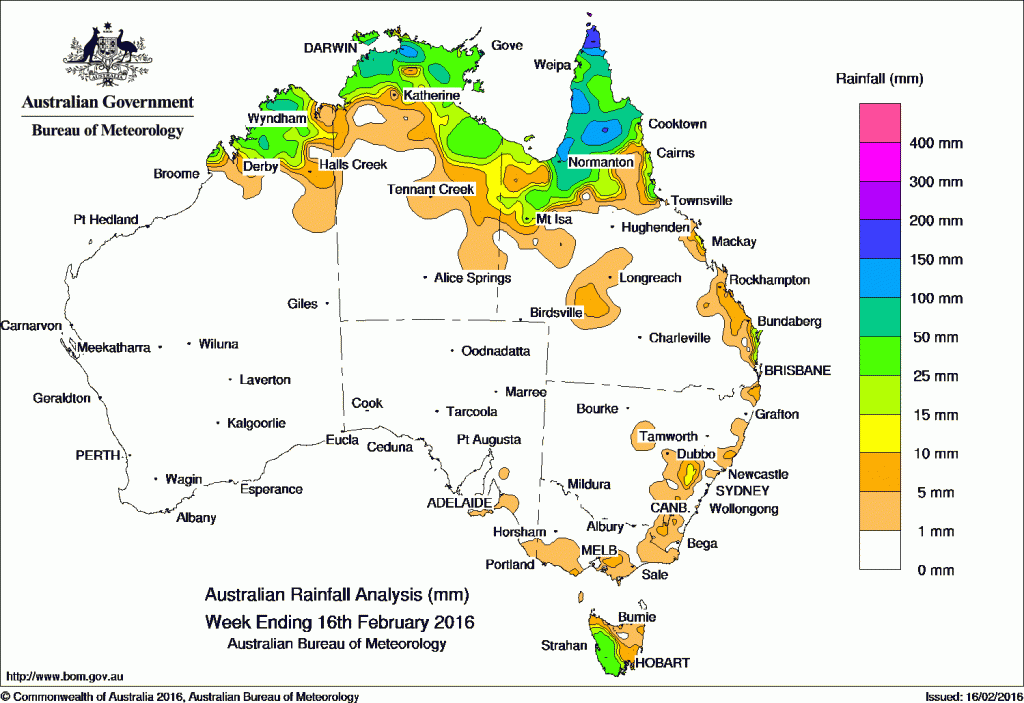 Rainfall for the past week was largely restricted to the far north of the country and western Tasmania.
At the beginning of the week, the monsoon trough and a deepening tropical low over the Coral Sea triggered extensive areas of shower and thunderstorm activity.  Moderate rainfall was recorded across the Cape York Peninsula, Gulf Country and parts of the eastern Top End. The tropical low developed into tropical cyclone Tatiana on the monsoon trough in the eastern Coral Sea, and tracked slowly south-southeast. AsTatiana weakened to a tropical low, and was located well off shore of Queensland and New South Wales, moist onshore flow brought showers to exposed parts of the southeast Queensland coast.
A weak trough extended from the eastern Top End into southwest Queensland, resulting in showers and thunderstorms across much of the northern Top End by mid-week. Moderate rainfall was also recorded in the Kimberley district of Western Australia. A weak cold front tracked across southern Victoria and Tasmania, producing light falls in parts of western Tasmania.
Rainfall totals exceeding 100 mm were recorded in central Top End and in pockets of the Cape York Peninsula, with isolated areas in the Peninsula reporting totals exceeding 150 mm. The highest weekly total was 424 mm at Coconut Island in far north Queensland.
Rainfall totals between 50 mm and 100 mm were recorded in parts of the Kimberley coast, the western and central Top End, and much of the Cape York Peninsula.
Rainfall totals between 10 mm and 50 mm were recorded in the Kimberley, remaining parts of the Top End and the Cape York Peninsula, and the Gulf Country. Similar totals were recorded in the far north tropical coast, exposed parts of the central and Wide Bay coasts in Queensland, a small area of eastern New South Wales, and western Tasmania.
Most of Western Australia away from the Kimberley, all of South Australia, Victoria, central and eastern Tasmania, much of New South Wales, central and southern Queensland and the Northern Territory away from the Top End recorded little or no rainfall this week.
New South Wales and Australian Capital Territory
49 mm Parkers Gap
35 mm Wollombi
30 mm Oberon (Springbank)
Victoria
42 mm Durdidwarrah
18 mm Mount Baw Baw
14 mm Jindivick
Queensland
424 mm Coconut Island
259 mm Horn Island
136 mm Palmerville
Western Australia
79 mm Theda
53 mm Country Downs
51 mm Mount House Airstrip
South Australia
12 mm Heathfield Works Depot
6 mm Parawa (Sharon)
5 mm Mount Schank (Jethia), Parawa
Tasmania
68 mm Mount Read, Warra
56 mm Lake Margaret Power Station
Northern Territory
151 mm Oenpelli Airport
121 mm Middle Point
115 mm Territory Wildlife Park
More weekly rainfall totals:
Source: BOM