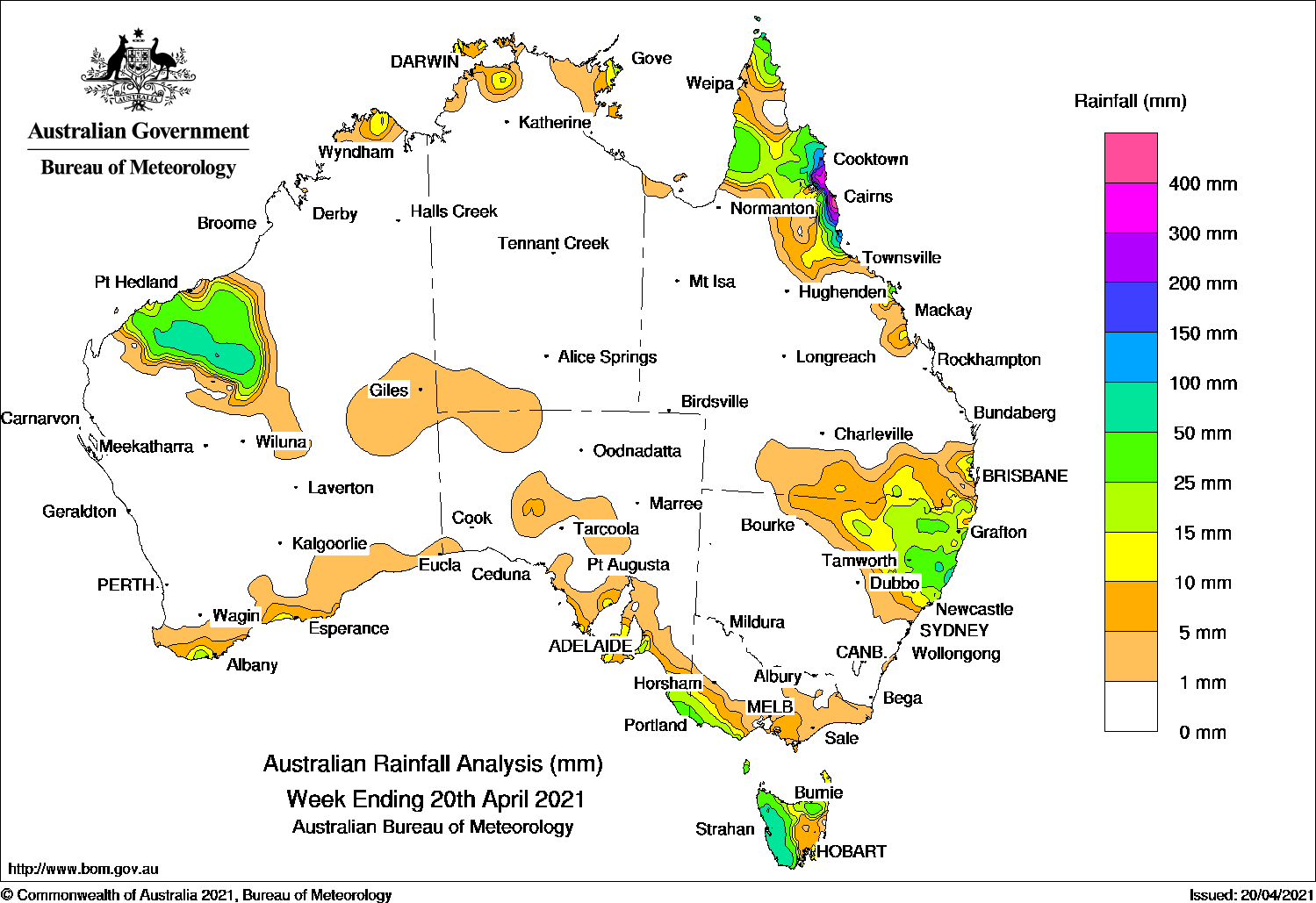 TROUGHS brought rain to Western Australia's Pilbara and north-eastern New South Wales, heavy falls in Queensland's north tropical coast, while cold fronts produced moderate rainfall in western Tasmania.
Past seven days: At the start of the week, a trough extended from the Indian Ocean through north-west Western Australia and connected to a cold front crossing south-east Australia. Light to moderate falls were reported across much of the Pilbara, while in the south light falls were observed across western Tasmania.
Light falls were also observed in parts of the northern coasts throughout the first part of the week.
By the middle of the week the surface trough had shifted eastward, to be located along a line extending from south of the Gulf of Carpentaria, through inland Queensland, to north-eastern New South Wales. Light to moderate falls were widespread across the north-east of New South Wales, and parts of adjacent southern Queensland.
A ridge of high pressure extending across southern Australia, keeping the passage of several cold front confined to Tasmania. Mostly light falls continued across the west of Tasmania during the middle of the week, with some moderate falls on the last day of the period, which extended to south-west Victoria and south-east South Australia.
The end of the week saw the deepening of surface troughs in far northern Queensland and the Coral Sea. Onshore flow, convective cloud, and thunderstorms brought moderate to heavy rainfall in Queensland's North Tropical Coast, particularly in the region around Cairns.
Weekly rainfall totals in excess of 200 mm were observed in an area of Queensland's North Tropical Coast, with totals in excess of 300 mm at some locations, including the highest weekly rainfall total: 532 mm at Mt Sophia.
Rainfall totals between 50 mm and 100 mm were observed surrounding higher totals in Queensland, in an area of the southern Pilbara, western Tasmania, and pockets of the New South Wales North Coast region.
Rainfall totals in excess of 10 mm were observed in much of the Pilbara except the west coast, pockets of the northern coastal Kimberley, the coastal Top End, most of the remainder of Cape York Peninsula and parts of Queensland's Central Coast District, across the north-east of New South Wales and adjacent southern Queensland, north coast Tasmania, the west coast and inland south-west of Victoria, parts of coastal South Australia in the south-east and pockets extending to the Eyre Peninsula, and pockets of the south coast of Western Australia.
Highest weekly totals
New South Wales and Australian Capital Territory
79 mm Yarras (Mount Seaview)
62 mm Port Maquarie (Port Macquarie
58 mm Bellwood (Nambucca Heads (NambMooral Creek (The Den)
Victoria
35 mm Portland (Cashmore Airport)
29 mm Portland, Nullawarre
Queensland
532 mm Mt Sophia
467 mm Babinda Post Office
364 mm Cairns Racecourse
Western Australia
78 mm Karijini North
57 mm Mount Florance
56 mm Newman Aero
South Australia
47 mm Mount Schank (Jethia)
30 mm Willunga
28 mm Mount Gambier Aero
Tasmania
159 mm Mount Read
100 mm Queenstown (South Queenstown)
82 mm Zeehan (West Coast Pioneers Mu
Northern Territory
23 mm Alcan Minesite, Mount Bundey North (Defence)
15 mm Leanyer
Rainfall outlook