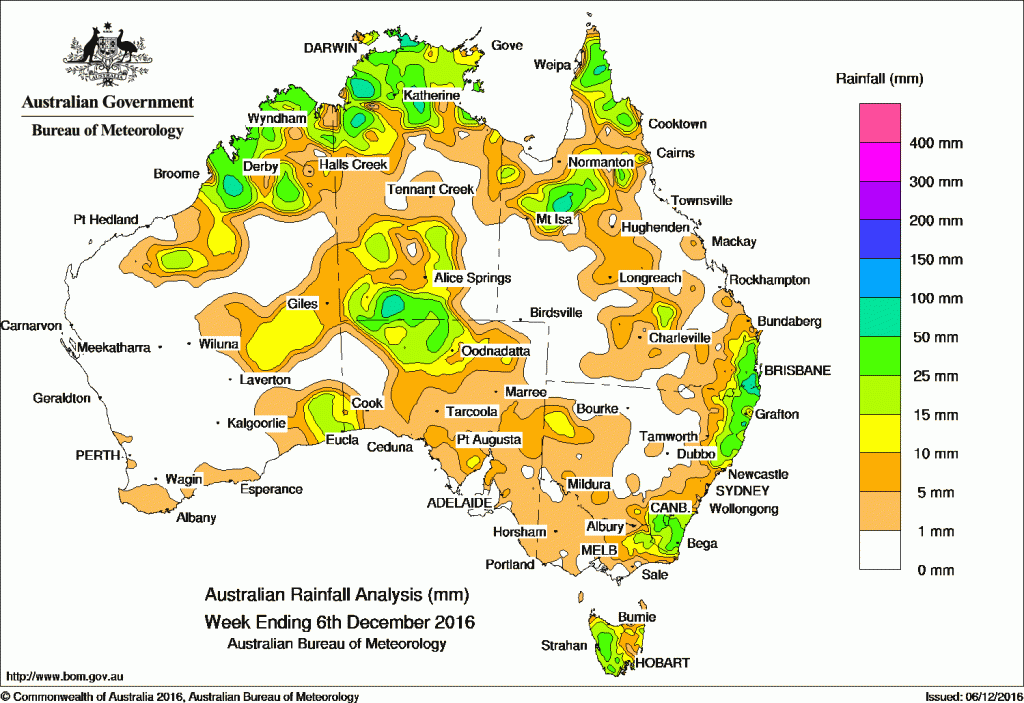 Today's 14-day rainfall outlook – scroll to bottom of article
Northern Australia and coastal South Eastern Australia received the highest rainfall totals across Australia over the past seven days.
Past week overview: At the beginning of the week, a broad area of low pressure covered much of the continent with associated low pressure troughs extended through the interior. Showers and thunderstorms developed over the Kimberley and Pilbara in Western Australia, northwestern Top End, and in northern, central and southeastern Queensland. Thunderstorms, producing moderate falls also formed over eastern parts of New South Wales.
Moderate to heavy falls continued in the Kimberley, the northwest and central Top End, about the Alice Springs region in the Northern Territory and across the northern interior and southeastern districts of Queensland. As a cloudband and a weak cold front tracked across southern Australia in the middle of the week, light to moderate falls were recorded along the Eucla coast in Western Australia, while widespread, light rainfall was recorded across most of Victoria, with moderate falls recorded in western Tasmania.
In the last part of the week, a broad low pressure trough extended across the Northern Territory, through western Queensland into New South Wales. Showers and thunderstorms produced moderate falls in Central Australia, southeastern Queensland, and along the east coast of New South Wales.
50mm-100mm: Parts of Central Australia, the Kimberley region; pockets of the Top End, Gulf Country and Cape York Peninsula; and small areas of southeastern Queensland and northeastern New South Wales. The highest weekly total was 143 mm at Murganella Airstrip in the Northern Territory.
25mm-50mm: Parts of western Tasmania; areas along the northeastern and southeastern New South Wales coast; parts of northern and southeastern Queensland; pockets of the Top End; an area in Central Australia; and in the Kimberley district in Western Australia.
10mm plus: The western half and northeastern Tasmania; parts of northeastern Victoria; in southeastern and northeastern New South Wales; southeastern, central and northern parts of Queensland. Similar totals were also recorded in northern and southern parts of the Northern Territory; parts of the Southern Interior, Eucla and Pilbara districts in Western Australia; and small areas in southwest, northwest and along the southern coast of and northern districts of South Australia.
Little to no rainfall: Remaining parts of Western Australia; most of South Australia; central and eastern parts of the Northern Territory; most of Victoria; most of the eastern half of Tasmania; western and central New South Wales, and in the southwest, central coast and adjacent districts of Queensland.
Highest weekly totals
New South Wales and Australian Capital Territory
89 mm Mount George (Manning River), Brays Creek (Misty Mountain)
86 mm Mullumbimby (Fairview Farm)
Victoria
29 mm Mount Delegate, Gabo Island Lighthouse
27 mm Dartmouth Reservoir
Queensland
110 mm Maroon Dam
73 mm Maclean Bridge
71 mm Regents Park
Western Australia
80 mm Cygnet Bay
62 mm Drysdale River Station
59 mm Kilto Station
South Australia
26 mm Todmorden
18 mm Mintabie
17 mm Ernabella (Pukatja)
Tasmania
40 mm Mount Read
33 mm Mount Lloyd
32 mm Zeehan
Northern Territory
143 mm Murganella Airstrip
96 mm Conways
87 mm Fish River
More weekly rainfall totals:
Source: BOM