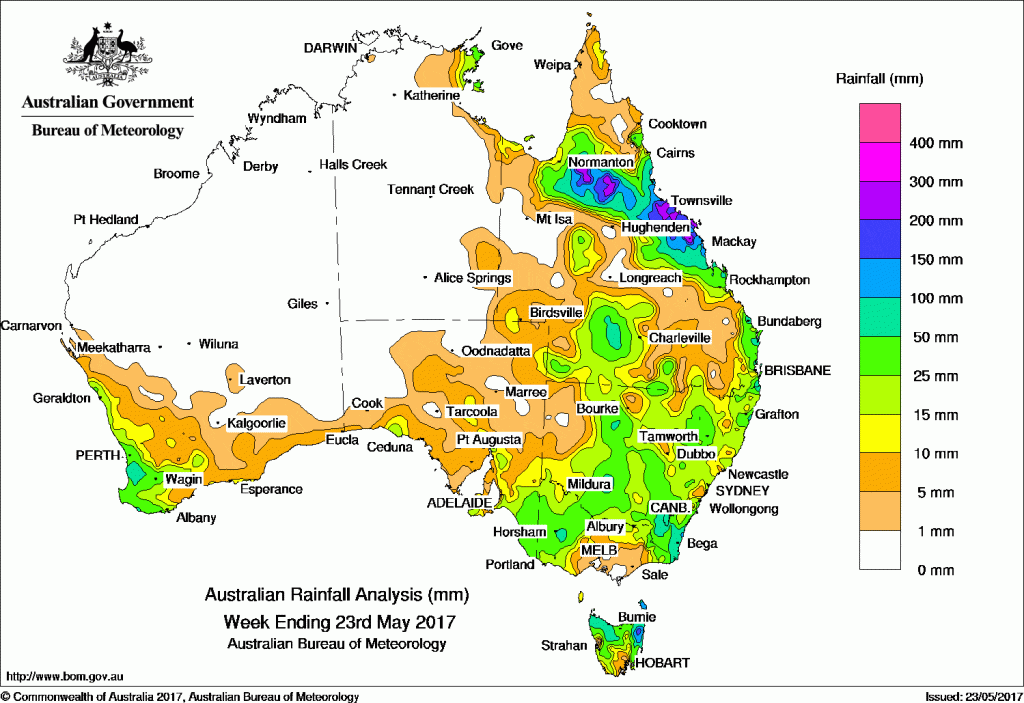 For today's 14-day rainfall outlook – scroll to bottom of article
A low pressure system brought falls of 25 mm to a band of inland stretching from western Queensland to Victoria and South Australia.
Past seven days: At the beginning of the week, a low pressure system in the Great Australian Bight and an associated surface trough produced light falls along much of the southern coastline of Australia, and thunderstorms over central and northern parts of South Australia and southwest Queensland.
The low became cut off while the surface trough extended north towards the Gulf of Carpentaria and a cloudband with embedded thunderstorms formed east of the trough with embedded thunderstorms. Moderate falls were received in southeastern South Australia, western Victoria, western New South Wales and southwest Queensland. Further moderate falls were recorded over southern and southeastern Queensland, the eastern half of New South Wales and eastern Victoria.
Moderate to heavy falls were recorded in the north and northeast of Tasmania as the surface trough moved towards the southeast and deepened ahead of an approaching front towards the end of the week. As the cold front tracked across southwest Western Australia it produced light to moderate falls across the South West Land Division and southern coast of Western Australia.
In central to northern Queensland, a surface trough over the Coral Sea approaching the coast combined with an upper-level feature early in the week. Moderate to heavy rainfall totals were recorded from the Gulf Country, across the northern Queensland interior, and in areas from the southern tropics into central Queensland.
Isolated thunderstorms also formed in northeastern parts of the Northern Territory during the second half of the week.
Click here to get the latest Sheep Central story links sent to your email inbox.
Rainfall totals in excess of 100 mm were recorded in northeastern Tasmania, small pockets of southeastern New South Wales, and in the northern interior and southern tropics of Queensland. Parts of this area in Queensland observed totals in excess of 200 mm. The highest weekly total was 252 mm at Alva Beach, on Queensland's central coast.
Rainfall totals between 50 mm and 100 mm were recorded around Perth in southwest Western Australia, pockets of western and far eastern Victoria, small areas of western and southeastern New South Wales, and in the northwest and northeast of northern Tasmania. Similar totals were recorded in isolated areas of southwestern and southeastern Queensland, across most of Queensland's northern interior and along the east tropical coast from Cairns to St Lawrence.
Rainfall totals between 10 mm and 50 mm were recorded in southwest Western Australia; parts of southern, southeastern and northeastern South Australia; western and northern Victoria and East Gippsland; most of New South Wales except the northwest; and much of Tasmania except the southeast. Similar totals were recorded in southern, eastern and northern inland Queensland, and in parts of the coastal northeast of the Northern Territory.
Little or no rainfall was recorded in remaining areas of Western Australia, most of pastoral South Australia, central southern Victoria and West Gippsland, northwestern New South Wales, northwestern and central western Queensland and areas of inland southeastern Queensland.
Highest weekly totals list
New South Wales and Australian Capital Territory
151 mm Central Tilba (Braeside)
135 mm Dalmeny (Binalong St)
134 mm Cathcart (Mount Darragh)
Victoria
84 mm Mallacoota
72 mm Gabo Island Lighthouse
66 mm Rupanyup (Post Office)
Queensland
252 mm Alva Beach
219 mm Mingela Post Office
215 mm Woodhouse
Western Australia
92 mm Mount William
81 mm Dwellingup, Huntly
South Australia
45 mm Keith, Yankalilla
44 mm Parrakie
Tasmania
145 mm Pyengana (Forest Lodge Road)
125 mm St Marys (Cullenswood)
120 mm Gray (Dalmayne Rd)
Northern Territory
40 mm Nhulunbuy
34 mm Yirrkala Tropical Gardens
21 mm Groote Eylandt Airport
More weekly rainfall totals:
Source: BOM