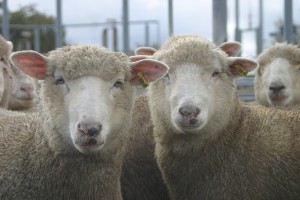 VICTORIA'S Department of Economic Development, Jobs, Transport and Resources should finalise plans to implement a new electronic traceability system for sheep and goats, the state's Auditor-General John Doyle said today.
In a report 'Biosecurity:Livestock' tabled in the Victorian Parliament, Mr Doyle said he found that a decline in financial and staff resourcing for core biosecurity functions has weakened the state's capacity to detect, prepare for and respond to emergency livestock disease outbreaks.
"This increases the potential for a major disease outbreak going undetected until it has become established."
The audit report found that the department's recent responses to livestock disease events have been successful — including to a suspected case of foot-and-mouth disease at Echuca in January 2015, a sporadic case of anthrax in 2015, and an outbreak of low pathogenic avian influenza in 2012.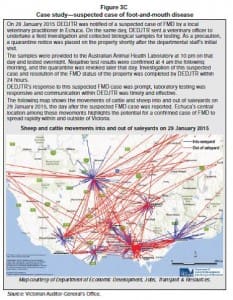 However, these events have been small in scale and DEDJTR's capacity to detect, prepare for and respond to an emergency livestock disease outbreak has been weakened by a decline in financial and staff resourcing, the report found.
"This has resulted in a significant drop in surveillance coverage and the increased likelihood of a major disease outbreak going undetected until it has become established.
"The potentially severe impacts of such an outbreak highlight the urgent need to address this risk."
The audit found that DEDJTR has developed plans and commenced work within its own resourcing levels to enhance its livestock disease preparedness, but these initiatives are incapable of restoring the diminished capacity of Victoria's livestock biosecurity system.
"Ultimately, the success of any future response to concurrent small scale or medium to large scale outbreaks will depend heavily on input from other agencies, jurisdictions, organisations, private veterinary practitioners and Victoria's livestock industries, as well as reactive funding allocations from government."
The report also recommended that the department develop an overarching strategic approach to engaging non-government stakeholders.
The Australian Bureau of Agricultural and Resource Economics and Sciences estimates that the impact on Australia's economy of a large scale, multi-state outbreak of FMD would be $52 billion over a 10-year period. Of all Australian states and territories, Victoria is considered most at risk of an FMD outbreak due to its temperate climate and intensive livestock production systems.
NLIS sheep traceability problems highlighted
The report said the National Livestock Identification System is integral to effectively managing animal diseases and any associated human health implications by enabling agencies to trace the origin and spread of a disease.
But it said the traceability of sheep and goats is a major weakness of the NLIS.
"Unlike cattle traceability—which uses electronic devices to track cattle movements—sheep and goat traceability is based on visually readable tags and paper records.
"This significantly affects the quality, reliability and timeliness of NLIS sheep and goat data."
In March 2015, a DEDJTR review of the correlation between visually readable tags and the paperwork accompanying the movement of sheep and goats found major discrepancies between the tags and the paperwork, including:
– for 41 percent of tags collected from sheep at slaughter there was no record of the tag's property identification code (PIC) on accompanying paperwork
– for 31pc of PICs listed on paperwork, there was no record of the PIC being on tags
– 25pc of PICs handwritten on paperwork had been incorrectly transcribed.
Figure 3I demonstrates the capability of the NLIS in tracing livestock movements. It also shows the potential for an emergency animal disease to spread rapidly through livestock movements into and out of saleyards.
The absence of an effective sheep and goat traceability system also poses risks for the cattle industry, the report said, due to the risk of some diseases able to be transmitted between sheep and cattle.
DEDJTR is developing a new traceability system for sheep and goats
The report said while the NLIS is managed at a federal level, DEDJTR has commenced work to develop a new traceability system for sheep and goats that uses electronic tags.
"If implemented as planned, this project could significantly improve Victoria's capability to prevent, prepare for and respond to an emergency animal disease outbreak.
"It could also lead to improved market access, food safety and livestock production efficiency."
As well as finalising plans to implement a new electronic traceability system for sheep and goats, the auditor-general report recommended that DEDJTR adopt a systematic approach to:
– reviewing and updating its documented livestock biosecurity procedures
– selecting disease simulation exercises based on disease risks and the coverage, content and delivery of past exercises
– evaluating the outcomes of simulated and actual disease responses as part of a continuous improvement program
– assessing the coverage and content of its livestock biosecurity training programs for staff and private veterinary practitioners.
FMD plans derailed by new emergency management arrangements
The audit report said DEDJTR has undertaken detailed planning for FMD through its Improving Victoria's Preparedness for Foot and Mouth Disease project. However, delivery of this project fell behind schedule during 2013–14, with about $1 million of the $2.3 million annual project budget carried forward to 2014–15.
"Project delivery has improved since a dedicated project manager and project control board was established in mid-2014.
"However, the project was not fully delivered by 30 June 2015 as originally planned," the report said.
"In particular, one key project initiative—to develop a state response plan for an FMD outbreak—will not be finalised until mid-2016. DEDJTR advised that this is due to new requirements arising from Victoria's reformed emergency management arrangements."
Since 2011-12, DEDJTR's livestock disease surveillance activities have decreased by 39pc in line with a decline in staffing levels and the number of surveillance investigations by private veterinary practitioners has fallen by 7pc, the report said.
Recurrent state funding for core livestock biosecurity activities has reduced by 49pc between 2009–10 and 2014–15 and the total number of veterinary and animal health officer positions in DEDJTR has decreased by 42pc since 2010.
The report recommended that DEDJTR also improve disease surveillance by:
– focusing its targeted surveillance activities based on a systematic assessment of disease risks
– increasing statewide participation in surveillance programs by private veterinary practitioners so that surveillance records more
– accurately reflect the geographic distribution of livestock species and numbers, as well as disease threats
– establishing arrangements to gain assurance that the industry-led disease surveillance of poultry is effective, and;
– enhancing systems and processes to minimise errors in disease surveillance records and improve their timely completion.
The report also recommended that DEDJTR work with the Department of Health and Human Services work together to determine and apply the most effective method for preventing the illegal swill feeding of pigs.
Source: Victorian Auditor-General