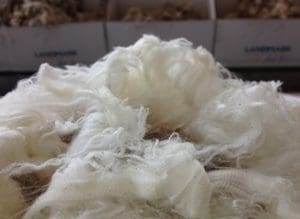 AUSTRALIAN wool prices continued to fall this week, although lines with good strength and length results and broader Merino and crossbred lots were less-affected.
The AWEX Eastern Market Indicator fell 27 cents to 1751c/kg clean, with brokers passing in 9 percent of the 42,645 bales offered, 2891 fewer than last week.
The EMI in $US fell 13 cents to US1379c/kg clean, as the $A lifted 0.44 cents to US78.76 cents.
AWEX senior market analyst Lionel Plunkett said as is often the case in a falling market, buyers became more selective in their purchases.
"The result was that small impurities that were over looked in the rising market suddenly attracted discounts.
"Wools with very high mid-breaks (>75pc POBM in particular) were also heavily discounted as buyers struggled to average them into their purchases," he said.
"Inversely, any lots possessing mid-breaks of less than 40pc attracted significant premiums and in some cases sold at levels very close to those achieved at the previous sale."
He said in general terms, 20 micron and finer fleece wools lost 40-60 cents, and the broader micron lines of 20.5 micron-plus were less-affected and posted discounts of 20-40 cents.
"The EMI has dropped 83 cents over the previous six selling days, which equates to a 4pc drop."
Crossbred wool rates also slipped
Mr Plunkett said after being the only sector not to suffer corrections last week, crossbred wool succumbed to the falling market in this sale.
"All types and descriptions across the entire spectrum recorded general losses of between 10 and 20 cents, with the poorly-prepared lines suffering the greatest reductions."
Mr Plunkett said the oddments have continued their downward trend, losing ground for the fourth consecutive week.
"Prices were generally reduced by 10 to 30 cents, resulting in the three carding indicators falling by an average of 17 cents."
Foreign exchange movements not a positive influence
Australian Wool Innovation's wekly market report said the foreign exchange rates on all of the major currencies didn't stimulate overseas buyers to move trade sentiment to the positive this week.
"Those rates all appreciated against the Australian dollar (AUD) by varying degrees of between 0.4 and 0.8pc.
"As such, the EMI when expressed in US dollars was far less-affected and drifted US13 cents lower or 0.9pc lower to US1379c/kg clean," AWI said.
After a few weeks of going against the trend of most other currencies moving up against the $A, the Euro finally succumbed and joined that trend and recorded the strongest movement but buyers reported a high percentage of the wool on offer was not suitable to this market due to quality.
"The factors hampering wool markets at present remain similar to the past few weeks since Chinese New Year break put the skids under the market.
"The high prices and finance access issues, combined with the reduction in quality of wool on offer are predominant factors in the market," AWI said.
"Additionally, it seems having the major buyer of wool globally basically out of action for a week (ie Chinese New Year) whilst wool auctions forged ahead regardless probably didn't help either."
AWI said it now took twice as much finance today to fill the same order for the same type as it did eight years ago.
"Also, with wool prices being considered on the high side at present, this usually prevents local buyers stepping in to stock wool whilst waiting for clearer demand signals from their clients.
"Essentially this means too much risk for very little reward for the buyer exporters," AWI said.
"Conversely, the sellers are happy to continue to sell and take current prices on offer and hence the sliding market."
AWI said while demand and supply is still there, the lull is typical of spot markets reacting to the immediate hand-to-mouth demand situation that the wool market has been operating in for years.
The superfine Merino wool sector was the most affected this week, with the fall in prices for wool finer than 18.5 micron exacerbated by diminishing quality.
AWI said a firming tendency in prices on the better wools and a lift in buying intent from exporters witnessed at the close this week just may signal a slowing in the fall.
"The lack of the usual strong top maker interest and participation in the market does remain significant though."
Next week the national offering reduces further, with 38,849 bales – a fall of about 9pc — currently listed for sale in Sydney, Melbourne and Fremantle.
Click here for the latest AWEX Micron Price Guides.
Sources: AWEX, AWI.