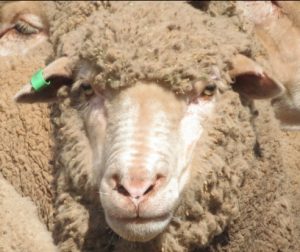 AUSTRALIA's main mulesing pain relief product Tri-Solfen has been recognised as the best new food animal product in the annual Animal Pharm awards.
The 2017 Animal Pharm Awards judging panel said the combination topical anaesthetic and wound care agent developed by Animal Ethics and licensed to Bayer Animal Health had the potential to be a "game-changer worldwide".
It is the only topical anaesthetic and antiseptic pain relief product approved for livestock anywhere in the world.
Tri-Solfen is the first product developed from Animal Ethics' patented platform technology. The company believes the product has the potential to fill a large unmet need in the global marketplace for the management of accidental wounds and wounds caused by surgery in livestock and companion animals.
Click here to get the latest Sheep Central story links sent to your email inbox.
Tri-Solfen is sprayed onto the wound to simultaneously anesthetize, alleviate pain, control bleeding and protect against infection. Its viscous gel base is also designed to form a long-lasting protective barrier over the wound.
The product was principally developed in Australia for use in sheep, to manage pain and bleeding associated with the invasive animal husbandry procedure mulesing. In Australia, the product has over 60 percent market penetration, Animal Ethics said.
Animal Ethics said Tri-Solfen is proven to be highly successful in the treatment of accidental wounds, castration, tail docking, branding and disbudding in several species including cattle, pigs, sheep, goats and horses. Extensive trials in these livestock species have indicated that the onset of wound anaesthesia is very rapid and readily apparent within one minute of application and there is evidence of a significant ongoing analgesic effect even after 24 hours, the company said.
"In addition, there is a clear reduction in blood loss and a statistically significant improvement in wound healing rates in treated versus untreated animals."
Last year saw the further adoption of the product – over 70 million animals have been treated with Tri-Solfen since its original registration. While the product's first Australian registration for the treatment of mulesing wounds was achieved in 2012, last year Tri-Solfen gained new product claims for lamb castration and tail docking. In December 2016, Australian regulatory authorities extended the use of Tri-Solfen to include the alleviation of pain in calves. These label extensions have contributed to an increase in the product's sales this year, Animal Ethics said.
Source: Animal Ethics.