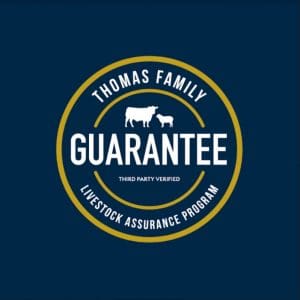 MAJOR red meat exporter Thomas Foods International will undertake roadshows throughout South Australia next month in the first step to increase its national throughput of assured sheep meat and beef.
The family-owned meat processing company is launching a series of regional roadshows to encourage primary producers to become part of its highly successful Livestock Assurance Program.
Under the company's Thomas Family Guarantee certification, produce will be verified as meeting labelling requirements including:
No antibiotics, ever
No added hormones, ever
Humanely raised; and
Sustainable.
Optional additional programs include grass fed, grain fed and organic classifications.
The company said the non-onerous, concise and standardised program has been designed to provide key supply chain markets across the globe with certification information being demanded for imported meat products, to secure the best outcomes for customers and farmers.
Savvy customers demanding quality meat
TFI chief executive officer Darren Thomas said steadily increasing demand from savvy global consumers for high quality Australian meat has prompted a push to take its livestock accreditation program to the next level.
"We know that total world meat consumption continues to steadily increase, particularly in the neighbouring Asian market, while Australians still remain amongst the world's largest per capita consumers of beef and sheep meat.
"This is a classic case of demand and supply, and we know that local livestock farmers punch well above their weight when it comes to ethical and sustainable practices," Mr Thomas said.
"We want to do all we can to help position farmers for further future success through world-class certification.
"Our livestock certification process is in place and we are actively looking to partner with South Australian farmers who share like-minded values and have a commitment to excellence," he said.
Mr Thomas said the company had hundreds of Australian farmers participating in its range of certification programs and reaping the rewards of their efforts.
"Our upcoming regional roadshows will provide local farmers with the opportunity to learn about how our certification process demonstrates real leadership in animal welfare and farm sustainability and the associated benefits."
Australia needs to prove grass-fed lamb 'is grass-fed'
TFI national small stock manager Paul Leonard said the TFG program provided more assurance than the current National Vendor Declaration in the areas of animal welfare, feeding regimens and use of hormones or antibiotics.
He said the TFG program will not be onerous, but formalise what producers are already doing so the assurance can be given to customers.
Under the program, producers will be able to make a declaration that their product is '100 percent grass-fed' where applicable and this will be third-party audited externally so this can be proven to customers requiring additional requirements.
Mr Leonard said rather than generating a price premium for producers, the TFG program aims to give its producers access into certain markets.
"It's about market access…. effectively what it is saying is 'beat the curve, get in front of the curve, because this is becoming a standard requirement' for not all, but for most of our customers, certainly for high-end value markets, and if you don't, you won't have access."
Mr Leonard expected all processors will eventually be required to underpin their products with assurance programs.
"These bigger retailers want answers to their questions, and they want declarations and auditable systems to prove that what you say is happening is happening.
"And they need to be able to drive that down to the retail level to say that this is an assured program and that when they say 'this is 100 percent grass-fed Australian lamb', they are 100pc grass-fed."
Upcoming information sessions presented by Thomas Foods International include:
4:30pm – 3 March Wudinna Wudinna Football Club, SA
4:30pm – 4 March Tumby Bay Red Pub/Hotel, SA
4:30pm – 5 March Jamestown Railway Hotel, SA
4:30pm – 24 March Cambrai Cambrai Football Club, SA
4:30pm – 25 March Lucindale Lucindale Country Club, SA
Program partners AgriWebb, Shearwell and Leader Products will be in attendance at all regional roadshows to discuss the benefits of electronic identification (EID) tags and digital livestock management software system. For more information on the TFG Roadshow contact Dayna Grey on+61 448 329 987 or [email protected].
Click here for more details about the roadshow events.
More about the Thomas Family Guarantee program can be found at https://thomasfoods.com/livestock-suppliers/