A WELCOME strong finish to this week's spot auctions put the AWEX Eastern Market finish in positive territory for consecutive weeks for the first time this season.
The table below shows the sawtooth action of the market since the return in August from the mid-year recess.

The first sale weeks of August stripped 100 cents off the market and set the mid-point for the market to trade. The 19 micron MPG fell to 1654 cents in mid-August and has since traded in a tight range (1613 to 1707 cents) to close this week at 1659 cents.
In the same period, the forward markets traded generally at a modest premium to spot, as indicated by the graph below. The average trade level was 1690 cents, with a range from 1620-1740 cents.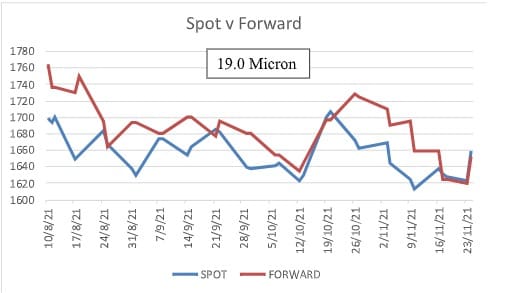 After spending considerably more time in backwardation (discount) than premium — four of the last five years — what is puzzling is the fall off in traded volume. With just over a month to the end of the year, volumes are estimated to be down by around 30 percent year-on-year. One explanation could be growers holding physical stock, but this is not borne out when you consider the relatively modest passed-in rates.
Early indications for next week are positive, with bidding providing solid levels, particularly for the first and second quarters of 2022. Limited volumes are bid from 17 micron through to 28 micron. Bidding interest extends to October 2023, providing growers with longer term hedging opportunities.
Finer microns are bid at a discount and medium Merinos and crossbreds flat to a slight premium. This gives a strong indication from processors that the fine wool premiums are likely to tighten into the New Year.
This week's trades
January 2022 19 micron                                               1620/1650 cents                              10 tonnes
February 2022 21 micron                                             1320 cents                                            5 tonnes
March 2022 19 micron                                                 1630 cents                                            2.5 tonnes
October 2022 19 micron                               1655 cents                                            2.5 tonnes
Total 20 tonnes